WrestleMania 28: Are Taker & Triple H Too Broken Down to Rival Their Last Match?
January 4, 2015
At WrestleMania 28, The Undertaker and Triple H will probably face each other one last time in the ring.
Many fans are speculating that whether the Streak stays or goes, it will probably be The Undertaker's last match. It's understandable considering the abuse that he has taken in his 25-plus year career. He is 46 and has taken a lot of bumps and bruises along the way and it has built up.
Triple H for his part is also starting to show signs of wear and tear and is slower than he has been in the past.
Both men are on the decline.
Both are still phenomenal wrestlers, though. They still know how to tell a story in the ring and make every move mean something. It is part of how they got to the top and stayed there.
But time is against them and each day means that they lose a little bit more of the fluidity they once had. For Triple H, it is even harder as he still participates in the occasional matchup, with his last being against Kevin Nash at Tables, Ladders and Chairs.
Even with his part-time wrestling schedule, he is still a man who has fought in plenty of wars and been a professional for almost two decades. Just like The Undertaker, he is reaching the end.
Both men obviously want to have a great match with each other and close out their careers in a positive way. The question is: Can they do it?
The answer isn't too negative, but it isn't promising either. The Undertaker hasn't come back yet and unless the vignettes are for his return, it might be a while before fans see him. If he does return at the beginning of 2012, then he may be good enough for one last serious match on the grandest stage of them all.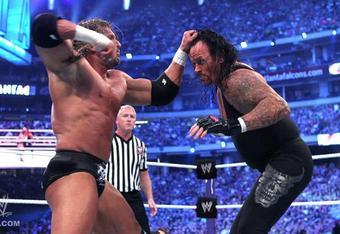 If it turns out to be the return of another pro wrestler, then fans might have to start worrying about the Deadman. He may still try to give his all, but if the WWE isn't willing to risk him in a match before WrestleMania, then that means that he is starting to physically fall apart.
It comes down to the Monday Night RAW promos.
But it also comes down to Triple H.
Triple H may be a bit slower, but he might have a year or two left before he needs to retire. His major problem is that if The Undertaker has to wait for WrestleMania to finally have another match, then that means he will need to set the pace again just like in their last match.
If it was just him getting older, it might be possible. Harder than the first time, but possible. But he needs to work with an older Undertaker as well.
It may be a task that Triple H is no longer up to.
So in the end, it depends on if The Undertaker returns just in time to try and turn back the clock or if the WWE tries to use him a little bit more.
And at the end of the day, even if their first match doesn't rival the last one, it will still be worthy of WrestleMania.
It just may not be what it was before.