5 Things We Learned About the San Antonio Spurs in Their First Game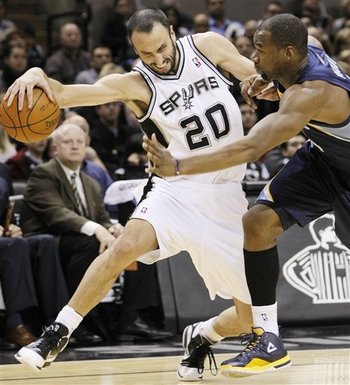 The San Antonio Spurs opened their 2011-12 campaign in dominant style, defeating their postseason spoiler from a year ago, the Memphis Grizzlies, by a score of 95-82.
The Spurs were paced by Manu Ginobili's 24 points and Tony Parker's 15 points and 7 assists and took advantage of an outstanding defensive performance to pull out a victory over a division rival.
Both teams showed significant signs of rust, but that's to be expected after a long and tumultuous offseason. Though we don't have the advantage of a large sample size, here are five things we can take away from San Antonio's season-opening victory.
1. Richard Jefferson Will Play an Important Role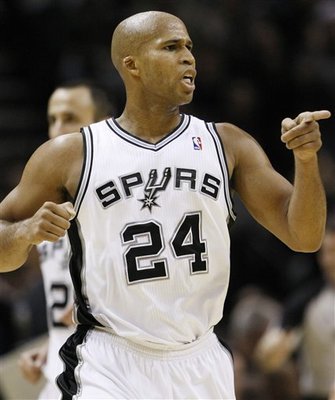 Richard Jefferson has his fair share of haters. He was a key contributor in the early part of his career with the New Jersey Nets, but after signing a massive contract, he's only disappointed in stints with the Milwaukee Bucks and San Antonio Spurs.
When the NBA announced that an amnesty clause would be included in the newly signed CBA, the popular opinion was that Jefferson would be looking for work elsewhere.
He was retained, however, and Jefferson offered a minor glimpse to the past in his performance tonight. He isn't going to unseat the Big Three in the offensive pecking order, but he should settle nicely into a role as the fourth option.
His scoring totals have decreased drastically over the past few years, but he quietly improved his efficiency over the last campaign, shooting a career-high 44 percent from long range.
The Spurs led the league in three-point shooting last season, and Jefferson should continue to to be a valuable asset from distance.
2. Post Players Will Have a Tough Time Scoring on the Spurs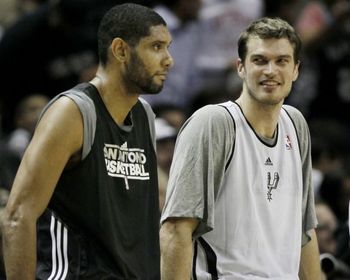 Zach Randolph has long been considered a top talent, but he hadn't put it all together until he arrived in Memphis.
Coming off a 2010-11 season in which he averaged 20 points, 12 boards, and shot over 50 percent from the field, the Michigan State product is now widely considered to be one of the top offensive post threats in the league.
The frontcourt of the Spurs handled him easily tonight. Even with Tim Duncan sitting most of the game with foul trouble, the combination of Tiago Splitter and Matt Bonner held Randolph to just 10 points on 3-for-8 shooting.
The Memphis guards struggled to find their offensive anchor in favorable positions, and when he did receive the ball, his passes and shots were heavily contested.
Splitter, in particular, displayed a ton of defensive energy and skill. Look for the Brazilian to more than double his 12 minutes per game this season.
3. But Elite Wing Players May Have It Easier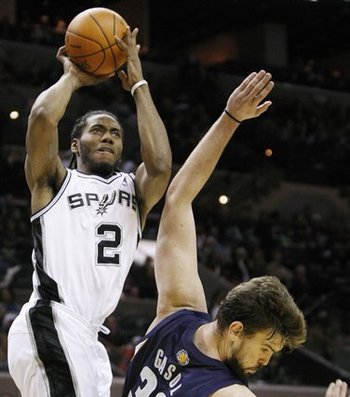 The lone bright spot for the Grizzlies tonight was Rudy Gay, who came back from injury to record a double-double with 19 points and 10 rebounds.
After a relatively slow first half, Gay was the focal point behind Memphis' fourth-quarter run that made Spurs fans sweat just a little bit. He realized too late that he could drive to basketball at will.
Rudy Gay is an underrated talent, but he's far from the best perimeter scorer the Spurs will face in a conference featuring Kevin Durant, Kobe Bryant and Monta Ellis.
Someone will have to step up as the go-to defender, as James Anderson and Richard Jefferson were not up to the task of defending Gay. Kawhi Leonard has to be that guy.
Leonard showed some flashes in his NBA debut, but his inefficient shooting resigned him to the bench for much of the game. On the defensive end, he can use his length and speed to stick with the most athletic guys in the league.
There will be an adjustment period after facing sub-par talent as a college player in the Mountain West Conference, but Leonard has the natural tools to become the lock-down perimeter defender that the Spurs appear to be lacking.
4. Tony Parker's Role Will Change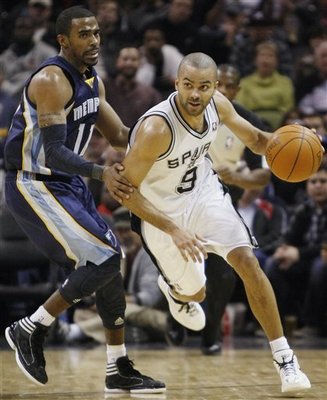 Parker was one of the top performers for the Spurs against the Grizzlies, posting impressive point and assist totals. I was most impressed, however, with a seemingly new aspect of his game.
The Frenchman looked incredibly active on the defensive side of the ball, providing weakside help to teammates and showing quick enough hands to earn four steals.
Parker has never recorded high totals in the steals department, but after a motivated and energetic defensive performance, he could re-brand himself as a defensive stopper.
On the offensive end, Parker showed the ability to break down a defender and hit an open shot, but he gave the reins of the offense to Ginobili on quite a few occasions.
This has to be viewed as a positive, as Parker will waste less energy on the offensive end and improve his on-the-ball defense against opposing ball handlers.
5. The Turnover Battle Will Make or Break the Spurs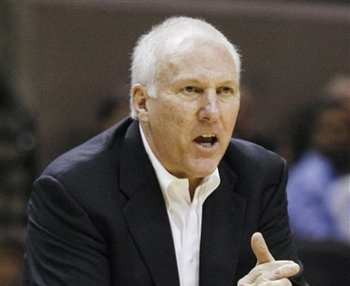 After jumping out to a quick 4-0 lead in the first quarter, the Spurs got sloppy with the ball. They committed eight turnovers in the opening frame, dooming themselves to an early eight-point deficit.
However, from the second quarter on, San Antonio made ball security a priority and crushed their careless opponent.
Limiting turnovers is an important aspect of any team's game plan, but it's of supreme importance for the Spurs. San Antonio's athleticism will pale in comparison to many of their opponents, leaving the Spurs with a much lower margin for error.
The ability to run the floor and score in bunches can mask sloppy play, but San Antonio isn't built that way.
Though the season is young, the Spurs provided coach Gregg Popovich with a reliable blueprint for success. Defensive energy, combined with patience and control on the offensive end, should enable the Spurs to contend in the Southwest Division.
Keep Reading

San Antonio Spurs: Like this team?