San Francisco 49ers Are Ready to Be Super Bowl Contenders
December 27, 2011
Ezra Shaw/Getty Images
The San Francisco 49ers have dealt with questions about how serious the NFL can take them as a playoff team.
They are the real deal.
Rookie coach John Harbaugh has transformed the same roster that went 6-10 in 2010 to a 12-3 Super Bowl contender fighting for the No. 2 seed in the NFC.
The 49ers are the most underrated team in the NFL.
With the NFL transforming into an offense driven league, the 49ers have focused on defense. 
San Francisco's defense is ranked fifth in the NFL.  They have only allowed one rushing touchdown this season and that was on Christmas Eve against the Seattle Seahawks.  
The 49ers defense gets tremendous pressure on opposing quarterbacks and running backs with the attack of DT Justin Smith and rookie sensation DE Aldon Smith.
The defense fought and knocked out the Steelers in a statement game and that was without defensive leader Patrick Willis.  Just wait until Willis is back on the field.
The questions the 49ers have to answer are on the offense. 
QB Alex Smith has been a good game manager all season long.  He has had Frank Gore's rushing ability to lean on during games.  
People wonder if Alex Smith can step up and be a top tier NFL quarterback.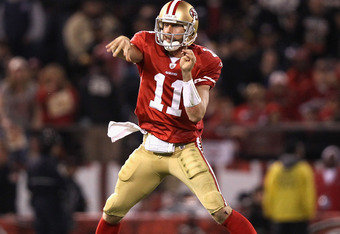 Ezra Shaw/Getty Images
His career has been full of ups and downs.  Smith had no stability when it came to coaches or even teammates.
This season is the first season it seems like Alex Smith is comfortable as the quarterback of the San Francisco 49ers.
I do feel Smith needs RB Frank Gore to be healthy for the playoffs.  Gore has battled an ankle injury and but he did score a touchdown in the 49ers 19-17 victory over the Seahawks.
Also needing to be healthy is WR Braylon Edwards.  While Michael Crabtree and Vernon Davis have had a great season, Edwards is the tall body needed in the red zone.
San Francisco is one of the worst teams in the NFL in red-zone efficiency.  They constantly have to walk away with field goals instead of touchdowns.  That will ruin any hopes in the playoffs if that continues.
Edwards can be a big target for Smith in the red zone if he can get healthy in time for the playoffs.
The 49ers finish off their season against the St. Louis Rams.  If San Francisco can win this game, they will be the No. 2 seed in the NFC and get that important bye week to get healthy.
I believe the 49ers can make it to the NFC Championship game and give the Green Bay Packers (if they make it) a run for their money.
Braylon Edwards could be the key to the 49ers' success in the red zone and the playoffs.