John Terry: Why He Should Never Have Been England Captain
December 27, 2011
Julian Finney/Getty Images
The argument over the true value of a captain in football is always a battle between the practical and the symbolic. By either yardstick, John Terry's tenure as England captain is questionable.
Depending on the repercussions of the charges brought against him for alleged racist abuse by the Crown Prosecution Service, the defender could see himself stripped of the honour of leading the national team by the Football Association.

Given his chequered, on-off relationship with the armband once worn with such pride by the likes of Billy Wright, Bobby Moore and David Beckham it would then be no surprise to see him reinstated once again at a later date, on condition of his exoneration.
On no fewer than three occasions Terry has been 'named' England captain: initially by Steve McClaren and then, almost comically, twice by Fabio Capello.
Yet despite such endorsements there is currently a cloud hanging over England's skipper like none that has been seen before.
Terry is undeniably a first class central defender—in the old-fashioned stopper sense of the position—who mostly compensates for any technical shortcomings with an unwavering commitment and drive.
It is not for nothing that he has been dubbed Mr. Chelsea. No one embodies the most glorious decade in the Blues' history like their current club captain.
But his brand of 'leadership' is an acquired taste in the modern era, which has increasingly less tolerance for a mere point-and-shouter who expects a great deal of hearty chest-thumping to cover up his own limitations.
Despite leading out his country on 30 occasions—putting him seventh on the all-time list—Terry has never enjoyed the quite the level of respect and adoration afforded several of the more illustrious members of the club he joined in August 2006.
He seemed a perfect fit at the time, a man big enough to fill the shoes of Beckham, who stepped down from the role following England's World Cup elimination at the hands of modern nemesis Portugal.
New manager McClaren gave Terry the nod, and even gave him an extra hand stepping out of Beckham's shadow by omitting the poster boy from his squad entirely.
Terry responded immediately by scoring the opening goal in a 4-0 win over Greece on his debut as England captain. Of course, while on paper that victory was one over the reigning European champions, the reality was far more of a formality than such a historical fact might suggest.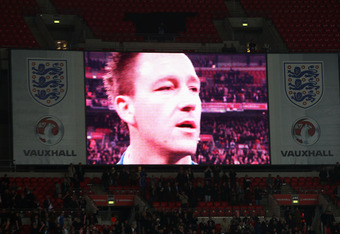 Julian Finney/Getty Images
Under Terry's captaincy England failed to qualify for for Euro 2008. McClaren's hapless and ill-fated tenure was at the heart of the failure, the first time England failed to qualify for a major tournament in 14 years, but as the most senior member of the playing staff Terry admitted he took his share of the blame, though stopped short of tendering his resignation as Beckham had done after leading England to a World Cup quarter-final.
Terry's appointment was a hangover of the McClaren era that stretched over into that of Capello after the Italian held a series of 'auditions' for the role. Rio Ferdinand and Steven Gerrard were both trialled but Capello stuck with the current incumbent.
He was made to regret that when in January 2010—the start of a World Cup year—the news broke of his main man on the pitch's extra-marital dalliances. Had it been just a normal affair then it could have been ignored. It was not a normal affair.
Wayne Bridge, at the time a Manchester City regular and a certainty to travel to South Africa, may have split up with his former partner and the mother of his child, but Terry wasted no time in stealing in to take his place. Such an act is hardly befitting of a man fit to lead men. Whatever you think of Bridge's potential importance to the national team, one player's bout of doorstep dirtying had an effect on the final 23-man squad that went to a major tournament, something that should never be allowed to happen.
After a truly farcical week which was beyond parody the media waited for Capello to return from Italy, where he was recovering from an operation, to deal with Terry. The England manager was hounded at the airport when he landed. His car was followed live via helicopter all the way from the airport to Wembley where finally, after a brief meeting, it was announced that Terry was no longer captain but would still represent England at the World Cup.
While none of England's players covered themselves in glory in South Africa, Terry still caught the eye. Firstly he tried to lead a squad mutiny against Capello's tough regime, bullishly mouthing off to the media after the spirit-crushing draw with Algeria, only to find himself isolated at the key moment. He then had all of his shortcomings as a defender exposed by one simple punt forward early on in the second round against Germany, when he was caught woefully out of position for Miroslav Klose's opening goal, and England's fallen leader didn't really have a say one way or he other about the further three a young German side put past the Three Lions on that sorry day in Bloemfontein.
And yet, due to injuries to Steven Gerrard and Rio Ferdinand, Terry found himself awarded the armband for a third time out of sheer desperation from Capello, who must have deemed Terry's far more erudite and cerebral teammate Frank Lampard too old for the role.
Terry was handed the armband by the worst England manager in a generation and then regained it twice through luck, when really he should never have held it at all. 
When England line up against France in Poland next summer, will he really be a better player or leader than the one who sulked and floundered his way around South Africa two years ago? Is it a coincidence that the recent friendly win over Spain was achieved without him in the side? 
And this is without even mentioning his various brushes with the club disciplinary procedure and the law, including charges for assault and affray., before the current charges he is battling.
Whatever the outcome of this latest unsavoury episode in a chequered career, it should not change the fact that Terry was an unsuitable man to captain England at all.