Chick-fil-A Bowl: Previewing the Auburn Tigers and What Virginia Must Do to Win
December 27, 2011
Kevin C. Cox/Getty Images
Virginia takes on the Auburn Tigers in one of the most intriguing matchups of the entire Bowl season.  
Virginia fans are well-acquainted with their own team and what's been going on in Charlottesville, with ACC Coach of the Year Mike London turning a moribund program into the talk of the ACC.
But what about the Auburn Tigers?  
Let's delve deeper into this game and find out what fans can expect from Coach Gene Chizik's team, and maybe determine how the Cavaliers will fare against such competition.
Key Factors
There are a number of key factors for each team that are important to note for the upcoming bowl game as well as the general direction of each program.
Virginia:
The Cavaliers lack depth at defensive end after Billy Schautz went down with a season-ending injury against Florida State.
Matt Snyder, Rocco's former safety blanket at wide receiver, will be back and ready to make crucial receptions, especially on 3rd downs. Snyder is generally considered a possession receiver, which is important for Rocco to have as he checks-down with pressure in his face.
No UVA player on the current roster has ever played in a bowl game, so you'd have to figure that the seniors in particular are going to be about as motivated to win as you'll ever see a group of college players be.
The transition from the 3-4 to the 4-3 under defensive coordinator Jim Reid has really made tremendous strides in two years.
The pro-style offense under offensive coordinator Bill Lazor has been clicking—minus the disaster against Virginia Tech—ever since Michael Rocco was picked as the clear starter, and the offense has great balance with the run and the pass.
The Hoos have good depth at running back, bringing three viable backs to Atlanta—Perry Jones, Kevin Parks, and Clifton Richardson.
Virginia's offense is relatively productive, but is also alarmingly inefficient, converting only 39% of their third down attempts—No. 73 nationally out of 120 FBS teams—and only cashing in on 76% of their trips to the red zone—93rd nationally—and converting possessions inside the 20 into touchdowns only 50 percent of the time—105th in the nation. UVA moves the ball just fine, but often trip up once they smell pay-dirt, and that trend has to change for the Hoos to be successful against Auburn.
The Cavs' overall defense is solid, if not dominant. However, what really stands out is their defensive efficiency, ranking No. 16 in third down defense, allowing only a 33-percent conversion rate. Two out of three 'aint bad, especially when it's forcing teams to punt and keep the Big Mo in your favor.
Virginia ranks sixth nationally in redzone defense, allowing opposing offenses to score a mere 70 percent of the time once they cross the 20, and rank 10th nationally in touchdown percentage, holding teams to 48 percent. To recap this stat, basically teams score two-thirds of the time inside Virginia's 20, and less than half of the time have been able to come away with touchdowns.  
Head Coach Mike London gave $275,000 to UVA this past week, which is significant in that it shows his commitment to the program and will help to quell any rumors that he is interested in other coaching vacancies across the nation, which can only help recruiting.
Scott Cunningham/Getty Images
Auburn:
The Tigers lose arguably their best and undoubtedly most proven offensive weapon, Running back Michael Dyer—1st Team All-SEC—who has eclipsed the 1,000-yard rushing mark each of the last two seasons, against the top defenses in the nation. Dyer finished this season with 1,242 yards—5.1 yards per carry—and 10 total touchdowns. Ironically, Dyer stands at only 5'9", as do the Cavs' running duo of Jones and Parks, but Dyer weighs in at 207 lbs. and is a definite down-hill runner with a propensity for breaking tackles.
Onterio McCalebb replaces Dyer, and even with limited snaps this season, he made a noticeable impact, racking up 532 yards—5.2 ypc—and was also a legitimate receiving threat out of the backfield, hauling in 30 catches for 291 yards—as opposed to Dyer who only had two receptions on the year. It's clear McCalebb is more of a dual-threat RB with blazing speed who the Auburn coaches like to get out in space. As an every-down back—if he's called to be that in Atlanta—his durability will be tested over the course of the game.  He will be the focal point of Auburn's offense and Gus Malzahn, offensive coordinator, will do anything he can to take advantage of his ridiculous speed—McCalebb runs a 4.35 in the 40-yard dash. Oh by the way Hoo fans, this player hails from Hargrave Military Academy in Chatham, VA.  
Defensive coordinator Ted Roof left the program to head the defense at the University of Central Florida, leaving Gene Chizik to take over play-calling duties on the defensive side of the ball. Chizik, for what it's worth, has appeared energized by the challenge. It's no secret that Auburn fans generally feel relieved to see Roof leave, which may be a good thing for the program in the long run, but could still cause problems for the Tigers in this particular game, especially if Chizik finds it difficult to juggle his numerous responsibilities.
Offensive coordinator Gus Malzahn has decided to coach for the bowl game despite recently being hired as the new head coach at Arkansas State.  While on the surface this would appear to be a net positive for Auburn, it will be interesting to see whether or not his focus is squarely on planning for the bowl, especially since it's been reported that he's been filling positions on his staff at his future school.  It has to be difficult to juggle interviews, key personnel decisions, and game planning all at the same time, between two different programs. Difficult does not mean impossible, but Malzahn certainly has a lot on his plate much as Chizik does.
Offensively, Auburn was stronger running the ball than it was passing, which is to be expected with a team that (1) never settled on a starter at QB, and (2) possessed one of the best RB's in the SEC. While statistically speaking Auburn appears to have a balanced attack, overall the offense was a real weak spot, managing a paltry 328 yards per game, good for 104th nationally, albeit against some outstanding defenses.
Defensively, the Tigers struggled against the run, allowing 195 yards per game—95th nationally—and was pedestrian overall on defense, giving up 406 yards per game overall (#79 in the nation).
Perhaps worst of all, Auburn's red-zone defense was simply abysmal, allowing teams to score over 89% of the time—110th nationally—and allowed teams to come away with TD's 63% of the time—79th in the nation.
While the kicking game may not be fantastic, special teams is still very special for Auburn this year, thanks to solid punting from Steven Clark, who averages 40.5 yards per punt, and the abilities of Onterio McCalebb, who averaged an astonishing 32 yards per kick-off return. The only problem I could see for the Tigers is that Quan Bray will likely have to shoulder the bulk of the return duties since McCalebb will be the starting running back with Dyer's absence, which would mitigate a real advantage they normally enjoy.
As for turnover margin, Auburn is dead even this season, while Virginia has been shooting itself in the foot often, and is 90th in the nation in this important category, at -5.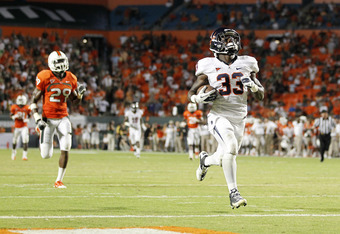 Joel Auerbach/Getty Images
 The Edge
This next section is where I break down the Tigers position by position, and discuss how each unit matches up with Virginia. The "Edge" goes to whichever unit is better (i.e. OL vs. OL), and the "Matchup" gauges which unit has the advantage on the field during the game (i.e. OL vs. DL).
Offense
RB: 
Though there's no doubting McCalebb's speed and talent, his reps were few by comparison to UVA's tandem of Jones and Parks. Virginia has used all three backs, including Richardson, methodically and consistently throughout the season, and the coaches have even given Jones and Parks the autonomy to determine when one will sub in for the other. This is significant because it shows a great camaraderie between the two, as well as a great deal of trust between the players and the staff.  Also, much like McCalebb, "Superman," as Jones sometimes goes by, is very much a dual-threat out of the backfield himself, collecting 41 catches for 416 yards in addition to his 883 yards on the ground. Oh, I almost forgot, he also tossed a beautiful 37-yard touchdown to Tim Smith against Miami.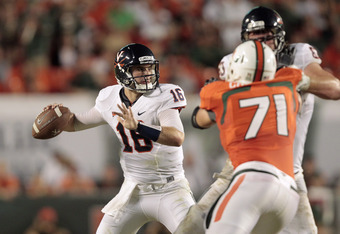 Joel Auerbach/Getty Images
Edge: Virginia  
Match-up (vs. Auburn front-7): Virginia
QB:
While Virginia struggled early in the season to find consistency at the position and reverted back and forth between Michael Rocco and freshman David Watford, eventually Rocco solidified himself as the starter and helped turn Virginia's fortunes this season as a result. Auburn never chose a starter to stick with game-in and game-out and as one would expect, has suffered with inconsistent play at the position. 
Edge: Virginia
Matchup (vs. Auburn secondary): Virginia
WR:
This particular position is a tricky one to peg in this game. Virginia has two senior receivers—Kris Burd and Matt Snyder—and a couple of young speedsters—Darius Jennings and Dominique Terrell.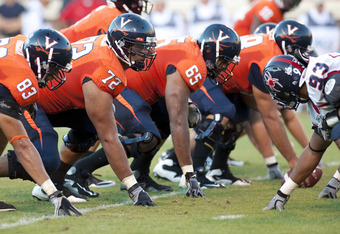 The group's overall strength may have more to do with Burd's rapport with Rocco and Tim Smith's speed than anything else, and Snyder's presence as a possession receiver could prove crucial, especially on certain 3rd down situations. the way the Hoos used to use tight ends under Al Groh.
As for Auburn, the group as a whole has less overall production than Virginia's wide receiver corps, but is overall faster and pretty darn talented, if less experienced. The difference in production between the two units may very well be due simply to Auburn's QB carousel, but I really feel that offensive cohesion and experience are something separating these two groups of wide-outs.  
It comes down to talent/speed vs. experience/rapport with the QB for me. 
Edge: Push
Matchup (vs. Auburn secondary): Virginia
OL:
This has been a decided strength for Virginia for much of the season, helping the Hoos crank out 165 yards on the ground per game, while protecting QB Michael Rocco very well on the whole, allowing few sacks on the year. The low sack count is also and indication of Rocco's progression.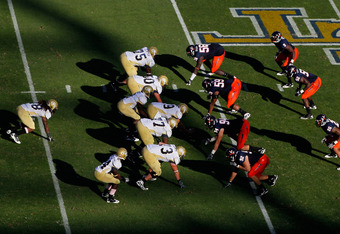 Kevin C. Cox/Getty Images
Morgan Moses, Oday Aboushi, and Austin Pasztor—2nd-Team All American—are almost certainly future early-round NFL draftees, while Anthony Mihota and Luke Bowanko are more than serviceable. In fact, they're actually quite talented in their own right.
This group of 5 has started every single game this season and is slated to start in the bowl game against Auburn. Run-blocking and pass-protection are both above-average with this group, which has been a key reason behind Bill Lazor's ability to maintain a balanced attack on offense.
Auburn has not had the same level of consistency on the line. However, Auburn's impressive yards per carry for their top two running backs indicates a group that can certainly push people around and create lanes to run through.
Pass protection has not been as sound, though that very well may have more to do with the uncertainty at QB than anything else. This unit, while talented is not as cohesive as the Cavaliers', which is no surprise considering how tight-knit the Big Uglies in Charlottesville have remained all season.
Edge: Virginia
Matchup (vs. Auburn DL): Push
Defense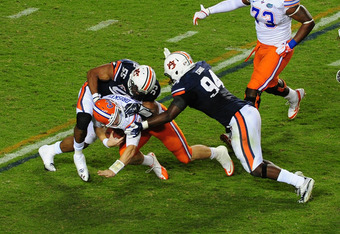 Scott Cunningham/Getty Images
DL:
While the defensive line for Auburn has its stars, none have quite the impact as LE Corey Lemonier, who has managed to wreak havoc in opposing teams' backfield, tallying 10 sacks and 14 TFL in just 44 tackles. He also forced 5 fumbles.
Fortunately for Virginia, Lemonier will be opposite RT Morgan Moses, who is quite the dominant player in his own right, and certainly has the size advantage—6'6", 335 lbs. vs. 6'4" 240 lbs. It would appear that Lemonier is practically an outside linebacker playing DE, but he is fast around the edges, so it will be interesting to see how Moses responds.  T
he other DE for the Tigers, Nosa Eguae has had much less success being a disruptive force, but has still accounted for 38 tackles.  At 6'3", 258 lbs., Eguae will be facing Virginia's 6'6", 310 lb. Oday Aboushi, so the size disparity on this side of the line will be less apparent. 
Defensive tackles Gabe Wright and Jeffrey Whitaker are massive themselves, and make it difficult to run power formations up the middle, at least theoretically, as each weighs over 310 lbs.
While UVA is clearly bigger on the edges, their size is negated on the interior thanks to the Tigers' beefy DT's. The Cavs will probably try to exploit this and run traps, pulls, and sweeps or variations of those to get the ball to the outside, while using draws and dump-offs over the middle rather than running it up the gut into the teeth of the Tiger defense.  
For Virginia, I mentioned before that DE Billy Schautz is out, and while the remaining starters are tall, talented, and plug gaps fairly well—especially Matt Conrath and Cam Johnson—there are depth issues that need to be addressed in the offseason.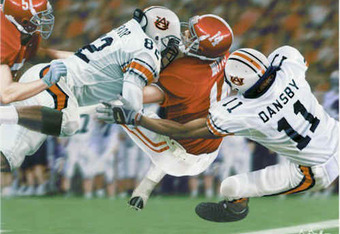 Edge: Auburn
Matchup (vs. Auburn OL): Auburn
LB:
Auburn's OLB Daren Bates has accumulated 96 tackles on the year, 10 TFL, and 3 sacks, while MLB Eltoro Freeman has tallied 3 sacks, 11 TFL, and 2 FF. These are the two LB's to keep an eye on and could cause some problems for the Hoos if they want to get to the next level of the defense.  
Perry Jones and Kevein Parks should be practicing the art of the stiff-arm because they're probably going to need it against these two.
Virginia's LB's Steve Greer and Aaron Taliaferro play within themselves which is important, but their ceilings are fairly limited.  Linebacker LaRoy Reynolds gives the Cavs a real disruptive force, even in the passing game—don't soon forget his 3-INT performance against the Maryland Terrapins earlier this season.
Edge: Auburn
Matchup (vs. Auburn OL): Push / (vs. RB McCalebb): Auburn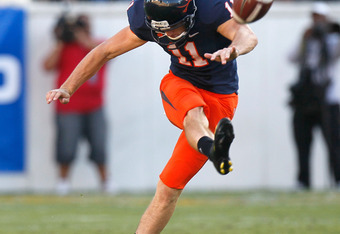 Kevin C. Cox/Getty Images
CB:
There really is nothing very notable about Auburn's current group of corner backs, at least not from what I could gather. So, Rocco may be able to find some openings down the sideline more often than not.
UVA's WR's aren't going to torch many teams, but this could still be a good matchup for the Hoos. At CB, UVA is somewhat more sound with Chase Minnifield and Demetrious Nicholson, though not by leaps and bounds.
Although, they are arguably a bit more talented, and Minnifield can be a true shut-down corner. He has not had quite the season many expected and Nicholson has gotten burned a bit too often.
Edge: Virginia
Matchup (vs. Auburn WR): Virginia
Safety: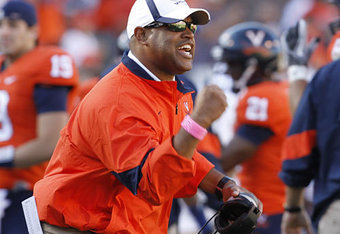 Safeties Neiko Thorpe—94 tackles, 3 INT's—and Demetruce McNeal—70 tackles, 2 INT's, 2 FF—have piled on the tackles this season which both good and bad for Auburn.  
While it's good to see that these players are fundamentally sound when attempting to corral opposing players, it's discouraging to see that this last line of defense is being called on so often to prevent big plays from becoming scoring plays.  
For Virginia, Corey Mosley and Rodney McLeod are solid contributors and play their assignments well on the whole.
Edge: Push
Matchup (vs. Auburn WR): Virginia
Special Teams
Punter:
Auburn punter Steven Clark is more than serviceable, averaging 40.5 yards per punt, giving Chizik enough confidence in his game to play the battle of field position if it comes down to it.  
UVA's Jimmy Howell utilizes the rugby-style punt with limited success and always seems to have at least one near-block each game, which could provide Auburn a real opportunity if they pin their ears back and go for it.  
Given that it's the final game of the year, I wouldn't doubt the Tigers go all-out on at least a couple of Virginia punts.
Edge: Auburn
Matchup (vs. Auburn coverage): Auburn
Kicker:
Auburn kicker Cody Parkey—11-15, long of 43-yards this season—is quite simply rarely used.  With a long of 43 on the year, Coach Chizik better pray the game does not come down to a 50-yarder with the pressure on Parkey.  
Robert Randolph, who is 15-22 on the year, has been streaky for the Cavaliers, but his game-winning kicks at various points in his career at Virginia prove that he can be clutch if called upon, which is a huge plus going into a bowl game that figures to be close.  
Randolph's career-long is 49, so he also has decent range.
Edge: Virginia
Matchup (vs. pressure situation): Virginia
Punt and Kick Returners:
While Quan Bray returns both punts and kick-offs for the Tigers, he sometimes splits duties with Onterio McCalebb.  While Bray is sure-handed and reliable, McCalebb is the obvious threat to score, especially since he runs a 4.35 in the 40-yard dash
The silver lining, if there is any for the Hoos here, is that with Dyer's absence forcing McCalebb to carry the load at RB, it's highly likely that if he were to return kicks. It would be limited to one or two kicks, most likely the first possession of each half.  
For the Hoos, returning punts has been about as inconsistent as I've ever seen since I've been a Virginia fan.  Actually, I take that back, it's not so much that the return game is inconsistent, as it is consistently poor and fundamentally unsound.  
It seems that regardless who is back to receive, players either elect to field it when they're inside the 10, try to catch it on the bounce, or let the ball bounce past them when they have every opportunity to pick it up, resulting in poor field position or muffed punts.  
Kick-offs haven't been quite as problematic for Virginia, but it's not exactly an area of strength either.
Edge: Auburn
Matchup (vs. Auburn coverage): Auburn
Final Ten Thoughts and Prediction
When putting all of this information together about different match-ups and the relative strengths and weaknesses of each team, a few main themes stand out to me:
V

irginia's Offensive efficiency—3rd down conversions and redzone scoring—is mediocre, and that is certainly something that Auburn will seek to exploit.
Virginia's Defensive efficiency—3rd down conversions allowed and red-zone scoring allowed—is superb, and is something that could give the Hoos a little bit of a margin for error, even if they are pushed up and down the field.
Auburn losing Michael Dyer, while a huge loss in many respects, does give Onterio McCalebb a chance to really shine in his first true starting role, of which he is more than capable. Virginia has nobody on the field, with the possible exception of Chase Minnifield, who can match his speed and athleticism. However, every running back is the same when they have no holes to run through, so the onus will be on Auburn's O-Line to generate a push for McCalebb and also expect Chizik to get the young man out in space as much as possible to fully take advantage of his explosiveness.  
Virginia has the decided edge at the most important position on the field, QB.  Michael Rocco has a couple of impressive game-winning drives already under his belt this season in his first year as a starter, and seems to progress with every game—minus Virginia Tech.
Virginia, while on the whole young, is still more experienced than Auburn, and that could prove very important, but it certainly doesn't guarantee anything.
While overall team-speed definitely favors Auburn, Virginia has been closing the gap in that regard with London's last two recruiting classes, and the disparity will not be as huge as it may have been in years past.  
On the other hand, Virginia has a decided size-advantage on the perimeter of the offensive line, and given Lazor's penchant for getting his RB's to the edges in various ways, this could be a really big factor in the outcome of the game.
Auburn has the players on defense (2 or 3 in particular) to disrupt Rocco's rhythm and force costly turnovers, especially if players like DE Corey Lemonier is turned loose in the Cavs' backfield.  Of course, the same can be said for Virginia's defense, especially since Auburn has been so unsettled at QB.
While Virginia would appear to have more of an ability to move the ball consistently than Auburn, especially with their great balance and loaded stable of RB's, the Tigers' possess a real quick-strike capability: namely McCalebb, both out of the backfield and as a returner.  That is Auburn's X-factor in my opinion and could turn momentum at any moment, or keep it firmly in their favor.  Virginia simply MUST account for McCalebb on every play.
I'm sure Auburn is motivated to win, especially for their coach who is taking on all kinds of responsibilities now that his defensive coordinator has left the program, and is rallying around Onterio McCalebb as the next-man-up at RB. However, the Tigers won last year's National Championship, so the Chick-fil-Bowl after going 7-5 in the regular season, while nice, is still quite a fall from where they were last year at this time.  Virginia, however, should be as motivated as any team in the entire nation this Bowl season.  Apart from the fact that this is the first bowl game any player on the current roster will have ever played in, Mike London is well-known to be one of the best motivators in all of college football.  
Prediction: 
Virginia: 27
Auburn: 21