Arizona State Football Recruiting: Why the Sun Is Setting on the Sun Devils
December 27, 2011
Head coach Dennis Erickson finished off another losing season, by guiding Arizona State to a 6-7 season, with the 24-56 loss to Boise State in the Las Vegas Bowl. Erickson was fired at the end of the season and will be replaced by Todd Graham from Pitt. ASU offensive coordinator Noel Mazzone will take the opportunity to jump to UCLA starting next season in the same capacity. 
Arizona State has been working their way to the bottom of the Pac-12 recruiting barrel since 2008. That was probably one of their best recruiting years in recent memory by signing six 4-star players. The 2009 class was also a good one, capturing four 4-star players, and 5-star Vontaze Burfict. 2010 was about as good as 2009, but last year, recruiting went into the tank.
The Sun Devils only captured two 4-star players. That won't cut it in any AQ conference. This year is pretty much the same story. Back-to-back failures in recruiting years will sink a team. Add a complete coaching change to that story and times could be tough for the Sun Devils for the next few years. A two or three-year lag is the common school of thought, although a study by Lloyd argues a one-year lag. 
Either way, with Arizona State losing half its force on offense and defense, the outlook is not good at all. The trend has been downward for at least three or four years and something drastic must happen to keep the sun from setting on the Sun Devils.
| | | | |
| --- | --- | --- | --- |
| Year | Grade | Avg. Stars | National Ranking |
| 2012 | F | 2.25 | 66th  |
| 2011 | D | 2.64 | 57th  |
| 2010 | C | 3.04 | 33th  |
| 2009 | C | 2.95 | 32th  |
| 2008 | B | 3.15 | 21st  |
| 2007 | D | 2.63 | 45th  |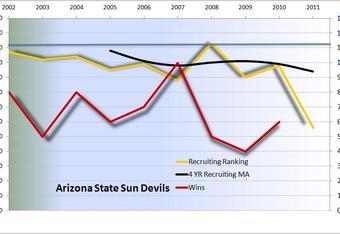 This graphic from collegefootballmatrix.com illustrates how regular season wins will generally follow a team's national recruiting rankings.
2012 has been a poor year in recruiting so far for the Sun devils. ASU's latest commit is junior college transfer linebacker Kimball Niumatalolo who is unranked. 
Total 2012 Verbals: 22
5-Star Verbals: 0
4-Star Verbals: 1
Latest Verbal: 12/21/11 LB Kimball Niumatalolo (unrated)
Three-star players can be coached up, but more often than not, 4 and 5-star players are the "playmakers." They are usually the ones who make it into the NFL. They are the difference between a six-win or a nine-win season.
Arizona State will lose five starters on offense and six starters on defense. Defensively, Vontaze Burfict is expected to jump to the NFL, and his loss would be large. Defensive back Omar Bolden will probably leave as well unless he applies for a medical redshirt. 
Arizona State's good recruiting years in 2004 through 2006 paid dividends in wins in 2007. The lean years since then have resulted in a pair of 'six-win seasons' as of late. It will be interesting to see what the turnover of a few key players, a complete turnover in coaching staff, and an even more pathetic recruiting season will do for the Arizona State Sun Devils.
Coach Todd Graham could see as few as four wins in his first year and might end up finishing the Pac-12 Soutn in last place. That would be great news for Colorado.