Joe Flacco: More on Line Than Division Title, Bye Week for Baltimore Ravens QB
December 27, 2011
Rob Carr/Getty Images
When Baltimore Ravens quarterback Joe Flacco lines up under center for his 64th consecutive regular-season game on Sunday, the fourth-year signal-caller has more than winning the division and earning his team a first-round bye on the line. 
Joe Flacco could be playing for his future in Baltimore, and his financial future in the NFL. No other quarterback has led his team to four straight postseason appearances in his first four seasons and been as scrutinized or maligned as Flacco has been throughout his brief four-year career.
When you consider that Flacco's name appears next to some of the greats in the game, past and present, it's hard not to compare the Baltimore media, and at times Ravens fans (me included), to the likes of Red Sox and Yankees fans when it comes to expectations and criticisms of his play.
With the Indianapolis Colts' horrendous season and the Philadelphia Eagles being eliminated from playoff contention this past weekend, the Ravens, having clinched their franchise-record fourth consecutive postseason appearance two weeks ago, currently hold the longest active streak of consecutive playoff appearances.
Including the playoffs, Flacco's 36 wins during his first three seasons tied Miami Dolphins great Dan Marino for the most ever by a QB during his first three years in the NFL.
In fact, only two QBs in modern NFL history have started the first 60 games of their career, Peyton Manning and Joe Flacco. The difference between Flacco and Manning during their first five-dozen games is Flacco's done it while winning.
With a Week 6 29-14 victory over the Houston Texans, Flacco reached the 40-career-win mark (including playoffs) in just 60 games. Manning had only 30 wins in his first 60 starts and of all QBs since the 1970 AFL-NFL merger who started since day one of their rookie season and never missed a start, Flacco is the fastest to 40 total wins. After Saturday's victory, Flacco now has 47 wins in 70 starts, which ties him with Drew Brees for the most wins since the start of the 2008 season.
Many will say that Flacco has benefited from one of the best defenses in the NFL during that time, and while that may be true, he has more than done his part at times during those wins, throwing 57 touchdowns and 14 INTs with a 97.8 QB rating. His completion percentage, which has come under fire this season, is 62.4 percent during that span.
The Ravens are 27-3 when he produces at least a 95 rating, and 13-1 when he's at 110 or better. He's won 27 games at home, which is tops amongst NFL starting QB's since 08. During those wins, No. 5 has thrown 29 TDs and just eight INTs for a 96.9 passer rating. 
Flacco has won almost 70 percent of his games (43-20) during the regular season, and is 4-3 in the postseason, with all seven games being played on the road.  So with all of these numbers, why is Flacco so maligned?  Why is Flacco still trying to prove his worth to the fans, the media and most importantly, his own front office?
While Flacco has proven he can win a game here and there,and deserves some credit for the team's success, his inconsistency kills him. As good as Joe Cool has been during most of those 47 wins, he's been worse during the 23 losses. When you weigh the magnitude of some of those losses, including the three during the postseason, the criticism and concern is more than warranted.
Many Flacco supporters will laugh and say he doesn't get enough credit. He gets his fair share, and the operative word there is "fair." NFL analysts seem willing to anoint him a franchise-type QB following games like the one he had in Pittsburgh this year, but then he follows that up with games like he had in Seattle.
Let's not be foolish here, and remember that great (sarcasm) QBs like Tony Banks, Trent Dilfer, Kyle Boller, Anthony Wright, along with a rookie from Delaware have all contributed wins during seasons in which the Ravens made the playoffs.
Here's a good question: Would Flacco be the quarterback of the future in Seattle, Minnesota, Washington or Cleveland? Could he have duplicated what Andy Dalton did in Cincinnati this season? Please don't tell me he did duplicate what Andy Dalton did—he didn't. The Ravens had a beast of a running game in 2008 in LeRon McClain and Willis McGahee, which was ranked fourth in the NFL.
Let's not forget the defense, which bailed Flacco and the Ravens offense out of trouble on many occasions, and ranks in the top five in most categories since his arrival and for most of the past decade. 
Flacco threw for under 3,000 yards in his rookie campaign, and just 14 touchdowns. Dalton is at 3,166 with 20 TDs headed into the final week of his rookie season.
Until this season, Flacco's arm has never won the big game. His postseason numbers aren't anything to rave about. His unorthodox footwork makes him look like an oaf in the pocket at times, and there is simply no in between with Joe. Fans tend to become enamored with strong arms and pretty spirals from NFL quarterbacks, and Flacco has both, but it's not nearly enough to say he's the man of the future in Baltimore
While he has six fourth-quarter comebacks and 11 game-winning drives in his career, he's real good or real bad, and if there is an in between, it looked something like his performance this past Saturday versus Cleveland—and that looked bad Ravens fans.
Flacco was certainly not playoff-ready, as he engineered just 284 total yards of offense and three points during the game's last 35 minutes. He finished the game just 11-of-24 for 132 yards, and for the fourth time this season, completed less than 50 percent of his passes.
To be fair to Flacco, he is 7-0 against the NFL's top six passing defenses in the league this season. The Browns are No. 2 behind the Steelers. The Texans are third, Ravens fourth, New York Jets fifth and Rams sixth. Just for giggles, the Jaguars are seventh.
However, Flacco again continued to struggle through his reads and progressions on Christmas Eve, and with the playoffs looming, that's not a good sign. He completed just two passes to a wide receiver, both to rookie Torrey Smith. Running back Ray Rice was the team's leading receiver, and Flacco has no—and I mean absolutely no—chemistry with Lee Evans.
The Ravens need to think about re-signing Derrick Mason with Anquan Boldin out with injury.
Prior to this season, Flacco has never beaten the Patriots, Steelers or Colts when it mattered. Yes the Ravens beat New England in the playoffs a few years back with Flacco at quarterback, but I hardly think 34 total passing yards during a playoff win gives you bragging rights as an NFL quarterback. As in most postseason games, Flacco was a game manager, not a franchise quarterback.
Flacco is having the worst year of his brief career, and during a season when the Ravens front office has dared Flacco to take the next step and lead this team to the next level in the postseason, he's completed a career-worst 56 percent of his passes. 
Flacco was horrendous during losses to Tennessee and Jacksonville this season.
The week after shredding the Pittsburgh Steelers defense during the season opener at home with a 35-point, three-touchdown performance, Flacco looked horrible in Nashville versus the Titans the following week. He completed 15-of-32 passes for 197 yards, with one TD and two interceptions. When Tennessee's defense took Ray Rice out of the offense, Flacco looked lost in the Music City.
However, nothing could prepare Ravens fans for the performance Flacco would turn in a little over a month later in Jacksonville on a national stage during Monday Night Football.
It was during that contest that many began to become extremely concerned with Joe Cool's lack of consistency. Flacco turned in the worst performance of his career, as he threw for just for 137 yards, one TD and an interception. He had just 37 yards going into the fourth quarter, as the Ravens offense had gained a franchise-worst 16 net yards in the first half and didn't get a first down until nearly 40 minutes had elapsed in the game.
Flacco didn't have any success until Jacksonville went into a prevent defense, allowing the QB room underneath to complete passes, while running the no-huddle. A late TD pass made the game look like a nail-bitter, but in reality the 12-7 victory by the Jags was an eye-opening experience for Ravens fans.
This was another mind-boggling performance by the supposed franchise QB, who was again coming off a solid performance the week before versus a good defensive team. Against a Houston Texans defense that was climbing its way to a No. 1 defensive ranking, Flacco competed almost 61 percent of his passes for 305 yards during the Ravens' 29-14 win prior to the Jacksonville debacle.
According to Stats Hosted solution, of Flacco's 226 incomplete passes this season, 94 of them or 41.6 percent are a result of poor throws. In comparison, rookie QB Andy Dalton of the Bengals has had just 35.6 percent of his incompletions (194) deemed poor throws, and Falcons QB Matt Ryan, whom Flacco gets compared to most often because they both were drafted in the first round of the '08 entry draft,  has thrown 198 incomplete passes with 35.9 percent being bad throws.
Dropped balls are being pointed to as a major reason for some of Flacco's misfortunes this season, and while that may be true, it's not as bad as the Baltimore media is making out to be. The Ravens are sixth in the league with 30 dropped balls this season, as Anquan Boldin and Ray Rice are each tied with seven. If you eliminate half of the drops and turn them into catches, that gives Flacco a 59.4 completion percentage, which is still not in the top 20 of NFL QBs.
In fact, Flacco has gone from 10th to 26th in that category, and has dropped from seventh in passer rating in 2010 to 20th this season. Flacco was looking to secure his financial future this past offseason and was upset when Baltimore did not renegotiate a new contract for him. Flacco's rookie deal in 2008 was for five years with a maximum value of around $30 million and $8.75 million guaranteed.
Flacco told Jamison Hensley of the Baltimore Sun last April:
If you don't sign me this year, you're making me play a whole year of my contract with no security. In a year from now, I'm going to be thinking, "Hey, they already made me play one year without another contract, what's the harm in playing another year and seeing what happens after that?"
This is that year, and when Flacco turns in performances like the one this past Saturday, or last week in San Diego, I find myself wondering what Ravens owner Steve Biscotti is thinking. Does he give credit to Flacco when he reads stats like the Ravens can sweep the best division in football with a win on Sunday? According to Jamison Hensley of ESPN, with Week 17 featuring only division games, the final non-conference records are set. The AFC North had a 21-15 mark outside the division, which is one win better than the NFC North (24-16).
The Ravens have never swept their division, and beating Cincinnati on Sunday, who is 1-6 against teams with winning records this season, would allow Flacco to be the QB of record for that feat in Ravens history.
Against the division this year, he is 83-for-150 and 1,084 yards. He's chucked eight touchdowns, and just two interceptions. His combined QB rating is a hair shy of 90. So he has performed when it mattered in terms of earning division wins, and beating your division is the first step to winning it.
The numbers won't knock you over, and are a far cry from what Aaron Rodgers or Drew Brees did against their division, but according to the experts, the AFC North is the only division in football that has three teams that will finish with a winning record.
There is always a "point, counterpoint" when it comes to Joe Flacco. He has won two huge games in his career, both over the Steelers in Pittsburgh, but neither in the postseason. In fact, while Flacco does have that unique distinction of being just the third starting quarterback since the 1970 AFL-NFL merger to reach the playoffs in his first three seasons, his postseason numbers aren't good.
Flacco supporters will say he's won more than he's lost, but Flacco detractors will say "So what?" He's never won the big one in late January. His 150 passing yards per game average, 53.3 completion percentage and three more INTs than TDs (four TDs, seven INTs) in the postseason are proof he cannot carry the Ravens when they need him most.
Not all of this is Flacco's fault, or at the very least, the Ravens have contributed to his mindset. Flacco seems susceptible to head warfare, and the Ravens front office fired the first three shots across Flacco's bow. There was the denied request for that new contract, and Flacco no doubt felt alienated when they fired Jim Zorn, his quarterback coach following last season.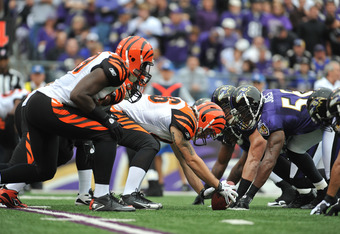 Larry French/Getty Images
In fact, the firing of Zorn really fired up Flacco. "I'm not happy about it, they know that I'm not happy about it," Flacco told Aaron Wilson of the Carroll County Times last January, "It's not news to them. They know I'm not happy about it, and my feelings aren't going to change. I'm not going to be happy about it, for a long time.
Flacco had the best season of his career last year, passing for 3,622 yards and 25 touchdowns with 10 interceptions and 93.6 passer rating, and without Zorn, will have his worst.
"I also feel like a little bit like I'm being attacked," Flacco said.
You fire the quarterback coach. Usually when you fire a position coach, it's because you're not really happy with how that position did. And when I look back on my season and our season as a team, I mean, we won 13 games.
I felt like I had a pretty good year and you're firing the quarterback coach? It's kind of an attack on me, I feel like. You know, it is what it is. It's not that big of a deal for me to feel like it.
Point taken, but there was still those crucial losses to the Steelers last December and in the postseason. This brings me to Flacco's biggest obstacle in Baltimore, offensive coordinator Cam Cameron.
It is likely the Ravens will fire Cameron at season's end unless they win the Super Bowl, so talk about pressure. It's obvious he and Flacco are on different planets. With Cameron gone, Flacco will get one more shot next season to prove he can be the man, his fifth and probably final season as a Raven if he fails once again to take that next step.
In case you wondering, that third shot the Ravens fired at Flacco was done so during the end-of-the-year press conference last season when Ozzie Newsome said:
What I have been able to see over the past three years is a guy that can make all the throws, a guy that has poise, a guy that has command of his offense. But, I also [see] a guy that can be inconsistent, not get it done at times. It's upon all of us to take him to the next level. What that next level is, I don't know. But, he's got to be a better quarterback in 2011 than he was in 2010. And I think that's all I would ask him: Be better than you were last year. I think Joe will be willing to do that.
So, I pose the question to you Ravens fans: While Flacco may have been willing to be better this season, was he, Ravens fans? Was Joe Flacco better this year?
None of this will matter, and Flacco can erase every doubt, bad word, both written and spoken, with a solid postseason this year. For the Ravens and Flacco, that begins this Sunday with the Cincinnati Bengals. This is a huge test for Flacco; the Bengals have his number, and forced his worst game last season in Cincy.
Lifetime versus "Who Dey," Flacco's numbers look a lot like his career postseason numbers. He is 4-3 lifetime, but has thrown only six touchdowns with 10 interceptions. He owns a 59.2 QB rating, and is 1-2 in the Queen City. If there is a positive, Flacco did have his best day versus the Bengals a little over a month ago. He threw for 270 yards, two TDs and one interception. His 105.1 QB rating was the second best of this season, so there is hope that Flacco has figured something out.
Many pointed to the fact that Ravens killer CB Jonathan Joseph is now in Houston, and CB Leon Hall was lost for the season the week before with an Achilles injury. The Bengals secondary was beat up back then, and remains suspect for this week's matchup.
Whatever the reason for Flacco's solid performance, Cincinnati is stout against the run, which means yards will be tough for Ray Rice, the NFL's leader in yards from scrimmage, to gain this week. The Striped Cats own the sixth-best rushing defense in the NFL, allowing fewer than 97 yards per game. That means that in their house, the Bengals will be tough to run on and if Rice is ineffective early, Flacco is going to have to step up.
Oh, by the way: If the Bengals win, they clinch a playoff spot; like I said, this won't be easy. If Flacco is going to bring home his first AFC North title and the Ravens' second, he is going to have to be better than he has been for most of this season. 
Sunday is going to be all about Flacco and his ability to make plays at crucial times. It's likely that if Flacco has a repeat performance of his average career numbers versus the Bengals, the Ravens will be on the road once again this postseason. As much as there is to be said for making it to the playoffs in your first four years in the league, as much can be said for having to play every game on the road.
A loss and the Ravens could be one-and-done next week on the road where they have won just three times this season. Losing in Cincinnati will most assuredly bring out the worst in the fans and Baltimore media this coming week, which would make it difficult for any professional to gain confidence.
Now this is assuming the Steelers win in Cleveland, but even so, do you want Flacco headed into the postseason with a bad game, while backing into a division title? Baltimore fans have their pride, and even though we will take it, we know what it means in terms of playoff performance.
If Flacco steps up and produces a big game, the confidence gained could be invaluable for him and it's likely the Ravens could be in Indianapolis on the first Sunday in February. If that happens, Joe Cool would probably get that contract this offseason. Hell, they may even hire Jim Zorn back for the Super Bowl winner. It usually works that way for a Super Bowl-winning QB, unless your last name is Dilfer.
If he folds on Sunday or badly in the postseason, then you can believe the Ravens have a plan B, and chances are it involves an exit strategy with No. 5. following the 2013 season. Ravens GM Ozzie Newsome bowed to former Ravens coach Brian Billick when it came to keeping QBs around longer than they should have been or letting them go prematurely—all Billick's call.
Pick one, any one. You can start with getting rid of Trent Dilfer following a Super Bowl win, and replacing him with Elvis Grbac, who played one year in Baltimore and disappeared from the NFL.
It all ended with Kyle Boller, Troy Smith and an injured Steve McNair. Newsome withstood it all. He won't do it again.
Let's hope this offseason is about visiting Disney World—and talking about winning the Super Bowl, let's hope Flacco earns that extension starting with a win on Sunday in Cincinnati, because for him, it's about more than just winning the division and a bye.
This is about Joe Flacco's future in the NFL.