Philadelphia Eagles: Revisiting the 5 Offseason Moves They Were Sure to Regret
December 26, 2011
Mike Ehrmann/Getty Images
The glimmer of playoff hope that was provided by the Eagles' late-season surge (coupled with the incompetence at the top of the NFC East this season) proved to be nothing more than a mirage.
When the Giants overwhelmed the Jets on Christmas Eve, the frustrating performance of the Jets makes for an easy scapegoat, but the truth is, the Eagles have no one to blame but themselves for their elimination from contention. Teams that start 4-8 don't deserve to win divisions, plain and simple.
Before they were 4-8, however, they were the "Dream Team," the consensus winners of the lockout-shortened 2011 offseason. Despite that consensus, I was skeptical, predicting five offseason moves the Eagles would regret.
Now, in the face of selecting towards the top half of the 2012 NFL draft, it's time to revisit my predictions, and figure out where things went wrong.
5. Drafting Curtis Marsh in the Third Round
Marsh was buried on the depth chart from the get-go, after the acquisitions of Nnamdi Asomugha and Dominique Rodgers-Cromartie, and the return of Joselio Hansen. He managed to dress for six games and make a total of two tackles on the season.
What he's best remembered for, however, is fumbling punts in consecutive games against the Dolphins and Jets, right when the team was beginning to make its final playoff push.
Marsh was supposed to be a project when he was drafted, so his lack of production this season won't seal his ultimate fate. But this was a team built to win now, and teams like that need much more help from third-round draft picks.
The Eagles could have killed two birds with one stone by drafting Roy Helu: solving their backup running back problems (which Ronnie Brown has failed to solve), and stopping their division rivals from securing a cornerstone of their offense.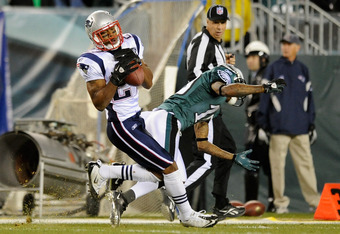 Patrick McDermott/Getty Images
Accuracy of Prediction: A-
4. Not Giving DeSean Jackson an Extension
The Eagles refused to lock up their explosive-but-streaky wideout during the offseason, but proceeded to dole out a historic amount of money in free agency. As I wrote back in September, "...even if Jackson wasn't a bit of a diva, he'd have a right to be pissed at the way the Eagles have handled their finances this offseason. If the team underachieves in 2011, it wouldn't be shocking to see DeSean walk into the arms of the highest bidder."
Welp. To say the team underachieved would be an understatement. DeSean's signature moment of the year wasn't an explosive punt return, or a 90-yard touchdown catch. It was a drop-riddled performance in a must-win home game against New England.
Something hasn't felt right about DeSean's attitude, particularly as Brent Celek has reemerged as a receiving threat, and Jeremy Maclin has proven his worth as a potential No. 1 receiver.
You could argue about whether the Eagles even want to bring Jackson back next year. But anyone who'd make that argument must have a short enough memory to forget everything he has done for this team.
When teams with more money to spend come calling this offseason, the Eagles may very well regret their insistence on not locking Jackson up in 2011.
Accuracy of Prediction: B+
3. Signing Vince Young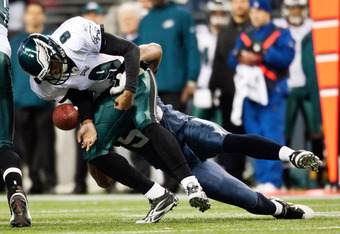 Jay Drowns/Getty Images
I wrote that Vince had already proved to be more trouble than he was worth when he coined the infamous term "Dream Team." Turns out he would be just as much of a nuisance once he strapped on his helmet.
Young went 1-2 in three relief starts while Michael Vick nursed broken ribs. However, his one win—a 17-10 upset of the Giants in New York—was won despite  his presence under center, not because of it. Young looked lost en route to throwing four TDs and nine INTs this season, finishing with a QB rating of 60.8
Young was signed specifically to handle a the situation that materialized this season. He was supposed to be a proven winner who could do what he was supposed to if Vick had to sit out for a month.
But he choked away a home game to the Seattle Seahawks with four picks, and definitely failed the eye test when put next to Mike Kafka's impressive (albeit short) stint relieving Vick against Atlanta in Week 2.
As far as I'm concerned, the Eagles beat Seattle in Philadelphia with Mike Kafka under center, and still have a realistic (if not a very good) chance of winning the NFC East as we enter Week 17. Instead, the Eagles are making vacation plans for Wild-Card Weekend.
Accuracy of Prediction: A+
2. Moving Juan Castillo to Defensive Coordinator
As I mentioned in my September article, this was Castillo's first time working on the defensive side of the ball since 1989....when he coached at Kingsville High School! His inexperience was evident from Week 1, as the Eagles defense underachieved for almost all of the 2011 season.
Blessed with one of the league's most talented pass rushes, and one of the league's most reliable secondaries, Castillo failed to utilize the talent at his disposal and create a functional unit.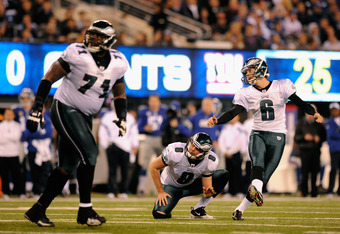 Patrick McDermott/Getty Images
Like Head Coach Andy Reid, there's a chance Castillo may have saved his job thanks to the team's strong finish to the season. Castillo's defense, in particular, has looked stout during the current three-game winning streak.
That being said, this team was built to win the Super Bowl this season. Not down the road. They needed a defensive boss who hadn't been coaching offense since Bush Sr. was in the White House. Castillo's growing pains are very culpable for the team's 4-8 start, and inability to make the playoffs.
Accuracy of Prediction: A+
1. Not Re-Signing David Akers
The Eagles chose not to renew legendary kicker David Akers in the wake of his disastrous performance against the Packers in the 2010 playoffs. In his place they drafted Alex Henery, the most accurate kicker in NCAA history, while Akers moved out to San Francisco.
Akers has been a revelation for the 49ers, and we wish him the best in the 2011 postseason. Henery has, in his own right, also been a revelation in 2011. The rook has booted in 22 of his 25 kicks (good for 88 percent), and hasn't missed a single one since Week 4 against Akers' own Niners.
With that being said, Henery's two misses against San Francisco helped the Eagles lose momentum, and cough up a seemingly insurmountable 20-point, third quarter lead. Missing from within 40 yards both times, Henery surely cost the Eagles a win that, looking back on it, could have gotten them into the playoffs.
All in all though, Henery has looked every bit the part of an NCAA record holder since Week 4, and gives the Eagles a very promising future at the position, so it's hard to get on the team's case for letting an aging veteran walk.
Accuracy of Prediction: C+