California vs. Texas: Game Time, Radio and TV Coverage Info for Holiday Bowl
December 26, 2011
Jamie Squire/Getty Images
The California Golden Bears are taking on a Texas Longhorns team in what could be called the "Overrated Bowl," but instead we will call it the Bridgepoint Education Holiday Bowl.
While Cal is appropriately not ranked, somehow the people that control the BCS have the wisdom to put one of the biggest disappointments of 2011 in the top 25. Nice move, BCS.
Where: Qualcomm Stadium, San Diego, CA
When: Wednesday, December 28, 8:00 p.m. ET
Watch: ESPN
Listen: ESPN Radio
Betting Line: Over/Under: 47.5, Spread: Texas -3
While I believe that both teams are very overrated, the fact that neither team plays defense means this is a sure thing for over. I would stay away from the spread because this has the potential to be a shootout with a last second, one-point win.
Injuries:
California
David Wilkerson, LB, Probable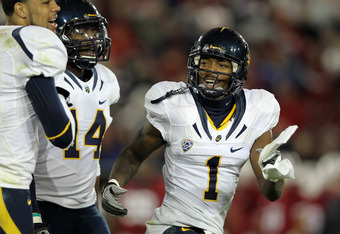 Ezra Shaw/Getty Images
Michael Calvin, WR, Probable
Chris McCain, LB, Probable
Texas
Blake Gideon, S, Probable
Malcolm Brown, RB, Probable
Joe Bergeron, RB, Probable
Christian Scott, S, Questionable
Sedrick Flowers, OL, Questionable
John Harris, WR, Questionable
BCS/Top 25 Implications
While there is no doubt that the Longhorns are so deep in the BCS' pocket that they couldn't be out of the top 25 two years in a row, so this game doesn't matter for Texas. They'll be ranked no matter what. If Cal wins, though, they will have to be considered for a top 25 start to next season.
What They're Saying
Golden Bears' head coach Jeff Tedford told the Kansas City Tribune about offensive star Zach Maynard's progression:
"He is a first-year player in our program. I really felt like if you look at the last half of the season and took the UCLA game out of it he completed close to 69 percent of his passes with 159 passing efficiency. He played really, really well and didn't turn the football over. I think it was key for him the manage the game and we got our run game going which really helped us finish the year strong."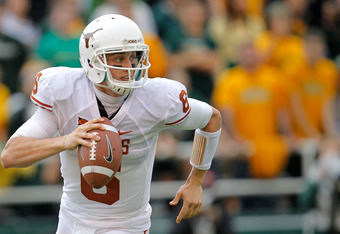 Sarah Glenn/Getty Images
Key Matchup: David Ash vs. Case McCoy
If the Texas Longhorns don't make the right choice at quarterback, nothing they will do against the Golden Bears will matter. They need consistent play under center and despite the worst game of his career, it should be Case McCoy making the start. If McCoy starts, they win.
Prediction: Texas 37, California 35
Check back for more on the NCAA Football as it comes, and check out Bleacher Report's College Football Page to get your fill of College Football.