5 Things We Learned from Premier League Monday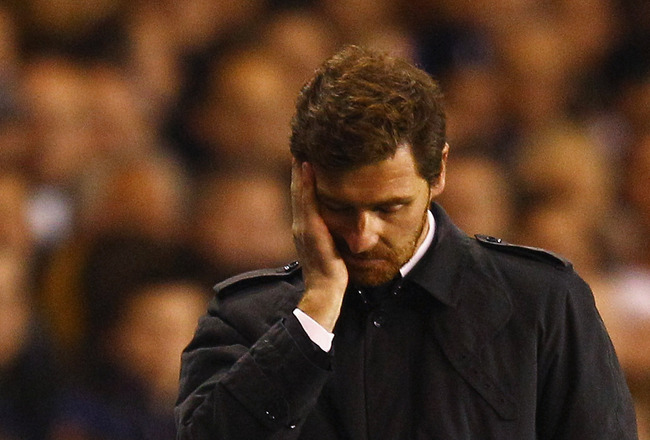 Richard Heathcote/Getty Images
The Premier League took a break over Christmas weekend, but the traditional Boxing Day football was back come Monday.
With a 5-0 thrashing of Wigan, Manchester United drew level with their noisy neighbors Manchester City, who were held 0-0 at West Brom, at the top, though City still have a plus-five goal difference.
The pressure on Andre Villas-Boas' head continues to mount as Chelsea were held for their third straight game, and Liverpool just keep on sputtering.
So, what did we learn on Boxing Day?
John Terry Is Handling Allegations Better Than Luis Suarez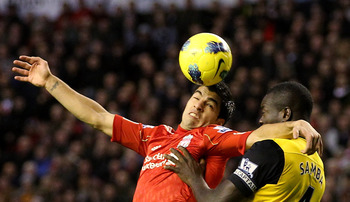 Scott Heavey/Getty Images
Liverpool's Luis Suarez is facing an eight-match ban, pending an appeal, for racially abusing Manchester United's Patrice Evra in October, while Chelsea skipper John Terry is facing criminal charges for racially abusing Anton Ferdinand.
Terry may be under greater pressure, but you wouldn't know it judging by how each played in the last week.
Perhaps because Terry is used to the boos by now, but the allegations haven't affected the centre-back's performances at all.
Terry defended heroically against Tottenham last week and was again at the center of everything for Chelsea against Fulham on Monday.
Suarez, on the other hand, seems to have lost the spark he had for so much of the year. He was a non-factor at Wigan on Wednesday and again played little part in the draw against Blackburn on Monday.
Both Terry and Suarez are vital players to their teams, and Chelsea and Liverpool will need their star players to play like it in the coming weeks.
Even Chelsea Fans Have Given Up on Fernando Torres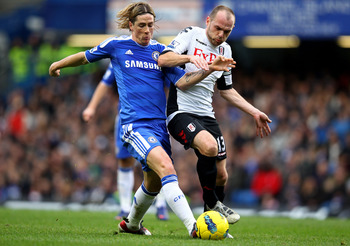 Julian Finney/Getty Images
Fernando Torres has scored seven Premier League goals in 2011, but four of them came last January, when he was still with Liverpool.
Even with his miserable form the first half of the year with Chelsea, the fans were still behind him, and rightly so.
Torres also started this season out well, but that has completely faded now, and so has the fans' support.
The Spaniard got the start at Stamford Bridge against Fulham Monday, but he again looked slow and uninspiring, and the fans are no longer singing his name in an effort to spur him on.
Rumors have floated that Chelsea could be willing to sell Torres for half what they paid in January, and at this point, the Chelsea fans who admired the former Liverpool star may even be willing to give up on him.
Even if somewhere deep down, Torres is the same player, it doesn't look like it'll be happening at Chelsea.
To be fair, Chelsea is not playing well, nor is Andre Villas-Boas managing well at all, and Torres is just the biggest example of that.
That Man Clint Dempsey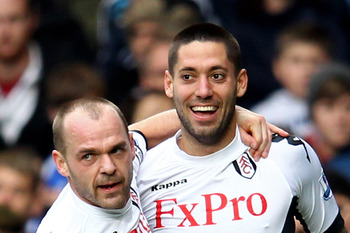 Julian Finney/Getty Images
Landon Donovan gets all the attention when it comes to American soccer players, but Clint Dempsey is really the one people should be focusing on.
Dempsey has been one of Fulham's key players since he arrived in London, and he's showing that even more this season.
Dempsey scored the equalizer for Fulham at Stamford Bridge on Monday, his sixth Premier League goal of the season, adding to his American-record 39 league goals.
If Dempsey continues his hot form for Fulham, it will be hard for the Cottagers to keep him from England's top clubs.
Liverpool Beating Themselves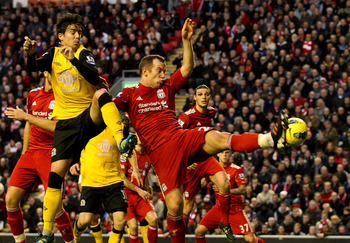 Scott Heavey/Getty Images
Liverpool were held at Anfield 1-1 by bottom club Blackburn Monday, but it was more a case of Liverpool holding themselves.
An own goal from Charlie Adam right at the end of the first half and a couple saves from Pepe Reina throughout were all Blackburn could muster, while Liverpool dominated possession and just wasted chances in the final third.
It's been a theme of Liverpool's season so far, as the Reds have not scored more than two goals in a Premier League match all season. The defense has held up, fortunately, not allowing more than one goal all season, except for the 4-0 beating at Tottenham in September.
But Kenny Dalglish's side has made opposing defenses look far too good.
Manchester United Finishing Strong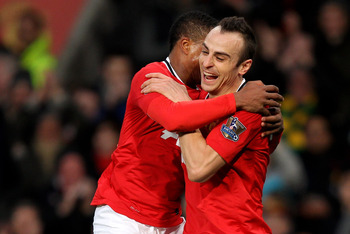 Alex Livesey/Getty Images
Dimitar Berbatov (he's still in England?) scored a hat trick Monday as Manchester United cantered to a 5-0 win over 10-man Wigan at Old Trafford. It was their second straight 5-0 win in the league.
The win brought United level with Manchester City at the top of table, capping off an up-and-down first half of the season for the Red Devils.
United have played strongly ever since they were dumped out of the Champions League, while City have sputtered a bit in the last few weeks.
Sir Alex Ferguson's side still has a number of issues to address in the January transfer window, mainly in defense, but they're certainly the hottest team heading into the new year.
Keep Reading