Baltimore Orioles: All-Time Lineup of Oriole Greats at Each Position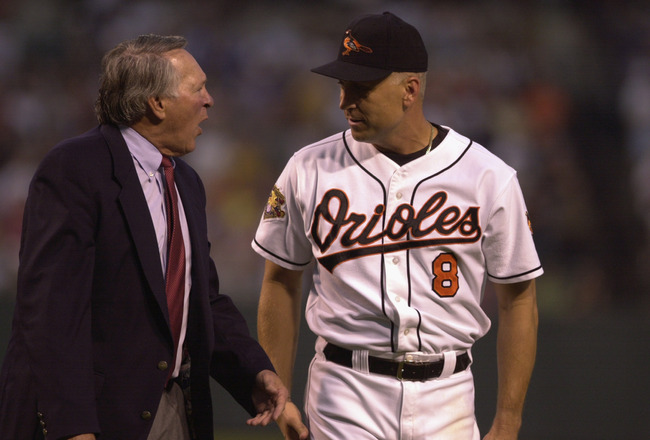 Doug Pensinger/Getty Images
It's a little difficult to remember now, but the Orioles were once one of the best teams in baseball. The franchise that had the worst pitching in 2011 once had the best rotation in the majors, one that is still considered to be one of the best of all time.
The Orioles today are miserable. Baltimore hasn't seen a winning season in the last 14 years, and fans have been poached by the up-and-coming Washington Nationals. Although the team as a whole is poor, the Orioles do still have some stars in Matt Wieters and Adam Jones.
Looking at the past greatness, it's intriguing to think where these current Orioles will stand in the history of the organization. Who will I be able to tell my children about, just like my dad taught me of Brooks, Frank Robinson and the great Jim Palmer?
Here are the all-time greats for the Orioles, position by position. I've chosen each player based on single season statistics instead of career totals to make things a little more interesting.
C: Chris Hoiles (1993)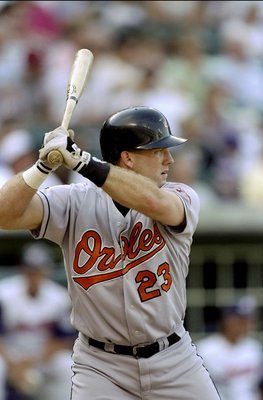 Elsa/Getty Images
Key Stats:
.310 AVG 1.001 OPS 29 HR 82 RBI
The Orioles have never had a catcher who was near the best in the league at the position for an extended period (although Matt Wieters may soon be that guy), but Chris Hoiles had one of the best offensive seasons in team history in 1993.
Hoiles displayed pretty good power in just 126 games behind the plate, but was really great in getting on base. While not qualifying for OBP, his .416 would have been second on the Orioles' all-time ranking.
Any time a player has an OPS greater than 1.000, it is an unbelievable accomplishment and Hoiles is one of just three Orioles to do it. 1993 was his most durable season and he never came close to the same offensive numbers again, but it will always be remembered in Orioles' history.
1B: Jim Gentile (1961)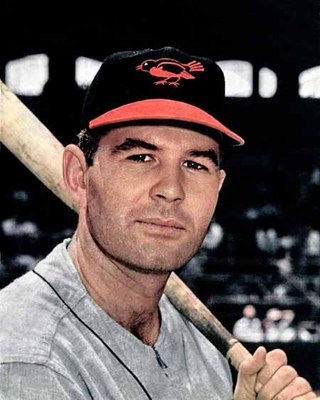 via ebay.com
Key Stats:
.302 AVG 1.069 OPS 46 HR 141 RBI
When I started to write this list, I thought for sure that I was going to be between Eddie Murray and Boog Powell for the best season by a first baseman (I chose to ignore Rafael Palmeiro). I didn't even know who Jim Gentile was, other than hearing his name once or twice.
Jim Gentile's 1961 season was the single greatest offensive season in the history of the Baltimore Orioles. This season was an anomaly in Gentile's career, but my first thought was, "how could Gentile have had this unbelievable season and not have won MVP?" Roger Maris' 61 home runs that season was the reason.
Gentile's OBP and SLG that season rank first in the history of the team, and will likely never be challenged. His impact on the team was short-lived, but his monster year will stand tall.
2B: Roberto Alomar (1996)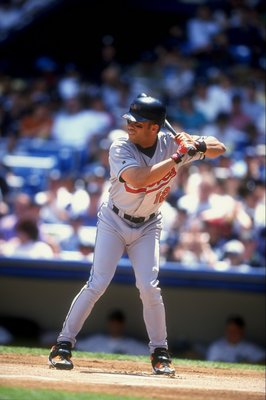 David Seelig/Getty Images
Key Stats:
.328 AVG .938 OPS 22 HR 94 RBI 132 R 43 2B 17 SB
AL Silver Slugger and Gold Glove
Roberto Alomar made a tremendous impact in his three seasons in Baltimore, but 1996 was the biggest.
At the time, 1996 was a career year for Alomar. He was a key part of the offense and defense that sent Davey Johnson to the playoffs in his first season. His 132 runs that season set the franchise record.
1996 featured the most infamous moments in both the career of Roberto Alomar and the history of the Baltimore Orioles. 1996 was the year of the Hall of Fame-delaying meltdown, where Alomar spat in the face of umpire John Hirschbeck. Later in the year, the Orioles fell to the Yankees in the ALCS after Jeffrey Maier's fan interference led to a Derek Jeter home run.
SS: Cal Ripken (1991)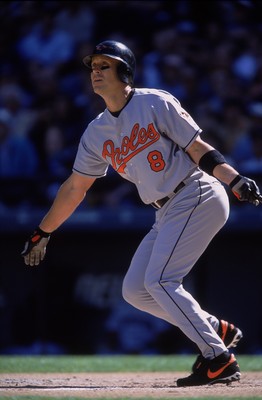 Otto Greule Jr/Getty Images
Key Stats:
.323 AVG .940 OPS 34 HR 114 RBI

AL MVP, Silver Slugger and Gold Glove
When it came down to choosing the shortstop, I had to choose carefully between two nominees: 1983 Cal Ripken and 1991 Cal Ripken. Those were his two MVP seasons.
Looking closely, the choice is easily 1991. That was his best offensive season, a season which he set career highs in home runs, RBI, batting average and OPS.
Unfortunately, Ripken's dominance was not enough to push the team over .500, and the Orioles closed Memorial Stadium on a bad note. However, the Hall of Fame shortstop was spectacular nonetheless.
3B: Brooks Robinson (1964)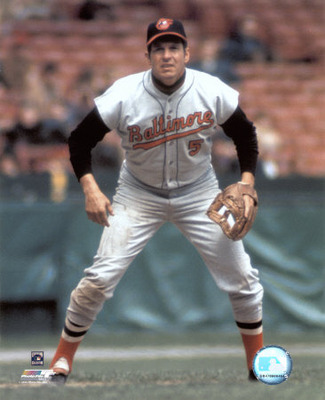 via brooksrobinson.com
Key Stats:
.317 AVG .889 OPS 28 HR 118 RBI
AL MVP and Gold Glove
The Orioles' Hall of Fame third baseman was never a spectacular offensive player, but 1964 was his one terrific year at the plate.
Brooks hit over .300 for the second and final time of his career and drove in over 100 RBI for the only time in his career. He also set career highs in home runs, OPS and hits.
The offensive numbers were great, but it's clear that the other side of his game was a big part of his winning the AL MVP. As the greatest defensive third baseman ever, Brooks won the fifth of his 16 consecutive Gold Gloves in 1964.
LF: B.J. Surhoff (1999)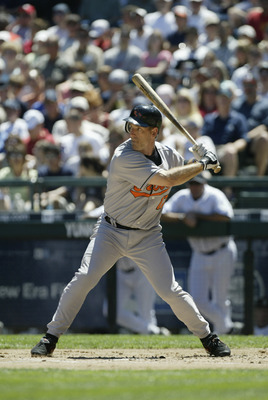 Otto Greule Jr/Getty Images
Key Stats:
.308 AVG .839 OPS 28 HR 107 RBI
B.J. Surhoff has been an underrated player in Orioles history, likely because he only played for the Orioles during the dark years, but he was a great left fielder in the late 1990s.
While not a top player, Surhoff was great in 1999. He made the All-Star team for the only time in his career and participated in the Home Run Derby.
Along with Albert Belle and Brady Anderson, B.J. Surhoff was a part of one of the best offensive outfields in 1999. They couldn't hit the Orioles into the playoffs, but they did smack 89 home runs together.
CF: Brady Anderson (1996)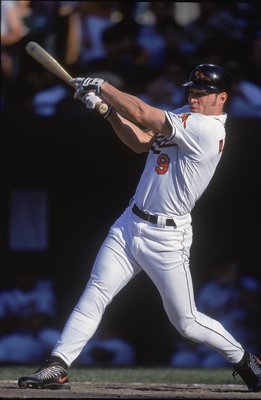 Matthew Stockman/Getty Images
Key Stats:
.297 AVG 1.034 OPS 50 HR 110 RBI 21 SB
Say what you will about Brady Anderson's "fluke" season, but it is by far the best offensive season in the history of the Baltimore Orioles.
Anderson's 50 home runs are the most ever by an Oriole and are more than any player on the St. Louis Browns as well. His power was never anywhere near the same, but he managed to have just the right amount of athleticism and luck to become forever ingrained in the Orioles' record books.
The Orioles may not ever have a player reach 50 home runs again, but if anyone has a chance, Prince Fielder could do it...if they sign him.
RF: Frank Robinson (1966)
via sportsthenandnow.com
Key Stats:
.316 AVG 1.047 OPS 49 HR 122 RBI
AL MVP
Frank Robinson's numbers in 1966 speak for themselves. His power was tremendous and his OPS was freakishly high.
Beyond the numbers, Frank was the league MVP that year and it was vital for the Orioles' run to the team's first AL pennant.
1966 is one of the three greatest seasons in Orioles history, as it was the first year that the Orioles won the World Series. Frank had the biggest impact and won the World Series MVP.
DH: Aubrey Huff (2008)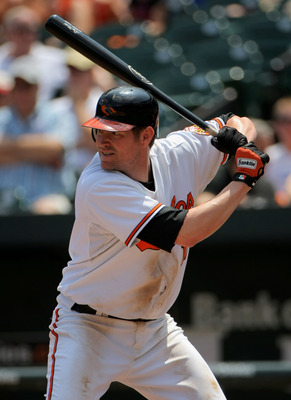 Doug Pensinger/Getty Images
Key Stats:
.304 AVG .912 OPS 32 HR 108 RBI
When Aubrey Huff signed with the Orioles prior to the 2007 season, he was expected to be the everyday first baseman, but Kevin Millar pushed him to DH in 2008 and Huff turned in one of the best offensive seasons in the team's recent history.
Huff was a monster in 2008, leading the team in home runs, RBI, OPS and tying Nick Markakis for the most hits. The team was unfortunately plagued by an awful pitching staff that included the likes of Radhames Liz, Brian Burres and the wildly inconsistent Daniel Cabrera.
Huff's 2008 later helped the Orioles trade him because, despite his poor start to 2009, he had built enough of a reputation to get Brett Jacobson in a trade with the Tigers. Jacobson was later traded to the Twins, bringing J.J. Hardy into the fold as a star in 2011.
Keep Reading

Baltimore Orioles: Like this team?