Clay Matthews Needs Some Help On D
Jamie Squire/Getty Images
December 26, 2011
Despite a festive and fun atmosphere at Lambeau Field on Christmas Day, where the Packers ultimately clinched home-field advantage throughout the NFL playoffs, I left the stadium very concerned and curious as to why the Packer defense has struggled mightily against their two most recent opponents.  Especially considering both of their opponents, the Chiefs and the Bears, have what I would consider mediocre offenses at best. 
Upon taking a second look at the Bears game where the scoreboard didn't really tell the whole story about the game, one thing stood out in watching the Packer defense. 
Nobody requires a double-team up front. 
Clay Matthews really stands alone currently as the only Packers defender that must be accounted for in the front seven.  So, while Matthews garners plenty of attention, his defensive colleagues aren't helping much. 
The Bears seemed to be very successful simply winning the one-on-one battles in the trenches with the Packers.  This allows other lineman and blockers to move on to the second level and attack the linebackers. 
It is quite troubling to witness the likes of Kyle Orton and Josh Mcown look so effective when opponents such as Drew Brees and the Saints or Frank Gore and the 49ers are on the playoff horizon. 
This weak front seven for Green Bay is getting zero pressure on quarterbacks currently, and this ability to block Green Bay defenders one-on-one makes it difficult for blitzes to get home because there are lineman and backs available to pickup the blitzing defenders.
We all know hindsight is 20/20, but it seems painfully clear right now that the Packers very much miss Cullen Jenkins.  Their best pass-rushing defensive end departed for the Eagles via free agency following the 2010 season.
Jenkins did demand the occasional double-team.  And if he was not being double-teamed, he was able to provide enough push to disrupt the pocket and often times force action away from himself and towards his pass rushing counterpart Clay Matthews.  Minus that push from the other side, we have all noticed a substantial drop-off in Matthews; sack numbers this year.
I believe Matthews is playing some of his most complete football thus far in his career. He just simply doesn't have any pass rush help to boost his sack totals. 
Taking a look at the numbers, through 15 games in the 2011 season, the Packers defensive lineman have accounted for six sacks.  This group is largely the same group minus Cullen Jenkins from a season ago.
Through 16 games last year, the Green Bay Packers defensive lineman combined for 18 sacks, seven of which came directly from Cullen Jenkins, who was playing some monster football during the Packers' Superbowl run.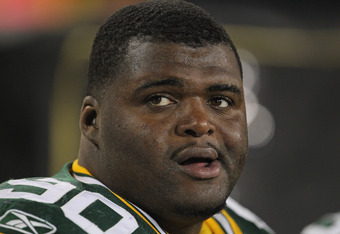 B.J. Raji Isn't Living Up to His 10th overall Pick Status
Jonathan Daniel/Getty Images
The Packers can only hope that their offense doesn't sputter throughout the 2011 playoffs. Otherwise, they may fall short of their ultimate goal.  The 2010 Packers were mostly shutdown by the Bears in the season finale and in the NFC Championship game.  But the 2010 defense was good enough to win a game or two for you. 
This one is not. 
Other Thoughts
Robert Francios MIA: 
I've mostly been a supporter of A.J. Hawk as a solid linebacker worth starting on the Packers defense.  But its difficult to ignore that, in very limited action, backup ILB Robert Francios, while subbing for an injured Hawk recently, provided two interceptions and one forced fumble.  Hawk has yet to make an entry into either of those stat columns in 2011 despite being on the field way more than Francios.
Watching the defense perform its worst since Hawk's return makes this Packer fan wonder if Francios needs to get more time on the field.  Even if it comes at the expense of the former sixth overall draft pick's playing time.   
Where am I? 
Despite all the success that QB Aaron Rodgers has already enjoyed in his career, I find it interesting that the 2011 playoffs will mark the first time Rodgers gets to play at home in the playoffs.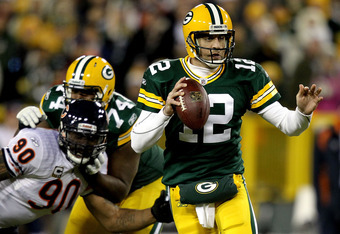 Hopefully Rodgers enjoys success playing his first home playoff game
Matthew Stockman/Getty Images
2009's one and done in the shootout with Kurt Warner's Cardinals in Arizona and last year's Superbowl run, we all remember, was completed 100 percent on the road.  It will be fun to see if Rodgers and company will have similar success while not having to leave Green Bay. 
Run the Dang Ball
Last but not least, given the time of possession issues in the last two Packers' games, like it or not, I believe that coach McCarthy really has to establish a legitimate run game during the final stretch. 
Last year, the Packers needed balance to protect Rodgers.  This year, the Packers need that same balance to keep their defense off the field.  If they don't get turnovers, it may lead to an early playoff exit despite the home field advantage.   
Like the new article format? Send us feedback!