NBA Trade Rumors: How Lakers Trade for Dwight Howard and Deron Williams
December 26, 2011
Kevin C. Cox/Getty Images
Chris Broussard is a mad scientist when it comes to hypothesizing potential NBA trades and while his latest seems the craziest of them all, it isn't impossible.
At halftime of the Los Angeles Lakers and Chicago Bulls Christmas matchup on ABC, Broussard sat down and threw out an insane series of events.  As Magic Johnson ranted on about how the Lakers should trade Andrew Bynum and Pau Gasol for Dwight Howard, Broussard corrected Magic saying that LA may only have to give up one of the two.  In fact, a Bynum for Howard swap could be followed by a Gasol for Deron Williams deal.
My initial reaction: shut up.
But while it's highly unlikely that the two trades would even be considered by the three involved teams, here's how the miracle would play out if it did go down…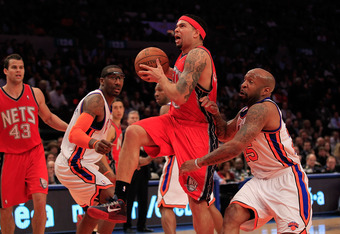 Chris Trotman/Getty Images
Howard isn't re-signing with the Orlando Magic.  D12 desires to play on a legitimate championship contender and most of all, he wants to build his brand in a massive market.  The Lakers and Nets were the two leaders in the race for Superman's services, but with New Jersey's primary trading piece in Brook Lopez out with a foot injury, LA is now the front-runner.
Orlando may want Bynum and Gasol, but they have minimal leverage.  With Howard on his way out of town, the Magic can either choose to sell their superstar center to the highest bidder or prepare to be left empty-handed next summer.  As the trade-deadline approaches, the Magic will become more and more desperate and eventually cave under pressure, dealing Dwight to the Lakers for Bynum along with other minor pieces.
With the possibility of Howard signing in Brooklyn through free agency now out the window, all of a sudden, Deron Williams isn't a happy camper.  Williams won't stick around without enough talent around him to realistically contend for a ring.  As the Nets realize they risk losing Williams for nothing after selling the farm to add him, they'll realize a move must be made to stay relevant.
Again, the closer the trade-deadline becomes, the more pressure will be on New Jersey who will panic and deal Deron to the highest bidder.  Who will be waiting there on auction day?  Mitch Kupchak and the Lakers with Gasol still on the trade block.
Now, don't get it twisted; I wouldn't bet a penny on this all actually happening.  Still, it may sound idiotic, it may sound irrational and it may sound improbable, but it isn't impossible.
David Daniels is a featured columnist at Bleacher Report and a syndicated writer. Follow him on Twitter.