Marshawn Lynch: Breaking Down Seahawks RB's Skittle-Inspired Explosion
December 26, 2011
Otto Greule Jr/Getty Images
Marshawn Lynch is having the kind of success on and off the field that other players dream of. The Seahawks running back has been stomping over and through opponents like a man possessed as of late.
However, he is doing this with the help of performance enhancers.
Beast Mode gobbles Skittles like they were steroids.
He eats them before the game and during the game. And unlike almost every other person in America, eating candy is paying off for him. 
Beast Mode's Rainbow Reign of Terror
Lynch started this season slow. He didn't break the 100-yard rushing mark until Week 8. Since then, he has gone over 100 yards in six of eight games.
He has also scored at least one touchdown in 11 straight games.
Mr. Beast Mode now has 1,118 yards and 12 touchdowns on the season.
Pot o' Gold at the End of the Candy-Coated Rainbow
During this stretch of dominance. Lynch had this determined run and post-TD snack against the Philadelphia Eagles in Week 13.
That amazing run was in the prime-time lights of Thursday Night Football, and his little snack not only caught the attention of fans, but of Skittles as well. This news followed the Eagles game.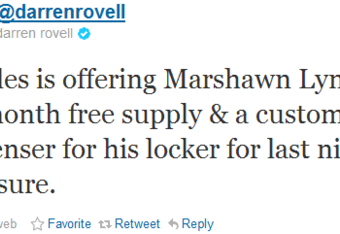 Lynch is now tied to his favorite candies. When he scores touchdowns in Seattle, fans begin making it rain with Skittles.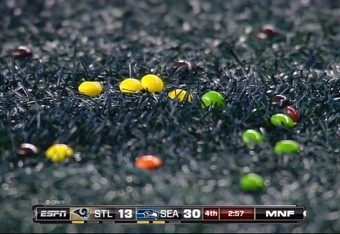 Not to be outdone, opportunistic shoe company Nike has caught on to the tasty trend, and has given Lynch a special cleat.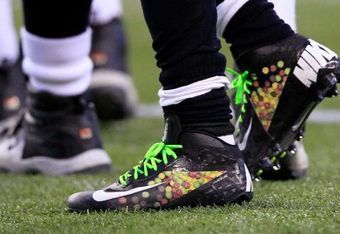 These are the cleats that Lynch was wearing when he became the first running back to go over 100 yards or score a TD on the ground against the 49ers this season.
Lynch is unstoppable right now. His success is netting him tasty, free perks, and he is making eating candy work for him. 
After all this hype given to eating candy, the NFL may have to change their campaign to Play 75.