View from Kingsmeadow, Volume 66: AFC Wimbledon Get Punched on Boxing Day
December 26, 2011
Pete Norton/Getty Images

This has been nothing more than a sorry December for Terry Brown's AFC Wimbledon, who have failed to secure a victory this month. On Boxing Day, they had a puncher's chance to salvage matters against Oxford United.
"Oxford United's push for play off spot will ensure an exciting end to end game and we are due to exact some revenge for previous defeats when we were in the Conference," Brown told reporters. "They possess a real threat up front in [forward James] Constable, [forward Tom] Craddock and [midfielder Alfie] Potter but as we have proved this season, if we get our game going we are more than a match for anyone.
"I haven't really set a target for the players over the Christmas and New Year period. However, we always look for three points in every game – especially at home."
Last season , the Us finished 12th in the Football League Two. Aside from Constable, who has eight goals to his credit this season, forward Robert Hall has also been a problem for opposing defenses, recording six goals this season.
Oxford midfielder Peter Leven has been hot as well, with five goals to his name. Coming into the match, Oxford were just out of a playoff position, sitting in eighth with a 9-6-6 record (33 points).
The gauntlet was thrown down for the players ahead of the contest: deliver the points or get sent packing in favor of players who can produce.
"We have got three games over Christmas and we need to get something out of them," Brown told the Wimbledon Guardian's Graham Moody last Tuesday. "I don't want to be saying we played some good football and deserved points – we have to get points. This takes us into the January window and my players have to realise their performances over the next three games determine how deep I have to delve into the window.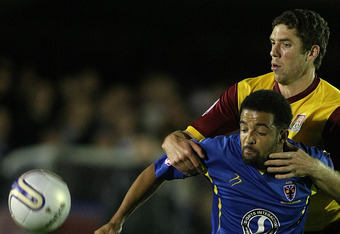 Pete Norton/Getty Images
"If we pick up no points over the next three games then I will have to definitely let some players go and get some in."
Constable opened the scoring in the 18th minute for Oxford. In the 44th minute, Asa Hall doubled the advantage on a textbook corner. That was all the Us needed as they outboxed an overmatched AFC Wimbledon outfit that was too ill to enter the ring that was Kingsmeadow to the tune of 2-0.
It will not get any better for AFC Wimbledon, who are marching towards the  Transfer Window on their hands and knees: crawling, struggling, and bedecked with questions and finger-pointing regarding their abysmal performance this month.
Two games in three days will await the Dons. Up next is a match against Southend United on Saturday, Dec. 31. Kickoff is scheduled for 7 a.m. PT/10 a.m. ET. Wimbledon will then face Swindon Town on the road on Monday, Jan. 2. Kickoff at The County Ground is scheduled for 7 a.m. PT/10 a.m. ET.
The View from Kingsmeadow concludes with this volume.