Detroit Pistons vs. Indiana Pacers: Tough Early Road Test for New-Look Pistons
December 26, 2011
Al Bello/Getty Images
After splitting their two preseason games, the Pistons will kick off their 2011-12 season tonight against the Indiana Pacers at Bankers Life Fieldhouse.  The Pistons followed a 27-win 2009-10 campaign with a hardly-improved 30-win effort in 2010-11, and fans in Motown will be looking for some tangible improvement this year starting tonight.
One notable change for fans to look forward to is the addition of new head coach Lawrence Frank on the bench replacing John Keuster.  Frank was up and down with a New Jersey Nets squad before moving on to an assistant job with the Boston Celtics.  He has shown the ability to coach players both young and old, a skill which will become very useful for a Detroit team featuring plenty of both.
Aside from the change at head coach, the Pistons will have a few deviations from the norm in the starting lineup and off the bench.  Detroit will be able to gauge their current status against an effective, but not elite squad in the Pacers who are anxious to build on the playoff-worthy effort they put together last season.
After re-signing guard Rodney Stuckey amidst contractual difficulties in the offseason, the Pistons enter with a similar, but slightly different lineup than offered last season. 
That recent contract agreement solidifies Stuckey at the point guard spot. In the absence of long-time mainstay Richard Hamilton, who moved to Chicago in the offseason, the 2-guard slot will by filled by Ben Gordon.  Gordon has yet to produce at the same level he did while playing for the Bulls, and Piston fans are surely hoping that increased playing time will lead to increased point production this season.
Tayshaun Prince remains the teams starting small forward and represents the longest tenured Piston in that lineup.  It will be interesting to see how he meshes with all the changes happening around him.  Young gun Austin Daye is waiting in the wings following a tremendous preseason and will no doubt be ready to fill in for Prince if called upon.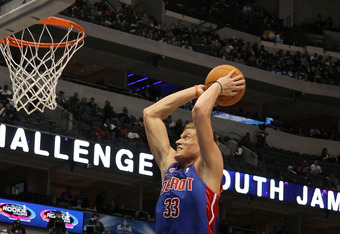 Jed Jacobsohn/Getty Images
After an Achilles injury ruined Jonas Jerebko's 2010 season, many are anxious to see if he can return to form this year, as the young Swede showed a lot of promise in his rookie season.  He will be partnered in the frontcourt with Greg Monroe, the second-year big man out of Georgetown. 
Given the opportunity to start late in his rookie season, Monroe flourished under the hoop and became a double-double monster.  His continued growth and presence down low will be key to Detroit's success this season, and the talented big man does not appear poised to disappoint.
Another noteworthy change for Detroit will be the addition of rookie guard Brandon Knight off the bench.  Knight was drafted No. 8 overall by the Pistons in the draft, and comes from a John Calipari backcourt which has been known to produce some serious talent in years past (see Tyreke Evans, Derrick Rose, John Wall).  While there will no doubt be a learning curve for Knight, he could prove the be the offensive spark the Pistons need coming off the bench in 2012.
The Pacers added big man David West in the offseason to pair with another Georgetown grad in Roy Hibbert down low. This matchup could be tough on Jerebko, who has far less experience than the seasoned West, but having been added so recently, the Pacers' new forward may still be feeling out the offense, which could give Jonas some breathing room.
Another key contributor down low for the Pacers will be Tyler Hansbrough, who will come of the bench.  Psycho T has shown that he can be effective, and sometimes dominant, in the low post, and his push off the bench will be tough for the young Pistons to contain.
This game will be a good measuring stick for both teams.  Indiana comes in with much higher expectations following a successful season, and are the clear favorites to take the season opener at home. 
However, Detroit has the talent to compete with the up-and-coming Pacers, and should be able to put up a fight if their important pieces show any sort of cohesiveness. This will be a lot to ask for a young team with lots of new players to go along with a new coach, but it is not completely out of the question.  Monday night's game should provide some excitement either way, as both teams have the opportunity to start off the new season with a win.