Philadelphia Eagles Week 16 Report Card: Grades for Every One of the Coaches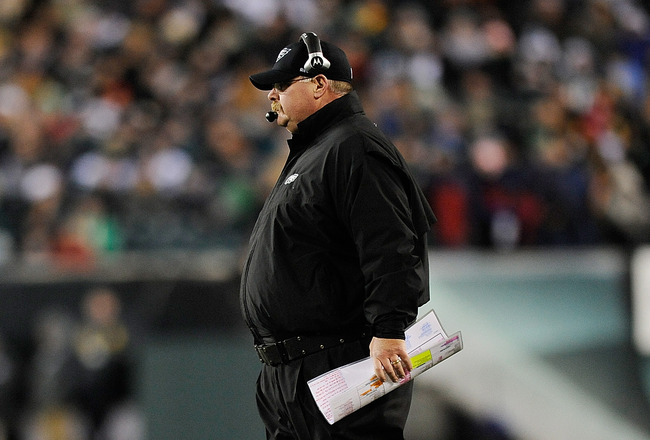 Patrick McDermott/Getty Images
The Philadelphia Eagles dismantled the Dallas Cowboys, 20-7, in a Week 16 matchup that gave the Eagles a season sweep of their biggest rival.
Although the New York Giants' win over the New York Jets earlier in the day officially eliminated the Eagles from the playoffs, it was still a nice consolation prize for the Eagles to take care of America's Team on Christmas Day.
Andy Reid has likely saved his job with three straight wins now, and both offensive coordinator Marty Mornhinweg and defensive coordinator Juan Castillo did an excellent job game-planning for the matchup.
The following breaks down and grades the overall grades for the coaching staff.
Andy Reid: Head Coach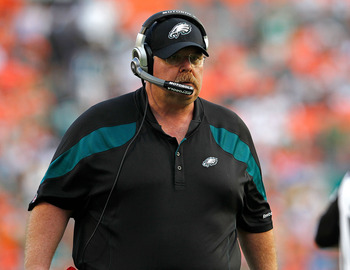 Mike Ehrmann/Getty Images
The man who was on the hot seat for much of the season has likely guaranteed he will be back in 2012 after beating the New York Jets and Dallas Cowboys handily in consecutive weeks. Both wins for the Eagles could keep those teams from reaching the postseason this year.
Reid has never had a shutout with the Eagles, but he came within seven seconds of doing so in Saturday's win. The Eagles took a commanding 14-0 halftime lead and didn't let up, winning 20-7 over a Cowboys team that has been inconsistent all season.
Reid called 37 passes to 23 runs, a typically pass-oriented approach that Eagles fans have grown to expect from Reid. It wasn't too outrageous though, considering Vick was quietly having a spectacular day throwing the football.
The only real question was Reid's decision to call a timeout with the Eagles facing a 4th-and-1 deep in their own territory with less than a minute to go. What the timeout essentially did was give the Cowboys time after the blocked punt to run a few plays and score a touchdown, negating what could have been a shutout.
If this had been a 20-14 game, and that play led to a 21-20 Cowboys win, it would probably be viewed as the dumbest Reid in-game decision of his career. Fortunately, it didn't really matter in the win column.
Grade: B-
Offensive Coordinator: Marty Morhinweg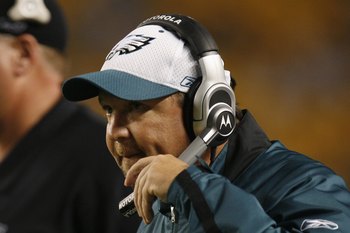 Gregory Shamus/Getty Images
As mentioned, the Philadelphia Eagles maintained a solid pass-run balance that enabled them to play aggressively and efficiently against the Dallas Cowboys.
LeSean McCoy didn't have his best day, and in fact, didn't score a touchdown. Michael Vick was sharp though, and both DeSean Jackson and Jeremy Maclin had good days, so their numbers were dialed up often enough to get them involved in the game.
It was a similar performance to the one the offense put up in the early season 34-7 rout of the Cowboys.
Grade: B+
Defensive Coordinator: Juan Castillo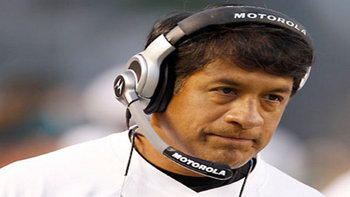 The offensive line-turned defensive coordinator is making a case to keep his job more and more each week.
Juan Castillo's defense held the high-powered Dallas Cowboys scoreless for 59 minutes and 52 seconds in Saturday's contest.
To be fair, the Cowboys were without Tony Romo or DeMarco Murray, but Stephen McGee is a good enough backup quarterback that he should have been able to lead the Cowboys to more than seven late meaningless points.
The front four got to the quarterback, registering three sacks and 11 quarterback hits, while the linebackers and defensive backfield did a fine enough job recording the tackles when needed.
Grade: A
Special Teams Coordinator: Bobby April
Alex Henery has been more efficient with every game, and he's now nailed 14 consecutive field goals. He made both of his attempts in this contest, a 43-yarder and a career-long 51-yard kick. He also nailed both extra points, giving him eight points on the day.
Chas Henry continued to make his case for the NFL's worst punter. He had a punt blocked on a play when he seemed to take a ridiculous long time before kicking the ball. He averaged just 42.7 yards per punt and didn't get any inside the 20.
Chad Hall returned punts, taking two for 20 yards. He doesn't have the explosive potential of a guy like DeSean Jackson, but Hall also isn't going to dance around and lose nine yards trying to break one for a score.
Jon Dorenbos was his usual extremely dependable self snapping the football.
Grade: B
Quarterbacks Coach: Doug Pederson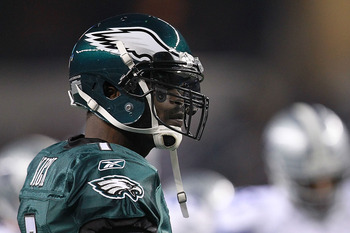 Ronald Martinez/Getty Images
Michael Vick has struggled with accuracy, ineffectiveness, inconsistency and injuries this season. Against the Dallas Cowboys, he looked fantastic.
Vick threw for 293 yards on 8.8 yards per attempt, throwing two touchdowns to no interceptions.
He put up a passer rating of 107.9 in what may have been his best game of the year.
Grade: A
Running Backs Coach: Ted Williams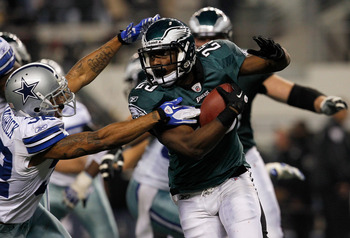 Tom Pennington/Getty Images
In his 15th season as the coach of the running backs, Ted Williams probably has the best back he's ever had to work with.
LeSean McCoy is the modern day version of Barry Sanders, although his performance was subpar on Saturday.
McCoy ran for 35 yards on 13 carries, averaging just 2.7 yards per run. He failed to score a touchdown as well. Williams did do a good job of mixing up his carries, giving Ronnie Brown eight for 33 yards.
Grade: C
Wide Receivers Coach: David Culley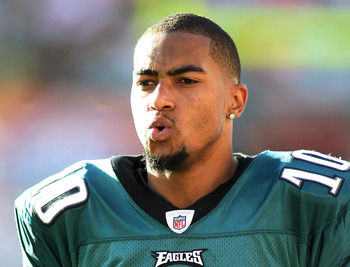 Marc Serota/Getty Images
DeSean Jackson and Jeremy Maclin both turned in fine games against the Dallas Cowboys.
Jackson finished with five grabs for 90 yards, and Maclin had five for 72 and a touchdown.
Jason Avant had two catches for 35 yards, and Riley Cooper caught a nice deep ball for 28 yards.
Mixing it up among the receivers worked well, as Vick turned in maybe his best day of the season.
Jackson also carried twice for 27 yards, doing so on consecutive plays.
Grade: B
Tight Ends Coach: Tom Melvin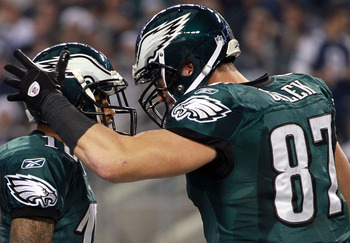 Ronald Martinez/Getty Images
Brian Baldinger said the other day that Brent Celek is the best all-around tight end in football.
While that may seem pushing it a little, Celek has really become a valuable piece of the Philadelphia Eagles and credit Bob Melvin for much of that.
Celek caught two passes for 52 yards and a touchdown in this game. Clay Harbor added one catch for nine yards on his only time targeted.
Grade: A-
Offensive Line Coach: Howard Mudd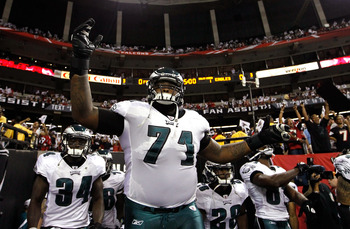 Kevin C. Cox/Getty Images
Howard Mudd continues to be an excellent addition to the 2011 Philadelphia Eagles.
He has turned Evan Mathis into an All-Pro caliber guard and coaxed the best year of Todd Herremans' career out of the seven-year veteran.
Jason Kelce and Danny Watkins are still young and not without growing pains, but they are improving and should be significantly better players by 2012.
The Dallas Cowboys recorded just two sacks against the Eagles, both by outside linebacker DeMarcus Ware, who continues to be a one-man wrecking crew against Philly.
Grade: B
Defensive Line Coach: Jim Washburn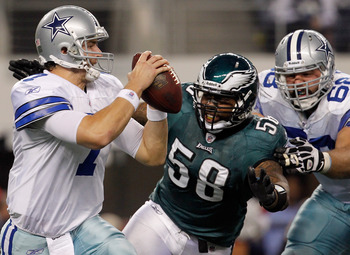 Tom Pennington/Getty Images
I love the way Jim Washburn rotates his defensive linemen.
I'm also becoming a big fan of the wide nine, especially with the improved play of the linebackers and safeties.
Trent Cole was an absolute animal, manhandling Dallas Cowboys rookie left tackle Doug Free for six tackles, two for a loss and a sack. He also registered three quarterback hits.
Jason Babin didn't play well against the run, but he was a force in the pass rush, totaling two QB hits.
Cullen Jenkins, Mike Patterson and Derek Landri give the Eagles a fantastic group of three defensive tackles.
Landri has been arguably the biggest surprise of the Eagles' defense in 2011.
Grade: A-
Linebackers Coach: Mike Caldwell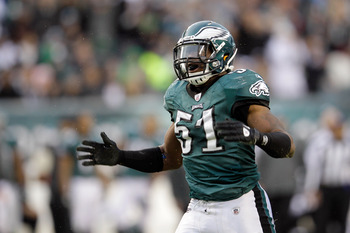 Rob Carr/Getty Images
A former Philadelphia Eagles linebacker himself, Mike Caldwell coaxed a good game out of this group in Week 16.
Casey Matthews has really improved from an awful stretch at the beginning of the season. He totaled six tackles, a figure that led all linebackers, and a QB hit.
Akeem Jordan and Jamar Chaney each had four tackles, three of them solo, and Brian Rolle played a pretty solid game against the run.
For the day, the Eagles helped to hold the Dallas Cowboys running game to just 81 ground yards on 23 carries—a 3.5 yards per carry average.
Grade: A-
Defensive Backs Coach: Johnnie Lynn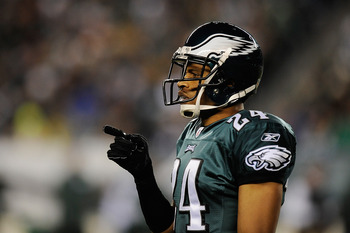 Patrick McDermott/Getty Images
Dez Bryant and Miles Austin put up decent enough stats, totaling 10 catches for 102 yards and a touchdown between the two of them.
The touchdown was in garbage time though, and for the day, Stephen McGee and Tony Romo combined for just 157 net passing yards.
McGee threw 38 passes for 182 yards, averaging just 4.9 yards per attempt, and both of Romo's passes were incomplete before he had to leave the game due to injury.
This was especially impressive with Asante Samuel out and Dominique Rodgers-Cromartie starting in his place.
The Philadelphia Eagles also got a pleasant surprise with Nnamdi Asomugha leading the team in tackles (eight).
Grade: A-
Keep Reading

Philadelphia Eagles: Like this team?