Toledo vs. Air Force: Live Score, Analysis and Highlights for the Military Bowl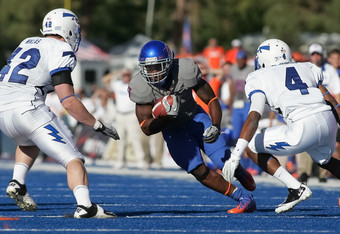 Otto Kitsinger III/Getty Images
AF 41, TOL 42 FINAL
Welcome to this afternoon's cold and frigid matchup in the 2011 Military Bowl between the Toledo Rockets and the Air Force Falcons with 25,042 fans in attendance at RFK Stadium here in Washington, D.C.
This has the makings to be a decent matchup, as both teams enjoyed somewhat of a resurgent season as Air Force finished 7-5 in the Mountain West Conference, and Toledo finished 8-4 in the Mid-American Conference. Both offenses have the ability to strike quickly, so it will be on the defense to keep the game from getting too crazy for their respective teams.
The Falcons are an offense that uses the Triple Option, and in order to run that style of offense, you have to have a stellar running back. The Falcons have that in RB Jon Lee.
The Rockets aren't backing away from the Commander-In-Chief's Trophy winners, as they have some talent of their own in QB Terrance Owens and Adonis Thomas, and will look to make a splash in the heart of D.C.
Stay tuned to this live blog all afternoon for the latest score, highlights and play-by-play analysis.
The clock has run down to 0 in the nation's capital, and the Toledo Rockets have defeated the Air Force Falcons by a score of 42-41.
There was alot of highlights in this cold, frigid matchup and Terrance Owens and Bernard Reedy proved to be too much for the upstart academy to handle, and the Rockets won this game by taking advantage of all their opportunities.
The Falcons had plenty of missed opportunities, none bigger than the failed 2-point conversion at the end of the game, to preserve Toledo's win in the 2011 Military Bowl.
That's all from Washington, D.C. Hope you enjoyed the blog, good night ladies and gentlemen.
A likely onside kick coming up for the Falcons, as they MUST recover the ball.
The failure to capitalize on the missed opportunities is what cost the Falcons the game, and likely will earn Toledo the Military Bowl championship.
What a gem of a game between these two teams, as Terrance Owens and Bernard Reedy have single-handedly destroyed the Falcons' secondary.
These two teams showed alot of offense in this game, and made it worth braving the cold to see this game.
TOUCHDOWN!!!!
Tim Jefferson throws a strike to Zack Kauth to score a touchdown!!!
The Falcons go for two, and the ball was FUMBLED out of bounds, so Toledo just has to run the clock out to win this game.
Toledo 42, Air Force 41
Where was the ref on that pass interference?
Air Force's Zack Kauth was yanked down by two defenders on that last pass.
Seems like the referees are sleeping in the last few minutes of the game?
TOUCHDOWN!!!!!!!!
Bernard Reedy has been lethal this evening, as Toledo tacks on a score from Terrance Owens' 33 yard-strike to Reedy.
That breaks the lull in scoring as Toledo goes up in this shootout by a score of 42-35.
Toledo 42, Air Force 35.
With less than 7 minutes remaining, the Military Bowl is tied at 35 with Air Force looking at 1st and 10 from their own 3-yard line.
Backed up into your own endzone is never an easy situation to contend with, as the risk of a negative play is great.
This game has bogged down in the second half as neither team has been able to get anything going on offense, and it has since turned into a defensive contest.
The chants of AIR FORCE.....AIR FORCE.....AIR FORCE, are rocking the walls of RFK Stadium. Who ever said a service academy couldn't stay psyched for a game?
The Air Force blue can be seen across the stadium, so the supporters are definitely divided among team colors.
The Air Force Falcon, is definitely keeping the crowd energized as the fans are definitely showing their support.
Seems like the cold of the nation's capital is starting to get to some fans, as they are starting to head for the exits.
Don't think anyone here would blame them. The stadium has started to offer coffee and hot chocolate to keep the people warm and in their seats.
Ol' Man Winter is finally starting to show his face.
What a shoestring tackle of Adonis Thomas for a 6-yard loss as Air Force is going to make Toledo earn everything they get.
Thomas redeems himself with a beautiful 18-yard run to make up for the stellar defensive stop a play earlier. Maybe Toledo will finally get its running game going in the 4th quarter.
Do you think the defensive coordinator for Toledo is asleep on the bench on the sideline? Its cold enough in the pressbox, but do you think his seat is starting to get warm?
The Falcons' offense drives up the field little by little, and they can't seem to stop the run.
The Rockets' defense finally gets a stop and they take over in the 4th quarter with the score being 35-35.
TOUCHDOWN!!!
Air Force goes 7 plays and 50 yards to even the score of the game at 35.
Mike DeWitt plows in from 2 yards out to put the Falcons even with the Rockets by a score of 35-35.
With the amount of scoring, if you had chosen Over 70, then you are still in good shape at the tables and bookies, as the scoring in this game has not shown that it will slow down.
Seems that the team that makes the least mistakes between now and the end of the game will come out as the champions.
Air Force 35, Toledo 35
If you give Tim Jefferson an opening, he will burn you in a second's time.
Air Force has speed. That is undeniable. Ty MacArthur just took a pass down to the Toledo 2 yard-line, and him slicing through the Toledo defense almost made you think of a college version of "Madden 2012."
Air Force is threatning to tie the game up, so after a timeout, it will be 1st and 2 from the Toledo 2 yard line.
INTERCEPTION AND TOUCHDOWN!!!
Tim Jefferson throws an INT under pressure, as it deflects off of Mikel Hunter and Toledo's Jermaine Robinson swipes the ball and goes 37 yards for the touchdown.
The score puts Toledo back up by a score of 35-28. Seems Toledo's defense is finally coming alive after a seemingly lackluster first half.
Air Force 28, Toledo 35
If Air Force wants to win this game, they need to stop the run. Adonis Thomas can blister a defense in a hot second.
They need to continue to play disciplined football on the edges and lock down the inside lanes to keep Thomas bottled up and not be able to break outside.
Air Force doesn't need to rush, Tim Jefferson and the offense need to take what they are given, and not let mental lapses come between them and winning this game.
Toledo needs to find that big play to keep Air Force from teeing off defensively and keep the Falcons' defense at bay.
To start the 3rd quarter, Air Force starts with the football, and they run on first down for minimal gain.
The Falcons have looked a little shaky in both pass protection, as Tim Jefferson was sacked for a 9 yard-loss, and they have also looked a little timid when they do option pitches.
Seems like the first team to score 40 points will win this game.
We're at Halftime and it is tied 28-28 in the 2011 Military Bowl.
The Falcons and the Rockets have not disappointed as they have had key plays on both sides and they will look to continue that in the second half.
Hopefully, we'll actually get some defense in the second half and see where the teams go in the third quarter.
Tim Jefferson rifled a pass 37 yards to Jonathon Warzeka to tie the game at 28.
The Air Force offense seems to be catching fire as they have scored 21 unanswered points in response to being down 21-7 to start the game.
This game has had plenty of fireworks as the score is now 28-28.
Air Force 28, Toledo 28
Good awareness by Falcons' LB Patrick Hennessey as he stuffs Adonis Thomas for an eight-yard loss on a run on first down.
The Falcons' defense forces a turnover after Owens' pass was fumbled by Bernard Reedy and it now sets the Falcons up at Toledo's 44-yard line.
This game has NOT been short of highlights, let's see if Air Force can take advantage and capitalize off of the turnover.
One trend worth noting is there has only been 2 penalities the entire game. The refs are letting the boys play.
Seems like these two teams are going to play smash mouth football as both of these teams are trying to establish a run presence but to no avail.
Air Force gambled on a 4th and 4 and failed, so now Toledo takes over on downs with 4:53 left in the first half.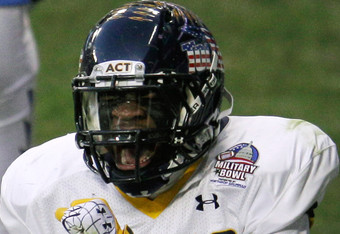 What a game Terrance Owens is having. A quick strike to Bernard Reedy gives Toledo the lead after Air Force stormed back from a 21-7 deficit.
The score is now 28-21 and these teams dont look to be slowing down.
Air Force 21, Toledo 28
TOUCHDOWN!!!!
Asher Clark takes a shovel pass and goes into the endzone to even the score at 21 all.
This game is as good as advertised, as there has been alot of scoring.
Air Force 21, Toledo 21
4th and 1 at the 1 yard-line.
These are the downs that make games, or break them.
Air Force is challenging the call on the field that the runner was short of the goaline, and the review on the field was upheld as there was no indisputable evidence to overturn the call.
There's an injury time out for an injured Rocket player on the field.
Apparently, the injured player is senior defensive tackle Johnnie Roberts, and he is being escorted off the field.
More news to come when available.
A back and forth battle so far in this game, with neither team willing to give an inch to their opponent.
Tim Jefferson passes to Zack Kauth for a gain of 18 yards down to the Toledo 14-yard line.
This game has been a show of offense so far as the defenses have had trouble getting adjusted to each other's schemes.
This drive for the Air Force is plodding along as they are taking what the defense is giving them.
Jonathon Warzeka takes off for a 60-yard run down to the Toledo 3-yard line.
What an electrifying display so far in this game, as both teams have had their share of big plays as Warzeka gets his team in position to score another touchdown in this high-scoring game.
Mike DeWitt over left end for 3 yards for a TOUCHDOWN!!!!
Air Force 14, Toledo 21
This article is
What is the duplicate article?
Why is this article offensive?
Where is this article plagiarized from?
Why is this article poorly edited?