UFC 141 Fight Card: Info and Predictions for Every Fight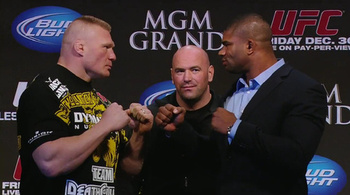 The UFC will wrap up a more than stellar year as they travel to Las Vegas, Nev., for UFC 141 on Friday.
UFC 141 will air live on pay-per-view television from the sold-out MGM Grand Garden Arena beginning at 7:00 p.m. PT and 10:00 p.m. ET.
The main card will be headlined around heavyweight Brock Lesnar, who will make his return to the Octagon to take on UFC newcomer and dangerous striker Alistair Overeem.
In total, the fight card consists of five main-card fights and six preliminary bouts.
The following slides display info and predictions for every fight at UFC 141.
Let's take a look.
Manvel Gamburyan vs. Diego Nunes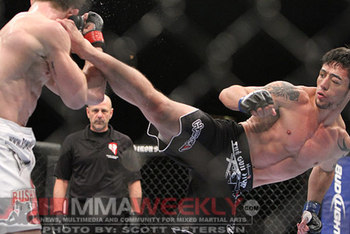 Manvel Gamburyan
Career Record: 11-6
UFC Record: 5-5
Key Wins: Mike Brown, Leonard Garcia
Key Losses: Jose Aldo, Tyson Griffin
Diego Nunes
Career Record: 16-2
UFC Record: 1-1
Key Wins: Mike Brown
Key Losses: Kenny Florian
In the first of three featherweight showdowns, Manvel Gamburyan will look to break his two-fight losing streak when he meets Diego Nunes.
Neither Gamburyan and Nunes will be comfortable in the stand-up, as neither demonstrate an overwhelming advantage in the striking battle.
However, Gamburyan will eventually enter in on Nunes and attempt to take him to the ground and submit him.
Unfortunately for Gamburyan, Nunes is a submission artist in his own right.
To make matters worse for Gamburyan, Nunes has never been finished.
Prediction: Nunes by Unanimous Decision
Matt Riddle vs. Luis Ramos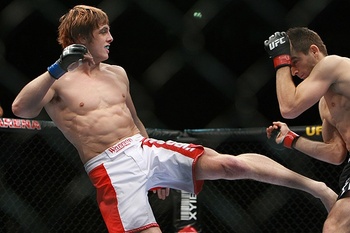 Matt Riddle
Career Record: 5-3
UFC Record: 5-3
Key Wins: DaMarques Johnson
Key Losses: Lance Benoist
Luis Ramos
Career Record: 19-7
UFC Record: 0-1
Key Wins: Dimitri Burgos
Key Losses: Erick Silva
When action begins on Dec. 30, Luis Ramos will be fighting for more than just a victory inside the Octagon as his career could be on the line.
Despite having fought just once in the UFC, Ramos was knocked out in 40 seconds at his debut at UFC 134.
Riddle is far from being one of the more exciting welterweights in the UFC but is a clear-cut favorite the longer the fight progresses.
It's likely Ramos will attempt to be the aggressor early as he'll be looking to make a statement from the get-go.
The only question that remains is: Can he actually do it against a well-rounded Riddle?
Prediction: Riddle by Unanimous Decision
Jacob Volkmann vs. Efrain Escudero
Jacob Volkmann
Career Record: 13-2
UFC Record: 4-2
Key Wins: Danny Castillo
Key Losses: Martin Kampmann
Efrain Escudero
Career Record: 18-3
UFC Record: 3-2
Key Wins: Cole Miller
Key Losses: Evan Dunham
After winning Season 8 of the Ultimate Fighter, Efrain Escudero was dismissed from the UFC and will now make his long-awaited return at UFC 141 to square off with Jacob Volkmann.
In what has potential to take home 'Fight of the Night' honors, Escudero will certainly attempt to put his submission skills into place.
But, it won't be easy as Volkmann is an exceptional wrestler who has displayed fairly good submission defense in the past.
If Volkmann can take control from the ground, it could be a return gone bad for Escudero.
Prediction: Volkmann by Round 2 Submission
Dong Hyun Kim vs. Sean Pierson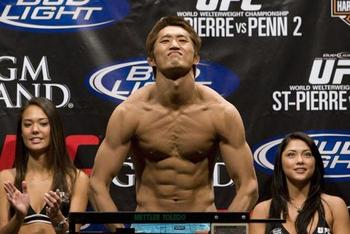 Dong Hyun Kim
Career Record: 14-1-1 (1)
UFC Record: 5-1 (1)
Key Wins: Nate Diaz, Matt Brown
Key Losses: Carlos Condit
Sean Pierson
Career Record: 11-5
UFC Record: 1-1
Key Wins: Matt Riddle
Key Losses: Jake Ellenberger
Both Dong Hyun Kim and Sean Pierson will step foot inside the Octagon at UFC 141 coming off recent defeats.
Kim, one of the most underrated fighters in the welterweight division, is quickly becoming known for his knockout power and ability to remain conditioned throughout his fights.
When the opening bell rings, Pierson will show that he's also capable of exchanging strikes.
However, in order for Pierson to be effective, he'll have to take advantage early as he hasn't shown the ability to fight at full strength after the opening round.
Prediction: Kim by Round 2 TKO
Anthony Njokuani vs. Danny Castillo
Anthony Njokuani
Career Record: 14-5 (1)
UFC Record: 1-1
Key Wins: Andre Winner
Key Losses: Edson Barboza
Danny Castillo
Career Record: 12-4
UFC Record: 2-1
Key Wins: Joe Stevenson
Key Losses: Anthony Pettis, Jacob Volkmann
Anthony Njokuani and Danny Castillo will meet in arguably the biggest fight of each lightweight's career as both are in dire need of a victory.
Njokuani specifically has been sub-par at best, posting a 2-3 record in his last five appearances.
Castillo will keep this in mind throughout the early stages of their bout, as Njokuani has been seen to land vicious knockouts in the past.
If Njokuani can catch Castillo early, he'll have a chance to relight the fire under his fading-away career.
But, if Njokuani can't, Castillo could ride the wave to the judge's scorecards.
Prediction: Castillo by Unanimous Decision
Ross Pearson vs. Junior Assunção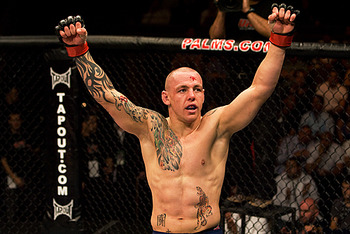 Ross Pearson
Career Record: 12-5
UFC Record: 4-2
Key Wins: Dennis Siver, Spencer Fisher
Key Losses: Edson Barboza
Junior Assunção
Career Record: 13-4
UFC Record: 2-2
Key Wins: Eddie Yagin
Key Losses: Nate Diaz
After one not-so-successful run in the UFC, Junior Assunção will make his return to take on fellow featherweight Ross Pearson.
Pearson showed fans he's the real deal as he took Edson Barboza to a questionable split-decision defeat in his last bout.
Both Pearson and Assunção have what it takes to connect on a submission attempt, but Pearson becomes the front-runner due to his aggressor and exciting fight style.
Assunção will need to prove early and often that he's capable of beating more than mediocre opponents outside of the UFC.
However, Pearson could have something to say about that.
Prediction: Pearson by Round 3 Submission
Nam Phan vs. Jim Hettes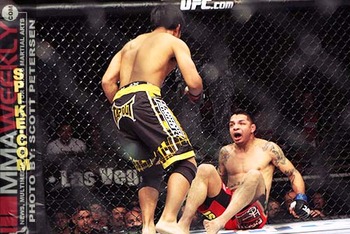 Nam Phan
Career Record: 17-9
UFC Record: 1-2
Key Wins: Leonard Garcia
Key Losses: Leonard Garcia, Mike Brown
Jim Hettes
Career Record: 9-0
UFC Record: 1-0
Key Wins: Alex Caceres
Key Losses: N/A
Many fans will automatically expect Nam Phan to roll over his opponent Jim Hettes in the first bout of the main card at UFC 141.
What many fail to realize is that Hettes has never been beaten in his mixed martial arts career.
In what could be one of the most exciting bouts of the night, Phan will have to remain on his feet as every one of Hettes' wins have come by way of submission.
If Phan can refrain from letting Hettes control the bout from the ground, he'll begin to settle down and become the Nam Phan that may have fallen in love with over the years.
Prediction: Phan by Round 2 TKO
Vladimir Matyushenko vs. Alexander Gustafsson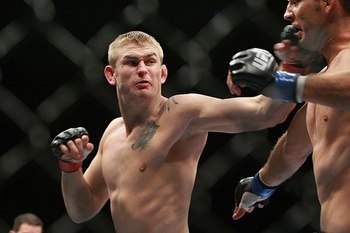 Vladimir Matyushenko
Career Record: 26-5
UFC Record: 7-3
Key Wins: Antonio Nogueira, Tim Boetsch
Key Losses: Jon Jones, Antonio Nogueira
Alexander Gustafsson
Career Record: 12-1
UFC Record: 4-1
Key Wins: Matt Hamill, Cyrille Diabaté
Key Losses: Phil Davis
In a clash between the young and the old, Vladimir Matyushenko will attempt to win his third consecutive fight at the age of 40 years old.
However, young-gun Alexander Gustafsson, is making a fast track to the top of the light heavyweight division at just 24 years of age.
Matyushenko may try and bully Gustafsson out of the gate and use his Octagon experience as an added advantage.
If Gustafsson can respond, he'll prove he's a legitimate force and begin to unload his grueling strikes.
Matyushenko has been knocked out three times in his career, and that could ultimately increase to four when all is said and done.
Prediction: Gustafsson by Round 1 TKO
Jon Fitch vs. Johny Hendricks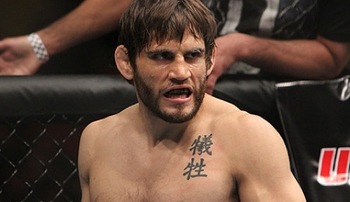 Jon Fitch
Career Record: 23-3-1 (1)
UFC Record: 13-1-1
Key Wins: Thiago Alves (2), Diego Sanchez
Key Losses: Georges St-Pierre
Johny Hendricks
Career Record: 11-1
UFC Record: 6-1
Key Wins: Charlie Brenneman, Mike Pierce
Key Losses: Rick Story
Many questions surround the Jon Fitch vs. Johny Hendricks welterweight showdown. Fitch could solidify his shot at UFC gold, as he's believed to receive the shaft over the course of his past few fights.
While Fitch is the favorite heading into their match-up, Hendricks can't be overlooked, as he's more than capable of knocking an opponent out with just one swing.
Unless we see a different Fitch come to play, it's likely he'll attempt to wear down his opponent until their three-round battle comes to a close.
Hendricks will be on a mission looking to finish off Fitch and ruin his parade towards a title shot.
The only question, does he have what it takes?
Prediction: Fitch by Unanimous Decision
Nate Diaz vs. Donald Cerrone
Nate Diaz
Career Record: 14-7
UFC Record: 9-5
Key Wins: Takanori Gomi, Melvin Guillard
Key Losses: Gray Maynard, Rory MacDonald
Donald Cerrone
Career Record: 17-3 (1)
UFC Record: 4-0
Key Wins: Dennis Siver, Charles Oliveira
Key Losses: Benson Henderson (2)
When action begins at UFC 141, Nate Diaz and Donald Cerrone will stand across the Octagon from one another in what has the ingredients to be one of the best fights of 2011.
Two of the most electrifying lightweights will square off in a fight that could move either into title contention.
While Diaz and Cerrone are more than capable of exchanging strikes, there's a better chance that the fight will turn into a grappling war.
Things then become difficult, as both fighters are exceptional in catching their opponent.
However, unlike his brother, Nate's been known for dying out as rounds progress.
If Cerrone can outlast his opponent and manage to avoid the Diaz submission attempts, he could win his seventh consecutive fight.
Prediction: Cerrone by Unanimous Decision
Brock Lesnar vs. Alistair Overeem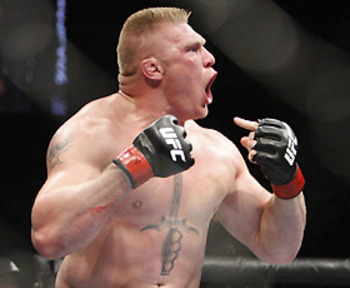 Career Record: 5-2
UFC Record: 4-2
Key Wins: Shane Carwin, Frank Mir
Key Losses: Cain Velasquez, Frank Mir
Alistair Overeem
Career Record: 35-11 (1)
UFC Record: 0-0
Key Wins: Vitor Belfort (2), Fabricio Werdum
Key Losses: Mauricio "Shogun" Rua, Fabricio Werdum
In the main event of the evening and one of the most anticipated bouts in UFC history, Brock Lesnar will make his long-awaited return to the Octagon after being off for more than a year.
His opponent, Alistair Overeem, will be making his UFC debut in a fight that will earn him an immediate title shot with a win over Lesnar.
There are several questions that arise in regards to the heavyweight showdown, as it's unclear how healthy Lesnar will be.
Overeem holds the advantage in the stand-up, as Lesnar has been often criticized for his inability to exchange strikes with his opponents.
Lesnar will look to counter Overeem's striking with his famous double-leg takedown and establish his strong wrestling game.
If Lesnar can capitalize on the takedown, it will be difficult for Overeem to escape his vicious strikes and elbows.
Prediction: Lesnar by Round 2 TKO
Keep Reading