Houston Texans: Final Grades for Every Starter in 2011
December 26, 2011
Joe Robbins/Getty Images
With one game left to play and the Texans locked into the third seed for the 2011 playoffs, I feel it is safe to start handing out regular-season grades to the starting unit for the Texans.
We're sure to see a lot of said starters getting a rest next Sunday in the regular season finale, since it can't hurt nor help their playoff destiny.
The main problem I have with this is that so many starters were injured this season, it is almost tough to remember who was the starter and who was the depth. So for guys who were originally starters and guys who filled in, well, they are both going to get a grade.
Without further ado, here are my final season grades for a fun 2011 Texans season.
Chris Myers: Center
Before the Texans' bye, the offensive line was being called the best in football, and Myers was a big part of that. He had a Pro Bowl-caliber season for the second consecutive year. 
Grade: A-
Jason Allen: Cornerback
Allen has had another great year at picking off passes, with four interceptions in 15 games, easily making up for his poor coverage at times.
Even though he has only been the official starter three times, he is splitting time with Kareem Jackson.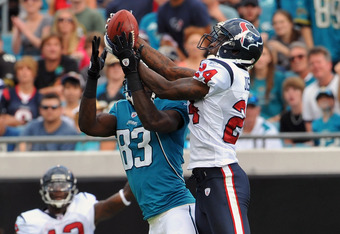 Al Messerschmidt/Getty Images
Grade: C+
Kareem Jackson: Cornerback
Despite still being the biggest whipping boy to the average Texans fan, Kareem has shown major leaps in improvement in 2011. He'll never live up to his draft status, but he might be able to stick around the league after his rookie deal expires. 
Grade: C-
Johnathan Joseph: Cornerback
No matter how many times Jon Gruden tells you that Darren Sproles was the greatest addition to any team via free agency this offseason, I'll stick with Johnathan Joseph.
To tell you how good he's been, Texans fans freak out when he gives up a catch and make a way bigger deal out of it than it has to be. Joseph should go to Hawaii this season as an All-Pro.
Grade: A+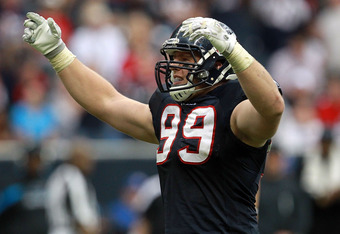 Ronald Martinez/Getty Images
Mario Williams: Outside Linebacker
This one hurts the heart to think about, because the pass-rush has been so awesome without him that I think they may have led the league in sacks had Mario stayed on the field.
Only five games while learning a new position is what we'll have to grade on here.
Grade: B+
Brooks Reed: Outside Linebacker
Stepping into the shoes of a multiple Pro Bowler as a rookie has to be terrifying. To pass the test with flying colors is probably just as exhilarating.
That is just what Brooks did this season. Though he has fallen off a bit on the pass-rush as of late, he remains consistent against the run. He's only going to get better, too.
Grade: B-
J.J. Watt: Defensive End
Seeing J.J. take over the game against the Colts last Thursday was almost as awesome to watch as it was frustrating to see the refs squeeze him so much with the downright abomination of calls.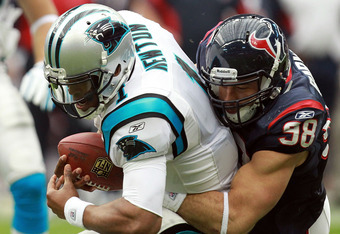 Ronald Martinez/Getty Images
Regardless, it just showed how dominant of a player this guy is going to be and has been all season for Houston.
Like Brooks Reed, he should only improve. I'd call him the third-best rookie defensive player in the league this season.
Grade: B+
Antonio Smith: Defensive End
This one is rather depressing, because Antonio came out of the gate with his hair on fire in 2011. But after the team lost Mario Williams to season-ending injury, Smith has all but disappeared.
I'm not going to say he is a mediocre player without Mario, but he doesn't seem ready to handle the double-team workload that Williams usually receives.
Grade: C
Shaun Cody: Defensive Tackle/Nose Tackle
At the beginning of the season, everyone had Cody on their "most likely to lose his job" list.
But he has shown that this Wade Phillips guy knows what he is doing and that he doesn't need a 350-plus pound guy to do it. Cody has played extremely well this year, and I'd expect to see him stick around in the middle next year because of it.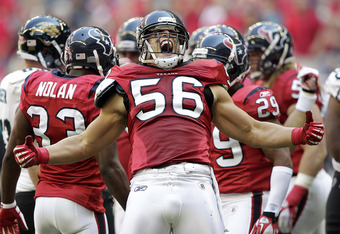 Bob Levey/Getty Images
Grade: B-
Connor Barwin: Outside Linebacker
If there is one guy on this roster who really made the leap this season, it's Connor Barwin.
We always saw the potential for this type of season from him, and it's unfortunate that it took him missing a full season in 2010 for him to show us.
A double-digit sack year is likely to earn him his first invite to the Pro Bowl.
Grade: B+
Brian Cushing: Inside Linebacker
The season that Brian Cushing has put up, I don't even think his own mother saw coming.
Facing all the accusations and allegations from his failed test for performance enhancing drugs combined with his nightmare of a sophomore season had many wondering if we'd never see the same Cush again.
But he has undoubtedly been the anchor of the Texans defense this year and should receive his second Pro Bowl invite.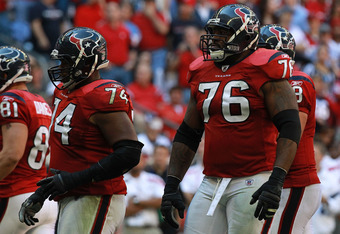 Ronald Martinez/Getty Images
Grade: A-
DeMeco Ryans: Inside Linebacker
Not many of us expected to see Ryans back out there on day one of the 2011 season after the nasty injury he was recovering from.
But he has been there and steadily improving all year long into what has been a pretty solid year. He might not ever be quite as dominant as he was pre-injury, but he is still a huge cog on this team.
Grade: C
Lawrence Vickers: Fullback
I know that James Casey started the season at this position while Vickers got acclimated with the scheme, but I always thought it was Vickers' position to lose, and he has embraced it since Casey's injury has severely hindered him for most of the 2011 season.
Lawrence has been a bargain that does a lot of the same things that Vonta Leach did last season. Just don't throw him the ball.
Grade: B-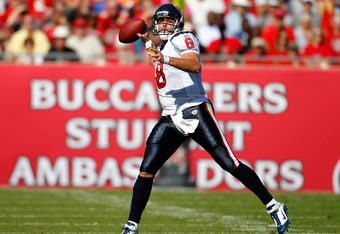 J. Meric/Getty Images
Mike Brisiel: Offensive Guard
Other than having serious issues with jumping offside late in the season, Brisiel has been a key part to the Texans offensive line that has received so much acclaim.
Grade: A
Wade Smith: Offensive Guard
See Brisiel, above.
Grade: A
Duane Brown: Offensive Tackle
Even though I think of this offensive line as one unit, Brown has especially stood out this year and should be the representative from this line that will likely get a call to go to Hawaii this year.
He's done a simply amazing job at keeping Texans quarterbacks well protected.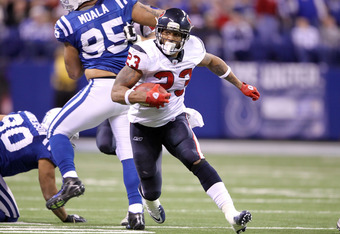 Andy Lyons/Getty Images
Grade: A+
Eric Winston: Offensive Tackle

I still don't think he's as bad as a lot of other Texans fans think, but it is quite clear that he is the weak link on this line, and I wouldn't be shocked to see the team draft his eventual replacement in the draft this year.
He's just getting beat off the edge too much this year and starting to look like "just a fat guy."
Grade: C
Neil Rackers: Kicker
While Rackers has been a growing concern all season long by missing six field goal attempts, he hasn't missed any that necessarily cost them a game yet.
But with the team leading most of the year, he hasn't had to. Hopefully, that doesn't come to show in the postseason here in a couple weeks.
Grade: C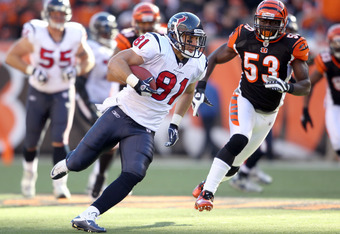 Andy Lyons/Getty Images
Brian Hartmann: Punter
I can't think of a more unfortunate injury for a guy than what Hartmann had this year.
He was getting better every game and didn't even take contact when his ACL popped on him. Tough break for a guy who should be the favorite to lock down the position again once he's rehabbed. 
Grade: B+
Matt Schaub: Quarterback
Say what you want about Schaub, but this team post-injury has shown to even his biggest detractors just how valuable he is.
He had this team performing like such a well-oiled machine that many thought the Texans were Super Bowl favorites from the AFC. He may not have been wowing anyone statistically, but he didn't turn the ball over, and he ran the offense to perfection.
Grade: A-
T.J. Yates: Quarterback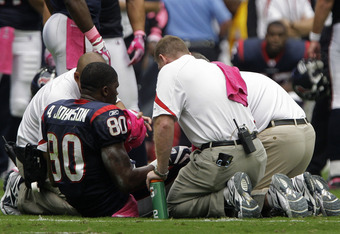 Thomas B. Shea/Getty Images
A couple of weeks ago, this may have been a little easier to write. But after his stellar start through the first two games of his career, Yates has become the second coming of Matt Leinart with all his check-downs and ill-advised interceptions.
He didn't play as poorly last week, but he rarely threw a pass farther than eight yards. Still, for a fifth-round rookie, he has performed admirably.
Grade: C+
Arian Foster: Running Back
To have missed as much time as Arian Foster did at the beginning of the season yet have another Pro Bowl-caliber season is very telling of his abilities.
He was even drawing comparisons to Terrell Davis on NFL Network the other night. This guy is the real deal, and he has proven it this season with virtually no deep-field threat to provide assistance at the line.
Grade: A-
Ben Tate: Running Back
The thing that sucks about Ben Tate is that I wish he could get more carries.
But when you're behind some guy named Arian Foster, that's just the breaks. As a tandem, they've been the most dominating one-two in all of football.
But to be having the success he has in getting one carry to every two for Foster says a lot about the season he has had. He simply needs to improve on his ball-handling, as he is still putting too many on the ground in costly situations.
Grade: B-
Danieal Manning: Safety
Without a doubt, Manning has been another home run for Rick Smith and the Texans front office this year in free agency.
He's already the best safety in the history of this franchise, and even breaking his leg could only keep him down for three weeks. 
Grade: B+
Glover Quin: Safety
Get this—Wade Phillips was right.
In moving Glover back to his natural position, Wade set him free to have a solid season and be a key to turning around the abysmal secondary from a year ago. Still a tackling machine, Quin has been nails all year long.
Grade: B
Owen Daniels: Tight End
This one is simple—he's still one of the elite pass-catching tight ends in all of football.
He has successfully proved all the doubters of his new contract wrong, and he shows no signs of slowing down.
He's made some huge clutch catches this season and allowed Joel Dreessen to become the man in the red zone.
Grade: A-
Andre Johnson: Wide Receiver
He's been hurt almost all season, so I find it hard to grade him fairly. When he has played, he's been his usual self.
But I'm going to have to go with the incomplete here based off of not a big enough sample size.
Grade: INC
Jacoby Jones: Wide Receiver
He's the Kareem Jackson of the offense for Texans fans looking to grind an axe. And in a lot of cases, he deserves a large portion of the criticism.
Me, I simply accept that he shouldn't be a starting wide receiver in the NFL, and he wouldn't be if Andre Johnson were healthy. His real value, and what is going to earn him a good grade, is his spectacular season returning kicks.
Grade: B-
Kevin Walter: Wide Receiver
Quietly, Kevin Walter has put together a solid season. His numbers aren't going to jump off the page, but there are so many other things he does that can't be judged by a stat sheet.
His blocking is top-notch, and his ability to catch the ball when thrown his way is well above average. The only gripe against Kevin this year has been his contract.
Grade: B-
So there it is, your 2011 Houston Texans.
It's really hard to grade a lot of these guys because of the number of injuries this team has faced this year. Guys who have been here a long time are going to see backups and rookies take their place in the playoffs, and that has to hurt.
But, with pretty much the same team coming back next season, there's no reason to believe they won't get their chance in 2012.
Mike Kerns is a featured columnist for the Houston Texans at Bleacher Report. Feel free to follow him on Twitter and catch his latest Texans podcast at State of The Texans.