Boston Celtics vs New York Knicks: What We Learned About the C's Today
December 25, 2011
Christopher Pasatieri/Getty Images
One can only imagine what would have happened in today's Christmas showdown between the New York Knicks and Boston Celtics had Paul Pierce, nagged by a heel injury, played. Boston fans will ask, "What if Pierce had been in the position Marquis Daniels was, in the corner with a wide open three, in those final seconds?" 
A little over a year ago, we saw what Pierce could do in the final seconds against the Knicks, so Celtics nation must not take the loss today as something to worry about. Unfortunately, the "what if" question has always been an issue when it comes to talking about the Celtics over the past three years.
One game into the 2011-2012 season, we're already asking the question, but there are still many good things to take away from today's loss. Here are a few things I liked from the 106-104 loss.
1. Without Pierce, Boston was in perfect position to win
No matter what people say, starting Sasha Pavlovic (0 points, four fouls in 15 minutes) is a significant downgrade from Pierce. As stated earlier, the 13-year veteran is Boston's most clutch player, and he needs to be the one taking that final shot instead of Kevin Garnett or Daniels. Regardless, Doc Rivers was fortunate to get a lot of production from elsewhere. 
2. Rajon Rondo played like the best point guard in the league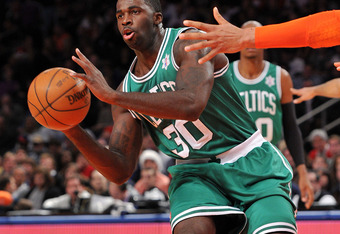 Christopher Pasatieri/Getty Images
In my article on what we learned from preseason, I said that if Rondo developed serious range, he could be the best point guard in the NBA. With 31 points, 13 assists and five steals, you have to place him among the league's elite players, let alone point guards. Rondo displayed range, great decision-making, confidence and, best of all, leadership.
He looks like he's ready to take over this team and make it a competitor, regardless of who's around him. Also encouraging was his free throw shooting, going 9-12 from the charity stripe. 
3. Brandon Bass addition was very underrated
It's no secret that the Celtics lack serious depth necessary for a veteran team and championship contender. As Bill Simmons said earlier in a tweet, trading Glen Davis for Bass might be one of Danny Ainge's best decisions over the past three years.
The 26-year-old from LSU played incredible, going 9/13 from the field on his way to 20 points and 11 rebounds off the bench. He's a great shooter, he competes and rebounds. Those are things Davis could never do on a consistent basis.
4. Boston kept pace with the Knicks run-and-gun offense
Defensively, both teams were horrendous, as Boston shot over 51 percent from the field, while New York shot 47 percent. Rondo and company committed 18 turnovers while the Knicks, without a true point guard at the moment, suffered 16. In the end, Rondo allowed Boston, one of the oldest teams in the league, to keep up with Mike D'Antoni's offense. 
One of the biggest questions going into the season was whether or not the Celtics could keep pace with the younger and faster teams, and I think they answered that question today. 
5. The veterans still got it
This was never really an issue, but it's amazing to see Ray Allen now in his 15th season, still going strong. He shot the ball really well on his way to 20 points, and he was vital in that 21-2 run in the third quarter. Garnett really came alive in the fourth quarter as well, hitting several big shots to keep Boston on top. Defensively, he is only a fraction of what he used to be, but his presence was still a major factor in keeping this game close. 
The performance we saw today was an encouraging one from Boston, but there are obviously still several issues that, even with Pierce's return, will still be a problem throughout the season. The 18 turnovers and weak defense were uncharacteristic from the Celtics we've come to know since 2007.
In addition, Carmelo Anthony looked unguardable on his way to 37 points. Boston must win with defense, as they're not going to outscore anyone, and 106 points wasn't the best start. 
In the end, the theme remained the same for the team seeking its 18th championship: The Celtics will only go as far as Rajon Rondo will take them.