BCS Championship Game Overhaul: Bring on a 4-Team Playoff
December 25, 2011
Kevork Djansezian/Getty Images
As a lifelong Utah Utes football fan I was disgusted in 2009 when the Utes went undefeated, 13-0, and yet they were shut out of the national championship game.
The Florida Gators ended up taking the title with a 24-14 victory over the Oklahoma Sooners, but a seed of discontent in the BCS was firmly planted that season and has only grown in recent years. I often wonder what the best, easiest fix would be for the current system, and I argue that a four-team playoff is both possible and easy to implement.
The mess that the BCS cooked up this postseason is a perfect example of why the current system hurts college football, both for fans and for half of the teams in the FBS. There needs to be a new approach.
Sure, my beloved Utah Utes are now in a BCS conference after their switch to the Pac-12, and several other teams are joining conferences in order to gain access to the BCS and the increased exposure and revenue it brings.
But my resolve remains to continue arguing for a change so that all the teams out there can have a fair opportunity to play for it all. A complete overhaul is only possibility once super-conferences are put into place, something that is on the horizon of college football, but for the time being the national championship game selection process could be easily altered.
Alabama Wins, National Champions?
Question: If the Alabama Crimson Tide beat the LSU Tigers by a narrow margin, say 10-9, are they really the national champions? What about the game they played in Tuscaloosa on November 5th, did that game even matter?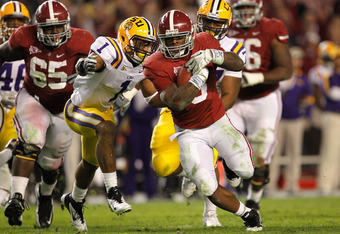 Streeter Lecka/Getty Images
With all the hype that surrounded the first Tigers-Tide defensive battle this season, no one would have guessed that the outcome would not affect the national championship picture once the regular season was over, yet that is exactly what we are staring at.
If Alabama barely beats LSU, either by the aforementioned 10-9 or perhaps by a similar 9-6, are voters really going to have solid proof that Alabama is the rightful national champion? Yes, they won the last game of the season, but surely other games matter too…right? 
To make things even murkier, if Alabama wins and either the Stanford Cardinal or Oklahoma State Cowboys get pummeled in the Fiesta Bowl, what then? Wouldn't these teams also have an (arguable) claim to the title?
If LSU wins, the outcomes of the other games will not matter (unless you are a Cowboys, Cardinal or Oregon Ducks fan), but things could potentially get ugly in the polls at the end of the season.
I, for one, hope the worst-case scenario plays out: Alabama beats LSU by a score of 3-2, Stanford pounds Oklahoma State into the University of Phoenix Stadium turf by a score of 223-0 (narrowly besting Georgia Tech's NCAA record score of 222-0 against Cumberland College in 1916), and Oregon beats Wisconsin by a similar margin in the Rose Bowl.
Surely Stanford would get the nod as national champions since they won so decisively in their BCS game and are ranked ahead of Oregon. Yet Oregon beat Stanford 53-30 earlier in the season, and the Ducks lost to LSU, who beat Alabama...
Is anyone else getting dizzy? There has to be a logical way to fix this. 
Bring on a Playoff!...But Only Four Teams are Invited 
Ideally (for many fans, myself included), a 16-team playoff would be instituted and the BCS as we know it would be flushed down the drain. Since too many additional games would be needed and the powers that be would never let a wide-scale playoff take place, this dream will never happen, but there is still a simple way to fix the BCS.
Institute a four team playoff. It's simple as that.
This solution is feasible within the current framework of the BCS and minimal changes would be needed to get it going.
Take the top four teams (No. 1 vs. No. 4, No. 2 vs. No. 3), place them in two rotating BCS bowl games (Sugar, Fiesta, Orange and Rose) much like the current setup for the national championship. The two winning teams will earn a spot to play for the title.
Only one additional game would be added to the schedules of two teams (those who play in the national championship). I imagine players would not be heartbroken to suit it up under the bright lights twice at the end of the season for a possible claim to college football fame.
If this system was put into place when the BCS introduced the current additional national championship game during the 2006-2007 season, here are the four-team playoff match-ups that it would have produced: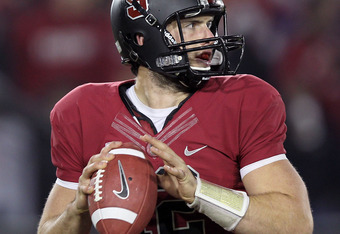 Ezra Shaw/Getty Images
2007:
No. 1 Ohio State vs. No. 4 LSU
No. 2 Florida vs. No. 3 Michigan
2008:
No. 1 Ohio State vs. No. 4 Oklahoma
No. 2 Florida vs. No. 3 Virginia Tech
2009:
No. 1 Oklahoma vs. No. 4 Alabama
No. 2 Florida vs. No. 3 Texas
2010:
No. 1 Alabama vs. No. 4 TCU
No. 2 Texas  vs. No. 3 Cincinnati
2011:
No. 1 Auburn  vs. No. 4 Stanford
No. 2 Oregon vs. No. 3 TCU
2012
No. 1 LSU vs. No. 4 Stanford
No. 2 Alabama vs. No. 3 Oklahoma State
Granted, the results of the proposed system may have led to rematches, specifically in 2007 (Ohio State and Michigan), 2009 (Alabama and Florida or Oklahoma and Texas) and 2011 (Oregon and Stanford), but these games would have at least allowed a Mountain West team (TCU) a shot at a national championship and would have created a new level of excitement surrounding the qualifying games.
Of course, the system would not be perfect.
Boise State and Utah did not show up in any of these match-ups despite flawless regular seasons, but it would give more credence to a team that dons gaudy "We are the National Champions!" shirts and hats at the end of the season.
Simply put, non-automatic qualifying teams are 4-1 in BCS games against BCS conference opponents. That record alone highlights the importance of changing the system so that more teams have a chance at bringing the crystal ball back to their fan bases.
A four-team playoff would not fix the ship entirely. The ship should be filled with sand and sent to the bottom of the sea. But a playoff would give more teams a chance to fight for something that should be open to all FBS teams.
Here's to hoping the 2012 BCS system implodes (I never thought I would say this, but Go Bama!) and that alternatives are seriously considered when the BCS contract expires in 2014.