Los Angeles Galaxy Ins and Outs, December 25, 2011
December 25, 2011

A couple of signings...
On Friday, the Los Angeles Galaxy announced that the club signed goalkeeper Nick Noble and forward Pat Noonan to contracts ahead of the club's 2012 campaign.
Noble, who was originally drafted in 2007 by Galaxy assistant manager Dave Sarachan, who was then the head coach of the Chicago Fire, has spent the last two seasons with Ljungskile SK of the Swedish Superettan (Second Division).
Noonan has scored 41 goals and added 33 assists in 173 career regular season games with the New England Revolution, Columbus Crew, Colorado Rapids and Seattle Sounders FC. Noonan also spent six months with Aalesunds FK of the Norwegian Tippeligaen in 2008.
A special on Noble will be published on the View from Victoria Street and Bleacher Report as part of its ongoing This is the Los Angeles Galaxy series.

...plus a third...
In addition to Noble and Noonan signing with the Galaxy, Jose Villareal of the Galaxy Youth Academy Under-18s has been signed as a Home Grown Player. Villareal is the third-ever Academy product to have been signed by Los Angeles, following Tristan Bowen in 2008 and Jack McBean in 2010.
Villarreal is in his first season with the Galaxy Academy after joining the club from local club team Pateadores after helping them win the U.S. Soccer Development Academy U-18 championship in July, scoring 20 goals in 31 games for the club, including two in the U-18 Development Academy Final.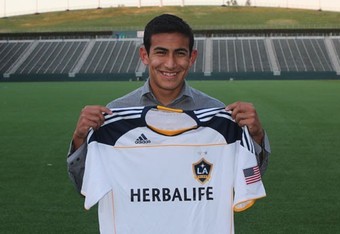 "It's been my dream ever since I was little to be a professional soccer player, so to be able to do that and stay close to home so that I can play in front of my family and friends is a dream come true," Villarreal told reporters. "Growing up here in the area I've always watched the Galaxy and been a fan of the team so this will be a great experience for me."
This season, Villareal-who began his club career with the South Bay Force-has scored three times in the six games that he has played in a Galaxy uniform. The Galaxy Under-18s currently own a 7-0-2 record so this season.
A special on Villareal will be published on the View from Victoria Street and Bleacher Report as part of its ongoing This is the Los Angeles Galaxy series.

...and a few resignings
While three new players join the club, a trio of familiar faces are gonna be in it for the long haul.
Forward Adam Cristman, midfielder Bryan Jordan and defender Sean Franklin resigned with the Galaxy on Friday. Jordan's option was exercised, while Cristman and Franklin agreed to new deals.
Franklin, who has been with the team since 2008, finished the season with four goals and three assists, with all of those coming in a seven-game stretch over the summer. As an integral part of LA's back line, the Galaxy equaled an MLS record with 17 shutouts in the regular season and allowed just 38 goals in 46 games in all competitions.
Jordan has also been with the team since 2008, spending much of the last two years playing wide in the midfield or at right back. Los Angeles were 5-0-0 in the games that Jordan started, including a run of four straight wins in September and October in which the club kept three clean sheets and outscored opponents 7-1.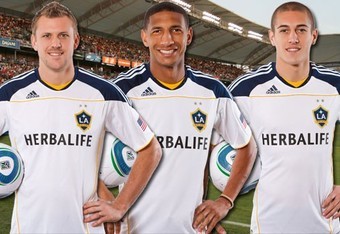 Cristman, who was traded from D.C. United, appeared in 20 games for the Galaxy and scored in all competitions LA has taken part in, as well as friendlies against Real Madrid and the Philippines.

Rogers Centre venue for first leg of CCL Quarterfinal
The first leg of the 2011-12 CONCACAF Champions League Quarterfinals between Los Angeles and Toronto FC will take place at the Rogers Centre on March 7, 2012.
"A lot of thought went into selecting the home site for this very important match," Toronto FC senior director of business operations Paul Beirne told Larry Millson of MLSSoccer.com. "While we would have loved to host our quarterfinal match at our home, BMO Field, ultimately the decision came down to our ability to deliver a safe and enjoyable event in a venue that could withstand the unpredictability of March's weather conditions.
"We felt that BMO Field's infrastructure in its present state, combined with the exposure to the winter conditions, would not deliver on this experience."
A major issue for the contest will be the pitch, which is far from ideal. However, it was a step up from having to play in a very hard, frozen surface that lacks proper heating.
"Last year, we probably had $100,000 in frozen pipes and snow removal costs just for that first regular-season game [on March 26, a 2-0 win vs. Portland]," executive vice president and chief operating officer of MLSE  Tom Anselmi said. "There were all kinds of things, like keeping the water running so the pipes don't freeze."

National team callups for Maryland products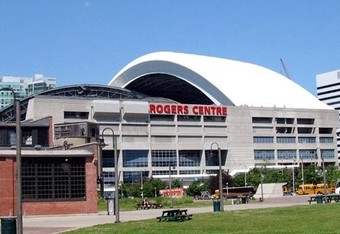 Back to the national team, Omar Gonzalez and A.J. DeLaGarza. The central defender tandem were called up to the 20-man roster ahead of the USA Men's National Team camp, which concludes with friendlies against Venezuela on Jan. 21 in Glendale, Ariz. and Jan 25 in Panama City, Panama.

Gonzalez has collected two caps so far in his international career, making his U.S. debut against Brazil in August 2010 while also starting in the 1-1 draw with Chile at The Home Depot Center in January 2011. Named to the U.S. roster for the third consecutive January camp, Gonzalez is a central figure in the Galaxy defense that tied an MLS record with 17 regular season shutouts and allowed just 38 goals in 46 games in all competitions, with the team going just 2-3-1 in the six games that he missed during the year.
DeLaGarza was a part of the U.S. camp at The Home Depot Center in January 2011 and was included in the 18-man squad for the friendly against Chile but was an unused substitute for the match. In his three seasons with the Galaxy, the Maryland native has appeared in 69 regular season games and nine postseason games, helping LA reach MLS Cup twice, including last year when the Galaxy won their third championship.
DeLaGarza started 30 of the Galaxy's 34 regular season games as the team allowed just 28 goals in the season, which were the fewest in MLS on the year and eight less than any other team in the league.