Cowboys vs. Giants: Does Tony Romo's Hand Injury Mean the End of Dallas' Season?
December 25, 2011
Tom Pennington/Getty Images
He didn't seem to make a big deal about it after the game on Saturday night, but Dallas Cowboys quarterback Tony Romo has to be thinking in the back of his mind what his injured paw will mean come January 1st.
Early in the first quarter of Philadelphia's 20-7 win over the 'Boys, Romo's right hand collided with Eagles' defensive end Jason Babin on a pass attempt, causing his throwing hand to swell significantly.
That would be all the action Romo would see Saturday. He was pulled from the game after just one series. Backup Stephen McGee would relieve Romo for the remainder of the contest.
Even though Romo fought off the rumors his hand was severely damaged with an array of "I'll be fines," he did suffer some minor bruising and swelling.
Romo's status for next week? Had the New York Jets defeated their inner-city rival New York Giants, Romo would most likely see the bench as a safety precaution going into the postseason.
That's not going to be the case, however, as NFL fans will be treated to a much more entertaining scenario.
Because the Cowboys got KO'ed by the Eagles and the Giants topped the New York Jets 29-14, next weekend's Cowboys-Giants game in New Jersey will be a winner-takes-all contest.
To the victor goes the NFC East title. The loser is eliminated.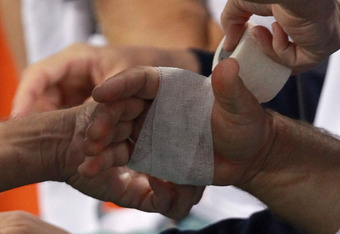 Ronald Martinez/Getty Images
It's a true playoff game by definition. Both teams need to win, or their seasons will end.
"If at the beginning of the year you told us we would have a chance to win the division in Week 17, we would have jumped at it," tight end Jason Witten said. "We will have to play our best football. It's on the road. It's going to be tough. But that's the environment you have to take. The Giants have been in these situations, too. It's going to be a huge challenge."
This loss marks the third defeat in Dallas' last four games. A team that once looked to have a secure grasp on the East will literally limp into the Meadowlands next weekend.
Have no fear Cowboys fans, No. 9 will most likely be ready to go next week. How his injured right hand will affect him remains to be seen. Romo shot down the idea of getting an MRI Sunday after receiving only x-rays in the locker room. Clearly, he feels there's no need to panic.
"I have no idea what's going to happen going forward," Romo said after the game. "I assume I'll be good to go for practice and everything."
Even in the worst-case scenario, things couldn't go as poorly as they did when McGee was running the offense. McGee finished the game 24-of-38 for 182 yards and a touchdown. That score, though, came 59:53 into the game. Had he not found receiver Miles Austin from four yards away on Dallas' final drive of the game, the Cowboys would've been shut out.
Plenty of media speculation will be brewing this week leading to the "winner takes all" showdown on Sunday Night Football. The effectiveness of Romo and the Cowboys offense will certainly be atop the list.
Even if his hand is hurt and the passing game isn't quite as crisp as it normally is, the Giants offer a passing defense that is more than forgiving. New York surrenders an average of 255 yards per game, ranking them 28th in the league.
By no means is this a death sentence to the Cowboys' playoff hopes. Anything can happen in a regular-season "playoff" game.
"Just like anything, you kind of feel it and you just move on," Romo said. "If it's not broke, you get out there and do it."
Brett Lyons is a Featured Columnist for Bleacher Report. Unless otherwise noted, all quotes were obtained firsthand or from official interview materials. 
Follow Brett Lyons on Twitter @BrettLyons670.