Minnesota Vikings: Adrian Peterson ACL Injury Falls Squarely on Leslie Frazier
December 25, 2011
It seems like NFL head coaches have to be reminded of this every winter, no matter how many times they've seen it before.
When you're eliminated from the playoffs, rest your starters.
The phrase "hindsight is 20-20" could not apply more than the worst case scenario the Minnesota Vikings' franchise witnessed Saturday afternoon at FedEx Field.
On the first offensive play of the third quarter against the Washington Redskins, Vikings running back Adrian Peterson suffered a nasty knee injury while being tackled by Redskins safety DeJon Gomes. Peterson was down for the count and had to be helped off the field. He was immediately carted into the locker room.
Early reports Saturday night say Peterson has a torn ACL and could have suffered additional damage to his MCL, PCL and meniscus. An MRI is scheduled and more information will be available when head coach Leslie Fraizer speaks to the media Monday morning.
"Anytime you take a blow to the knee like that, you're concerned about the ACL, MCL," Peterson said late Saturday night. "I'm trying to stay as positive as I can."
Here's the worst part for the Vikings. Since such a severe blow was suffered by Peterson so late in this 2011 season, the repercussions might not all be handled over the offseason.
Generally after ACL surgery, players can't return to football activities until six months after the operation. It still takes months of rehabilitation and recovery before players are cleared to play once more.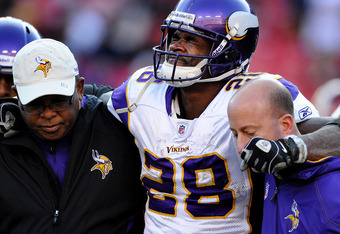 Patrick Smith/Getty Images
No doubt Peterson's 2011 season is done. It's very likely that he will be out for some if not all of 2012 too because of the poor timing of the tear. At the absolute best case scenario, Peterson will join the Vikings late in training camp and might have a shot to play in August 2012.
Two things really cause one to shrug their shoulders about this devastating blow. And ironically, both are at the blame of Fraizer.
First things first—Peterson shouldn't have been playing Saturday. Plain and simple. Peterson suffered a high ankle sprain back on November 20 and rushed his recovery so he could rejoin his team for the home stretch.
Only problem in this logic is that his Vikings were 2-8 at the time of the ankle sprain and were out of the NFC playoff picture. They've since gone 1-4 and now find themselves at 3-12 with a week to go.
Peterson should have been sat down for the remainder of the season back in Week 11. High ankle sprains are serious injuries that can linger and require rest. Why not take the conservative road and shut him down so he's 100 percent for 2012?
The other problem is that the Vikings had no reason to win Saturday. In fact, there was significant incentive to tank the game and fall to 2-13.
Why would Minnesota want to lose? Since the Indianapolis Colts stunned the Houston Texans Thursday night, the Colts were then tied for the fewest wins at two with the Vikings and St. Louis Rams.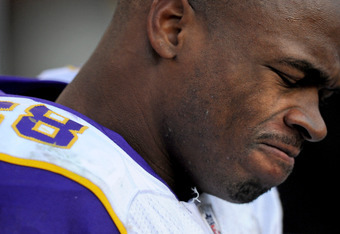 Patrick Smith/Getty Images
Between those three clubs, it should have been a race to lose out and secure the top draft choice in the 2012 NFL Draft. Stanford QB Andrew Luck is the prize that goes to the league's worst club this season. Even if teams don't need him or are set at the position, they can still evaluate their options and trade down to stock up on picks.
Luck's availability could change the fortunes for one team moving forward.
It's understandable Fraizer is playing for his job and doesn't want his team feeling like he quit on them so things will be better next year. That makes sense. But what makes more sense is not taking stupid, unnecessary risks when the season has been long lost.
Nice try, Leslie, but you cost yourself dearly this weekend. The risk far outweighed the reward of playing Peterson, especially when it would be wiser to lose and increase your odds in the Andrew Luck sweepstakes.
If Fraizer does return for the 2012 season, he will now be without the franchise's best player for weeks and maybe months. It's alright though, because going "all in" down the home stretch this season was such a smart decision. I'm sure you'll feel much better about your excuse of a season if you finish 4-12 instead of 2-14. Whatever makes you happy, coach.
At least he'll be able to sleep tonight knowing he won't regret the decision in the morning.
Brett Lyons is a Featured Columnist for Bleacher Report. Unless otherwise noted, all quotes were obtained firsthand or from official interview materials. 
Follow Brett Lyons on Twitter @BrettLyons670.