3 Problems That Need Fixing with the Cleveland Browns Offense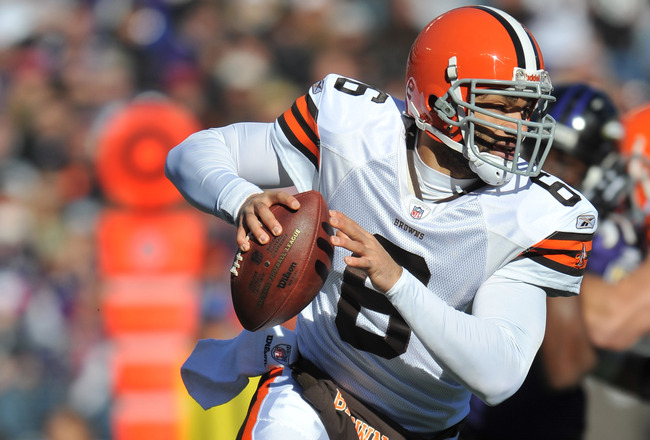 Whether its Colt McCoy or Seneca Wallace at QB isn't the Browns biggest concern.
Larry French/Getty Images
I look at the Monday Sports section of the (Cleveland) Plain Dealer and see a dejected Peyton Hillis walking off the field after yet another Browns loss. What follows is the talking heads of the local sports media searching for ways to justify another loss.
Terry Pluto, maybe the only credible Cleveland sports journalist, even claimed he wasn't "especially discouraged" after watching the Browns squander another fourth-quarter lead to the Cardinals.
Sorry, Terry, but if "playing hard" or "battling" (as head coach Pat Shurmur loves to muse) doesn't equate to "winning," fans don't share your sentiment.
Browns fans don't expect the West Coast offense to produce Drew Brees-type stats. Neither do they expect Dick Jauron's defense to shut down other teams in the way the Steelers or Ravens can.
We just want our team to find a way to win. With the track they're on right now, simply claiming "give the system a chance to develop" doesn't cut it, because quite frankly, there's no progress being made.
The reality is, the Browns didn't have a difficult schedule this season. In fact, this was their easiest schedule since their miraculous 10-win season in 2007.
When you hear an established player like Josh Cribbs claim the team doesn't have the talent to compete, there's a problem.
The West Coast Offense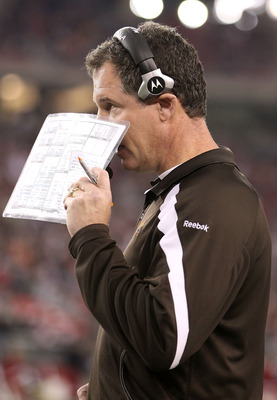 Shurmur looks lost and scared as an NFL coach.
Christian Petersen/Getty Images
The Browns need to ditch the West Coast offense, and do it now. Pat Shurmur's play calls are almost as predictable as they are ineffective. The entire philosophy of 'short passes, yards after the catch' would work...if they had receivers who could gain yards after the catch.
I have lost count of how many times Seneca Wallace has completed a short pass to a receiver, only to see him get tackled right away. Throwing a 2-yard pass to Hillis on fourth-and-5 late in the fourth quarter against Baltimore just doesn't cut it.
You just have to have a quarterback who's confident enough to throw the ball down the field. Wallace has looked a lot more willing to do so than McCoy, but when it matters most, the check-down dump option reigns supreme.
The Browns' (relative) offensive success in 2010 was attributed predominantly to their running game. It was a mistake to try to force the West Coast system on the players. The offensive schemes should be designed around the strengths of the players at hand.
With a lack of team speed, how can Mike Holmgren possibly hope to implement an offense that's based around acceleration?
Jordan Norwood is quick, Greg Little is elusive, and Josh Cribbs is respected, but worn down. Ben Watson is reliable but unspectacular, Evan Moore has good hands, and Mohamed Massaquoi has a knack for coming up just short on third down.
Every receiver brings something to the table, but none of them has the 'it' factor that sets them apart as a viable go-to-guy. Greg Little is slowly developing into that guy, but the drops factor hurts him the way it did Braylon Edwards.
At the very worst, Little is a solid No. 2 option for the Browns at WR. This is a need that must be addressed in the offseason. It's a good thing GM Tom Heckert has finally acknowledged it.
The Running Game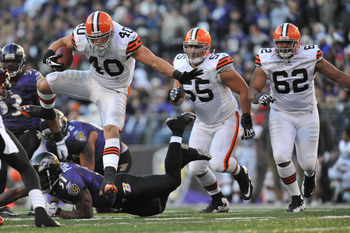 Hillis showed up big in Baltimore again Sunday.
Larry French/Getty Images
Peyton Hillis has finally shown up the past few weeks. His performances have been what we've come to expect from the Madden cover boy.
Peyton hasn't been able to break tackles this season like he did in 2010. He's also been stuffed on third-and-shorts, and hasn't accelerated through the hole on occasions where quicker backs would have run for big gains.
I am all in favor of bringing Peyton back in 2012, but not for superstar money. I think ultimately he projects best as a change-of-pace back, but I could live with him starting with Brandon Jackson and Chris Ogbonnaya as backups. Montario Hardesty needs to be cut.
Hillis took a lot of flack earlier in the season following his contract holdout and missing multiple games to injury. Despite his decline in production, Hillis plays with a fire unmatched by his teammates.
He is still an explosive back whose smash-mouth running style endeared him to Cleveland fans. He needs to be the focal point of the offense moving forward.
Depending on the decisions GM Tom Heckert makes in the offseason, the Browns should seriously consider drafting another fullback. Refusing to re-sign FB Lawrence Vickers has been an understated catastrophe for the Browns run game.
Vickers was instrumental in helping open holes for Hillis in 2010, and rookie Owen Marecic has been a disappointment to say the least. He might be the sole blemish on Heckert's 2011 draft.
The Offensive Line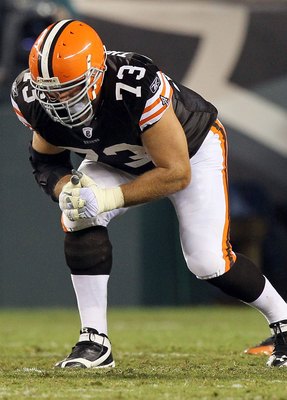 Joe Thomas anchors the left side. The Browns need one on the right.
Jim McIsaac/Getty Images
The most obvious flaw with the Cleveland Browns offense, however isn't Pat Shurmur's terrible playbook. Nor is it the running back situation, the play of the wide-receivers, nor the debate surrounding Colt McCoy's future.
The Browns need to fix the offensive line, and do it right away. It doesn't matter whose throwing or catching the ball if the quarterback doesn't have time to throw. Forget about Colt's arm strength, just watch the games. Watch how many times McCoy or Wallace have been flushed out of the pocket.
Watch any of the team highlights on the season. The majority have been plays where our QBs make plays with their legs. McCoy's TD to Josh Cribbs against the Dolphins, Wallace's big TD to Greg Little against the Cardinals. Seneca to Evan Moore this week in Baltimore.
Watch the New England Patriots. Want to know why Tom Brady is a great QB? He's not incredibly elusive, nor does he have the strongest arm in the league. He has a great offensive line.
Brady can stand back in the pocket for five seconds and scan all his targets before making a decision. So often, Colt and Seneca have so little time to throw, they can't help but telegraph their passes.
Since returning to the league in 1999, the Browns have had one 10-win season. Contrary to opinion at the time, the success of 2007 wasn't due to Derek Anderson's great QB play, Jamal Lewis' resurgence, nor the development of Braylon Edwards and Kellen Winslow. It was due to the offensive line.
Watch Browns highlights from 2007, and you'll see a QB who looks comfortable in the pocket with time to throw. Even in pressure situations against formidable opponents like Baltimore and Pittsburgh, Derek Anderson had time to throw.
It won't be a popular move, but if the Browns are serious about competing, they need to draft an offensive lineman with their first-round pick in 2012, preferably a RT.
Based on the availability of quality players in the draft and the team's ability to sign impact free agents, the Browns biggest offensive draft needs are a right tackle, wide receiver and potentially a fullback.
Quarterback and running back are not the problem. The guys up front and calling the shots aren't laying the foundation for winning football in Cleveland. These needs must be addressed to get things turned around offensively.
Keep Reading

Cleveland Browns: Like this team?