Star Athletes Will Play NBA Games Today: A Poem of Praise on Christmas
December 25, 2011
Pete Norton/Getty Images
'Twas the night before tip-off and all through the league, not a player was free from lockout fatigue.
The nets were hung on the backboards with care, in hopes that Blake Griffin soon would be there.
The broadcasters were nestled all snug in their box, with visions of James, the king of late shocks.
And fans in their seats, more watching at home, from every which way from Portland to Nome.
When out on the court there arose a jump ball and referee Crawford withdrew from it all.
Away to the basket Dirk flew like a bat, as Kidd passed the ball to that seven-foot cat.
Dirk's tap in the air high over the rim, came down for a goal, credited to him.
When, what to my wondering ears should suddenly sound, but a referee's whistle and Dirk on the ground.
With a protest from Bosh, his face in a scowl, fans knew in a heartbeat it was a flagrant-type foul.
More rapid than eagles the referees came, to use instant replay, keeping Bosh in the game.
"Now Kobe! Now, Howard! Now, Allen and Foye! On Cook! On Aldrich! And on Pierce & Garnett!
To the top of the key! To the top of the lane! Now dash away! Pick and roll! And please stop Dwayne!"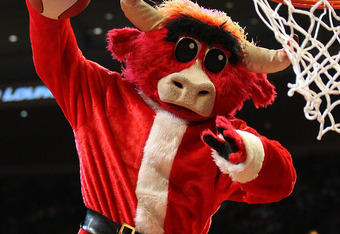 Jonathan Daniel/Getty Images
And then, in an instant, I knew it was here: The NBA season we all hold so dear.
Who will win it all, in this season too short? Who in the end will leave it out on the court?
And what of the MVP, will it go to Chris Paul? Or just down the hall, to Spain's Pao Gasol?
From L.A. to Cleveland and New York to Dallas, long gone is Artest and his palace of malice.
It's now World Peace and a message to cease, the flagrant twos, technicals and calls to police.  
For Fisher and Stern, who worked through their mess, to deliver us fans a Christmas success,
It's victory city throughout all the press.
Stern ran to his plane, to attend his first game, hoping to avoid this offseason of shame.  
But I heard him exclaim, 'ere he ran out of sight, "Let the season begin, let it shine oh so bright."
Now with Celtics vs. Knicks and Dallas vs. Heat, the Lakers and Bulls are all bound to meet.
The Magic and Thunder, the Warriors and the Clips, tip-off this time is within all of our grips.
As this season begins, we stop to take pause and give thanks to Stern, our dear Santa Claus.