2011-12 NHL Rosters: 5 Teams Getting Least Return on Investment
The much-ballyhooed Edsel did not live up to expectations

Everyone wants bargains at Christmas time.
People wait in line overnight after Thanksgiving to get the Black Friday specials. Some of the same people will be in the malls after Christmas to get the items on clearance.
Hockey is as frugal a sport as any, in part because so few teams turn a profit.
Last weekend, I highlighted the eight teams that have the best bargain rosters in the NHL. All eight were in the bottom half of the league in spending and projected to earn over 90 points and a playoff berth.
But which teams are the ones spending lots of money for toys that do not work?
Right now, eight teams in the top half of the league in roster spending (according to CapGeek.com as of last weekend) are not on pace to make the playoffs. Among them are two teams currently over the cap.
However, no matter how much it costs to get a point in the standings, if your payroll gets you enough to make the playoffs, it is worth it.
That is why this list cuts off right before the Washington Capitals ($1.35 million spent per point in the standings)—their shootout loss Friday night keeps them almost a half-point better than Ottawa in the projected final standings.
The Carolina Hurricanes and Edmonton Oilers are among the seven teams earning fewer points for every million spent than Washington. But Carolina has the third-lowest payroll in the league and Edmonton, while barely in the top half (15th), is playing for the future.
That leaves five teams that are under-performing to levels worthy of such a list...
5. Buffalo Sabres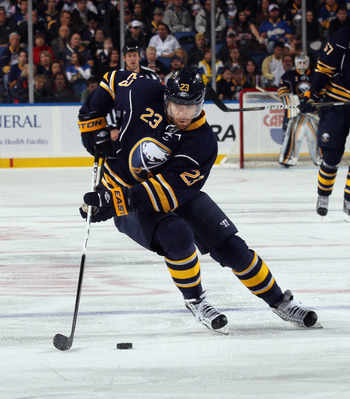 Ville Leino may have been the most overpaid free agent of the summer
Bruce Bennett/Getty Images
This summer, the Buffalo Sabres signed free agent forward Ville Leino and defenceman Christian Ehrhoff. They traded for Robyn Regehr, giving them three new players with a minimum of a $4 million cap hit.
The three have combined for 28 points. Granted, none of them were signed solely for their offensive skills (and Regehr not at all), but nobody is producing as expected on that end.
More than that, the roster upgrades have not resulted in production where it counts—the standings. Despite being one of the six teams over the cap, the Sabres are on pace to earn just over 84 points—1.26 per million spent on payroll.
4. Tampa Bay Lightning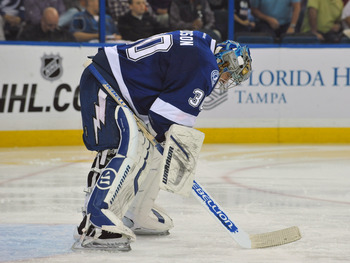 Dwayne Roloson has a 3.72 GAA and .883 save pct. for his $3.5 million cap hit
Al Messerschmidt/Getty Images
An argument could be made that the Tampa Bay Lightning were the second-best team in the NHL last season.
They took the eventual Stanley Cup champion Boston Bruins to seven games. The B's also needed seven to eliminate the Canucks in the Finals, but all of Tampa's losses were close, with their elimination coming on a goal in the final eight minutes.
This year, they are on pace to finish with under 75 points, giving them the fourth-lowest points per million payroll at 1.22. With the second-highest average age in the league, that is a position they can ill-afford to be in.
3. Les Habitants De Montreal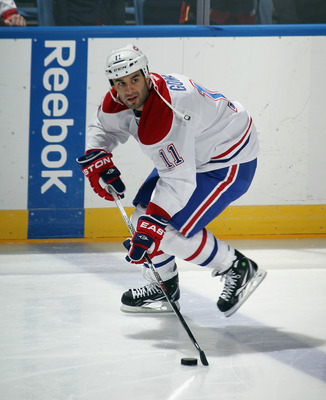 Perhaps no player in the league has been overpaid as much as Scott Gomez
Bruce Bennett/Getty Images
The Montreal Canadiens are the most storied franchise in NHL history, having won a Stanley Cup in every decade of the 20th Century. But in the new millennium they are in danger of becoming irrelevant.
A single win in the conference finals will be contrasted with multiple seasons of missing the playoffs. Right now, Montreal is on pace to earn just over 75 points despite being among the top-salaried teams in the NHL at $64.3 million. That gives them the third-worst points per million in salary at 1.17.
2. Anahiem Ducks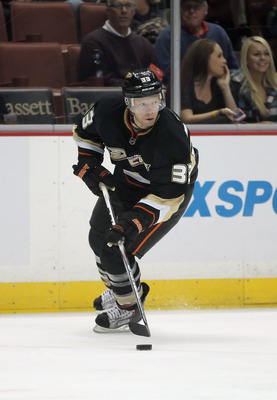 So far, Jason Blake has accounted for just 25 points while being paid $9.3 million by Anaheim since coming from Toronto
Jeff Gross/Getty Images
The Anaheim Ducks finished fourth in the standings last season. They probably would have won their first-round series if not for goalie Jonas Hiller being out with vertigo.
Two months into this season, they fired the only coach to ever bring a Stanley Cup to California. Why?
Despite having a salary in the top half of the league as of last week, they are one of the two worst teams in the league. At their current pace, they will finish with about 58 points, or less than a point per million spent on payroll.
1. Columbus Blue Jackets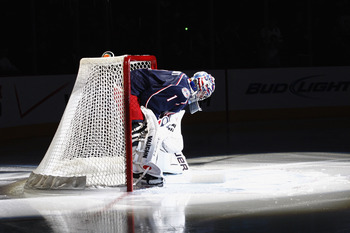 Columbus must accept that Steve Mason was a flash in the pan
John Grieshop/Getty Images
It is not easy to win without good goaltending. Steve Mason has given up at least three goals a game and has had a save pct. no better than .901 in all three seasons that followed his Calder Trophy-winning rookie year.
Then again, he does not get much help. The Jackets have had only one consistent scoring threat and no stud on the blue line.
This prompted the team to go on a relative spending spree, acquiring Jeff Carter through a trade and James Wisniewski via free agency. This put them in the top half of the league in spending, but they have gotten worse on the ice: Columbus is projected to finish with 54 points at a cost of $61.8 million—about six points per $7 million spent.
Keep Reading