Toronto Blue Jays and Prince Fielder: Avoiding a Costly Mistake
December 24, 2011
Scott Boehm/Getty Images
As my last article was essentially an extended harangue against Rogers Communications' parsimony as owner of the Jays, as evinced by the Yu Darvish debacle, it may seem strange that I believe that they should keep the chequebook in the drawer when it comes to first baseman Prince Fielder—as if Rogers needs convincing not to spend.
The fact is, for all his prodigious offensive ability, Prince Fielder makes absolutely zero sense for the Jays.
No one can deny that Fielder has been a phenomenal contributor with the stick. In his first six seasons in the league, he has compiled a 50-plus HR season, a 40-plus HR season, finished in the top five in NL MVP voting three times and maintained a sparkling career OPS of .929. He has been a mortal lock to hit 30 HR, drive in 100 RBI and do hell of a lot of walking every season.
Fielder batting behind Jose Bautista would instantly give the Jays the most potent 3-4 duo in the MLB.
Signing him still doesn't make any sense.
The reality is that Fielder will get a massive contract. The massiveness of that contract is still unclear, as he may have to lower his length demands to the six- or seven-year range from the eight to 10 years that he has been reported to be seeking, but he will almost certainly be in the $24-26 million range. That is $150 million at a minimum.
Frankly, he likely won't be worth it to any team, let alone the Jays.
Prince Fielder is a DH. He is not a guy who will have to move over to DH in a few years as he gets older and slows down; he is a DH right now.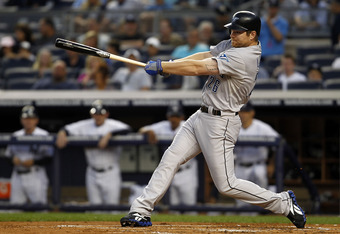 Jeff Zelevansky/Getty Images
Consider this: In his first season fielding first base in the majors, incumbent Adam Lind, with a total zone rating of plus-three, was worth 10 defensive runs less than Prince Fielder, who possessed a Rtot of minus-seven last season. 2011 was one of Fielder's better defensive seasons.
Adam Lind, when healthy, has also been a lock for 30 HR and 100 RBI, albeit with markedly fewer walks.
Adam Lind is under team control for five more seasons, if all team options are exercised, at a total of $32.5M. 
Let's just ruminate on that for a minute. Lind at $32.5M for five—Fielder for one season at $25M. Fielder is, all in all, a superior player to Lind. He has been remarkably consistent in both health and production, whereas Lind has not been consistent on either front.
But the question boils down to this: Is the production that Fielder provides worth $120M (minimum) more than the production of Adam Lind? 
Moreover, given that the Toronto Blue Jays possess one of the league's better offenses and most miserly owners, is that $120M the best use of the finite amount of money that Rogers might be willing to provide the team? How does it address the Jays' rotation woes? If Fielder is signed and Lind is traded for pitching, does Lind get a Matt Garza in return? Likely not.
The call for the Blue Jays to sign Fielder is based on a wistfulness for having the league's best middle of the order. It would be fun to watch. It does not, however, reflect the reality of the Blue Jays' needs—to improve one of the worst AL pitching staffs. The glaring holes in the rotation must be addressed; Prince Fielder is the solution to another team's problem.
A $25M DH masquerading as a position player will not get Toronto into the playoffs