Donovan McNabb Picked Wrong Time to Snub a Charity
December 23, 2011
Hannah Foslien/Getty Images
Former Minnesota Vikings quarterback Donovan McNabb made a promise that he seemingly does not intend to keep. 
NBC Sports reports the star quarterback has not made good on his promise to donate $5,000 to a charity that was near and dear to punter Chris Kluwe's heart. 
When McNabb came to the Vikings, a great deal was made on the star getting his old number back. That number belonged to Vikings punter Chris Kluwe though. 
Kluwe, being the kind soul he is, agreed, although with certain caveats. The demands ranged from the odd and funny to the sentimental and admirable.
The most important demand, a $5,000 donation to Kick For a Cure, has not been met. Kick for a Cure is an organization that supports people with Duchenne Muscular Dystrophy. 
Michael David Smith, who wrote the report for NBC Sports, reached out to Kluwe on Twitter to see if McNabb had recently touched base with the punter after seeing a write up on Scout.com. Kluwe tweeted this back to Smith.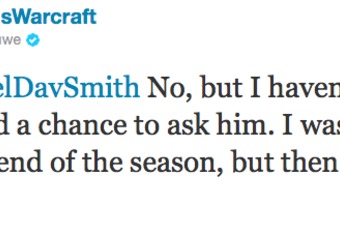 As Smith then argues, and I have to agree with, Kluwe shouldn't have to ask. The onus is on McNabb to make good on a promise that he made. 
Forget that this is a season of giving and note that McNabb is a quarterback that was once regaled with such adulation. After a failed stint in Minnesota, he is being painted in a much different light. 
He can hardly afford the bruise this will leave on his image if he ignores his promise to a great and worthy cause. He got his number just like he wanted, and now it's time for him to pay up. Just like the man promised. 
As noted, there were other demands that were silly in nature. One made McNabb buy Kluwe an ice cream cone. Another was that McNabb had to mention Kluwe's band, Tripping Icarus, at five press conferences.
I think the Vikings punter will agree that there was just one promise that he would have had McNabb keep, and that is sadly the one that has gone unfulfilled.