Tim Tebow and Lindsey Vonn: Super Couple Makes Perfect Sense
December 23, 2011
Tim Tebow and Lindsey Vonn aren't dating (yet), but the two stud athletes would seemingly be a perfect match.
The rumors of a potential super-couple exploded when Vonn "Tebowed" after winning a super-G event, then watched a Broncos game from the Tebow family box.
However, Vonn insists that they are not dating.
"Hey, I realize when I 'Tebowed' that probably didn't really help anything," she said. "I was just trying to show my support for the Broncos. I have really a lot of respect for Tim and what he's done. He's such an amazing person and an inspiration to all."
Vonn then told TMZ that she isn't opposed to dating the miracle working quarterback.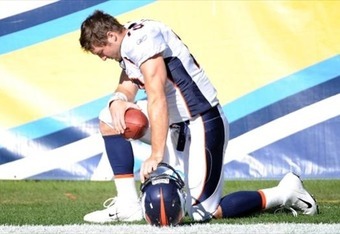 It's easy to see why the rumors are swirling around these two. They both live in Colorado and are the faces of their respective sports.
The Broncos are 7-2 with Tebow under center. He clearly has a flair for the dramatic, shrugging off sub-par play through three quarters to dominate the fourth.
Vonn has also been dominant recently, winning three World Cup skiing titles and an Olympic gold medal over the past few years.
If the two did start a relationship, they would spawn the most athletic children on the planet.
However, it looks like all the dating talk is a bit premature.