Diamondbacks Pitching Staff Too Deep and Too Cheap to Bring Back Joe Saunders
December 23, 2011
Christian Petersen/Getty Images
The sports industry is a business.
It is a phrase ballplayers, coaches, teams, bookies and the press know all too well. Money is made and lost based on what happens between—and occasionally outside—the lines.
For 2011 Diamondbacks starting pitcher Joe Saunders, it was a lesson that has been learned time and time again throughout his career.
From his early years spent climbing through the Los Angeles Angels' organization to his trade to Arizona in 2010, Saunders was familiar with the dark, economic side of sports.
So when the 2011 MLB season concluded and the Diamondbacks were attempting to avoid arbitration with Saunders, the club offered him a two-year, $12 million contract.
He and agent Greg Genske said "no," and countered with three years at $27 million.
Arizona never responded.
Saunders was recently interviewed by Nick Piecoro of The Arizona Republic, stating he "really wanted to come back" and describing his counteroffer as "very reasonable."
For the Diamondbacks, the decision not to tender Saunders was fairly fundamental.
Saunders had not enjoyed a winning season since 2009 with the Angels, and with 12 wins in 2011, he averaged $458,333 per win—$35,000 more than 21-game winner Ian Kennedy made over the course of the entire season.
For the Diamondbacks, the decision not to meet Saunders' counteroffer was simple—Kennedy, Daniel Hudson, Trevor Cahill, Josh Collmenter and probable fifth starter Wade Miley will earn less than $20 million combined in 2012, or an average of $4.0 million per pitcher.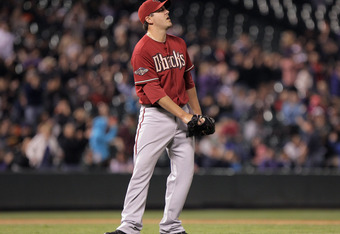 Doug Pensinger/Getty Images
Saunders is most comparable to Cahill, the pitcher slated to replace Saunders on the D-Backs' 2012 list of starting pitchers.
Saunders was a 12-13 pitcher in 2011 with a 3.69 ERA and 108 K, while Cahill finished with a 12-14 record, 4.16 ERA and 147 K with the Oakland Athletics.
Saunders, however, had asked for three years at $27 million, an average of $9.0 million per year, while Cahill was already under contract from Oakland to earn just $3.5 million in 2012, $5.5 million in 2013 and $7.7 million in 2014.
Cahill had also seen similar success in 2010, as Saunders had in 2008. Cahill was an 18-game winner two seasons ago, while Saunders won 17 games in 2008.
As far as Arizona and GM Kevin Towers are concerned, Cahill is 2012's Saunders, albeit at a much cheaper price via this month's trade with the A's.
With Cahill, Collmenter and Miley raring to go along with minor league prospects Tyler Skaggs and Trevor Bauer waiting in the wings, the Diamondbacks have several fine options for the pitcher's position.
As Saunders concluded the Diamondbacks "wanted to go a different direction," the fact of the matter is that Arizona simply didn't need to a pay a ~.500 pitcher in excess of seven or eight million dollars.
Arizona's 2012 pitching staff is simply too deep and too cheap to include Saunders.