Fielder's Choice: Why the Angels Should've Signed Prince over Albert Pujols
December 24, 2011
Christian Petersen/Getty Images
I see your Albert Pujols and I raise you…
In what is quickly turning into a Boston-New York AL West, the Angels and Rangers are in the process of engaging in a high-stakes arms race in an effort to establish themselves as the top dog in the AL West.
Various reports list the Rangers as one of the potential suitors for free-agent slugger Prince Fielder.  This on top of the fact that they were recently awarded exclusive negotiating rights with Japanese pitching phenom Yu Darvish.  If they do manage to sign both players (which will probably cost them upwards of $300 million, including the $51 million posting fee for Darvish), then they will have essentially wiped out the gains the Angels made when they signed Albert Pujols and C.J. Wilson.
And that would be disastrous for Los Angeles.
The Angels, flush with cash after reportedly inking a 20-year, $3 billion cable deal with Fox Sports and looking to get back to the playoffs after missing out the past two seasons, took what they believed was a major step in that direction by signing Pujols and Wilson.  And a major step it was, adding arguably the most dynamic offensive player in baseball in Pujols and pulling off the doubly-sweet move of adding a front line starter in Wilson while subtracting him from the Rangers' rotation at the same time.
The problem is, they left themselves wide open for a counterattack, and like any aspiring superpower would, the Rangers appear to be doing everything possible to take advantage.  It's no coincidence that their interest in Fielder appears to have grown after Pujols signed with Los Angeles.  Same for Darvish.  These are textbook responses to the Angels' moves and if they pull them both off, then the $331 million the Angels spent will have not gained them the massive competitive advantage they were hoping it would. 
Lisa Blumenfeld/Getty Images
Now, I'm not going to sit here and criticize the Angels and owner Arte Moreno for making those deals.  The team's stated goal is to win a World Series, and there's no doubt the additions of Pujols and Wilson make them a much better team.   There were also likely more factors involved in those signings (Pujols in particular) than simply gaining a competitive advantage on the field.  (Lobbying for a new ballpark, the aforementioned cable deal, Pujols' march towards the HR record, etc.)
Strictly from a strategic standpoint, however, I believe the Angels could've played their hand much better than they did.
For example, they could've quietly indicated their interest in Wilson but waited the six days until after the Darvish posting deadline to sign him.  Maybe the Rangers, thinking Wilson was still in play, might not have gone after Darvish so aggressively.  In that scenario, Darvish's rights would've likely gone to the Blue Jays, who reportedly also made a strong bid.  The end result would've been the Rangers lose Wilson to their arch rival and would've had no one of that caliber to replace him via free agency.  Advantage: Angels.
And even if the Rangers decided to pursue an ace via trade, say Gio Gonzalez for example, it would've cost them multiple top prospects (see what Washington gave up), which also would've weakened them long term.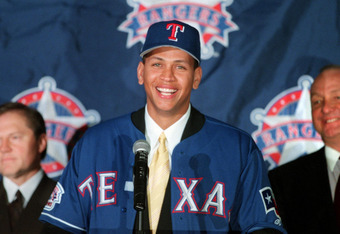 Gary Barber/Getty Images
Second, and this is the big one here, if the Angels truly wanted to put some distance between themselves and the Rangers, they would've signed Fielder instead of Pujols.
Why? 
Because there's no way Texas, after finally recovering from the unmitigated disaster that was Alex Rodriguez and his record-setting $252 million contract, was going to go down that road again.  NO WAY. 
They'll still pay big money for free agents, but they don't have the stomach to bring in the highest-paid player in baseball—and the massive expectations that come with it—after seeing what happened the last time they tried that. 
That's why the Angels should've signed Fielder.  Because the Rangers couldn't possibly have matched that move.  They wouldn't have signed Pujols and there's no one else out there who's remotely comparable.  They would've had to have gone with Mitch Moreland (.259/16 HRs/61 RBI and recovering from wrist surgery) or another less than inspiring choice (Michael Young?), and that would've given the Angels precisely the kind of competitive advantage they were looking for.   Of course, the Rangers could've always traded for someone like Joey Votto but again, it would've cost them premium prospects and made them weaker in the process.
Look, we can debate all day about who will have the better career over the next 10 years (for the record, I'll take Fielder's numbers from age 27-36 over Pujols' from age 32-41).  But in the big picture sense, the difference in production is going to be marginal and not all that noticeable.  What would be noticeable, and anything but marginal, is the advantage the Angels would've gotten had they ended up with one of those two and Texas did not.  That almost certainly would've been the case had they signed Fielder.  It still might be.  But the Angels' inability to see the big picture could end up putting a big crimp in it.
As Denzel Washington might say, "This is chess, it ain't checkers!" 
Hopefully the Angels will start seeing it that way.