San Francisco 49ers vs. Seattle Seahawks: Injury Reports and Prediction
December 23, 2011
Ezra Shaw/Getty Images
It's a common tradition for families to open up a single present on Christmas Eve, as the hands of the clock inch closer to midnight. 
Saturday afternoon, the San Francisco 49ers will get a chance to earn an additional present when they visit Seattle to take on the much-improved Seahawks. 
The 49ers already handled the Seahawks 33-17 back in Week 1, but it won't be so easy this time around. Seattle has won five of their last six contests, having defeated the likes of the Giants, Eagles and Ravens. Yes, the same Ravens that stuffed the Niners' thanksgiving turkey in front of 10.7 million viewers.  
This is a game with serious playoff implications—chuckling to myself at the unforeseen reality of that—as the 49ers aim to secure a No. 2 seed and the Seahawks look to sneak into the postseason as one of two wild-card teams. 
Both teams must win to keep those hopes alive, so expect a battle between division rivals.  
Seahawks Injury Report
Doubtful
DT Clinton McDonald (concussion)
CB Kennard Cox (hamstring)
LB Malcolm Smith (concussion)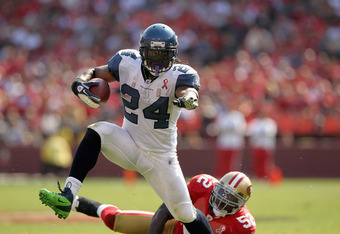 Ezra Shaw/Getty Images
Questionable
WR Doug Baldwin (ankle)
Probable
G Robert Gallery (pelvis)
LB David Hawthorne (knee)
QB Tarvaris Jackson (pectoral)
Outlook: The Seahawks will need WR Baldwin to play and produce in this game. The undrafted rookie out of Stanford has become the quarterback's favorite target and is making the 49ers wish they had pursued the young receiver. He is recovering from an ankle injury, missed Friday's walkthrough, but may still be ready when kickoff rolls around.
QB Tarvaris Jackson is healthier and appears to be making strides as a starting quarterback for the Seahawks. Seattle will need him to come up big in these last two games, if they want any chance of reaching the postseason. 
49ers Injury Report
Questionable
WR Ted Ginn (ankle)
WR Braylon Edwards (knee)
FB Bruce Miller (knee)
LB Patrick Willis (hamstring)
Outlook: Both teams are a little banged up, but that's just a product of an NFL schedule. Ted Ginn, the Seahawks killer in Week 1, will most likely sit the game after suffering an ankle injury during Monday's win over Pittsburgh. That means a hobbled and ineffective Edwards should slide into his starting spot alongside Michael Crabtree. The 49ers need a big target in the red zone and Edwards hasn't been that guy, but this week may be different.
49ers fans have applauded the effort of Larry Grant, but will be happy to see star linebacker Patrick Willis return from a hamstring injury that has plagued him the past few weeks. He was limited in practice and still remains a game-time decision. 
Prediction: The Seahawks are thriving behind the beastly running of Marshawn Lynch, but stopping the run is the 49ers' expertise. They'll shut down Seattle's rushing attack, forcing quarterback Tarvaris Jackson to drop back and make throws. That's where the fun begins. Mr. and Mr. Smith will apply the pressure and the ball-hawking secondary will add to their league-high interceptions total. 
The 49ers are the better team, hands down, and will overcome the noisy atmosphere to leap closer to a first-week bye in the playoffs. 
Prediction within a prediction: Braylon Edwards will play, in the absence of Ginn, and collect his first touchdown reception of the season. To top off the metaphorical sundae, it will be in the red zone as the 49ers offense improves their scoring woes. 
49ers 27, Seahawks 13