NHL Trade Rumors: The One Move the Vancouver Canucks Need to Make
December 23, 2011
Rich Lam/Getty Images
When the 2011-2012 NHL season began, there was a strong sense of panic amongst Vancouver Canucks fans. The team started slow, like they do every year, and people were worried. Now that they are back to their dominant ways and many of those fans have come back off the ledge, the team and its fans can begin to look ahead. 
With the trade deadline on the horizon, many teams will be looking for that missing piece to get them over the top. 
Trade deadline deals can be tricky and despite what many fans think, they rarely result in a huge splash that gives a team that one missing ingredient they needed. More likely there are smaller moves that provide a team with some depth. 
The Canucks made two moves last year at the deadline that proved to be tremendous. Picking up Maxim Lapierre and Chris Higgins were seen as minor deals at the time but have since provided Vancouver with two important pieces of their current roster. 
So what about this year? 
The one move the Vancouver Canucks should make is sit on their hands. That's right. The Canucks should not make any moves at this trade deadline. 
Stop shaking you head and hear it out. 
They don't need to. 
They have been on fire. They have won seven out of their last nine and after they pound Calgary tonight at home, they will be back in first place in the Northwest Division and a couple of points off the top spot in the West. 
Looking at their numbers will show that they have little room to improve. They are in the top 10 in almost every statistical category.  This despite their poor start, and these numbers should only improve. 
They have 12 players who have scored in the double digits in points, four players in double-digit goals, two excellent goalies and two of the league's top five scorers. 
How are you going to improve that? 
The answer is easy. You're not. 
Vancouver needs to stand pat and keep flying.
Now you might be wondering about injuries. After all, like last year, the Canucks have seen some of their defensemen go down at various points this season. 
While this is true, their top two of Kevin Bieksa and Dan Hamhuis have been healthy and are playing as well as anyone in the league. Sami Salo and Alex Edler have also been healthy for most of this season and playing well. 
Sami Salo not suffering a horrible injury has to be a sign from the heavens that this is Vancouver's year. So let's not mess with it.
They have depth on defense and still have young prospect Chris Tanev in the AHL should someone go down for with a long-term injury. 
Offensively, they have few holes as well.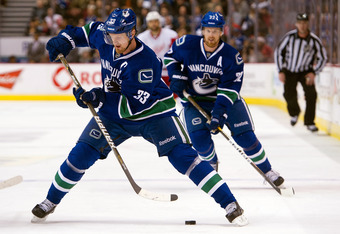 Rich Lam/Getty Images
The Sedin line is clicking right now and the twins have turned Alex Burrows into the third Sedin. Ryan Kesler has bounced back from his offseason surgery and has that unbeatable look to him again. 
The search for Kesler's wingers has been far and wide. Right now he is playing with Chris Higgins and Mayson Raymond. Raymond has returned from his own injury and looks better than ever. 
Then there is David Booth. Booth was Kesler's other winger and was playing great before hurting his knee. He has 12 points in his 19 games with Vancouver and that line was starting to gel.
Booth is still out but should be back in January.
Getting Booth back in January is the same as making a deal. Whether he returns to Kesler's line or drops down to the third line, he will give the Canucks just that much more scoring. 
Vancouver should end up with three solid scoring lines when it is all said and done. All that without having to trade anyone. 
Rosters like this don't come around very often, and Vancouver should be happy to just keep everyone healthy and clicking along for another long playoff run. 
All the armchair general managers will be lighting up the talk radio lines and blogosphere with crazy trade rumors that will bring in Shea Weber for the likes of Dale Weise. These aren't realistic and any trade that would bring in the likes of a Weber would cause Vancouver to break up what they have now. 
What they have now is great and there is no reason to mess with it.