Ben Roethlisberger and 5 Toughest Players in the NFL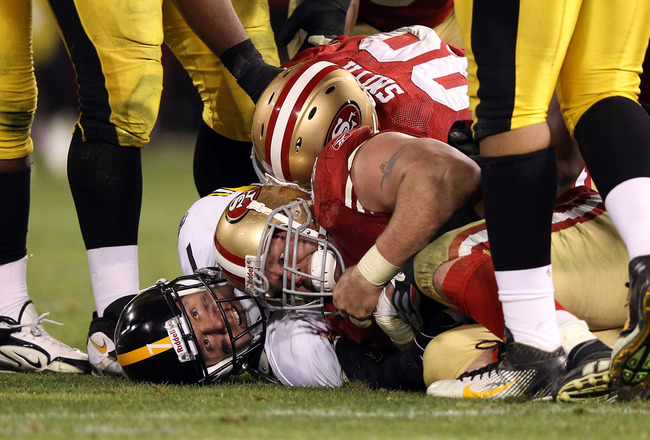 Ezra Shaw/Getty Images
While it takes some degree of toughness to play any position in the National Football League anyway, some players are over the top tough.
Whether they have been durable for many years, take a beating, or a little bit of both, the players on my list have earned their spot. Sometimes, it's dumb to play with an injury, but several of these guys play hurt more often than not.
There are other players deserving of mention, but these are my top five. Some others worth mentioning are: Carolina Panthers wide receiver Steve Smith, Chicago Bears quarterback Jay Cutler, Dallas Cowboys quarterback Tony Romo, Pittsburgh Steelers safety Troy Polamalu and Baltimore Ravens linebacker Ray Lewis.
As always, feel free to comment on why you agree or disagree with my list.
Here are my top five toughest players in the NFL.
Ben Roethlisberger: Quarterback, Pittsburgh Steelers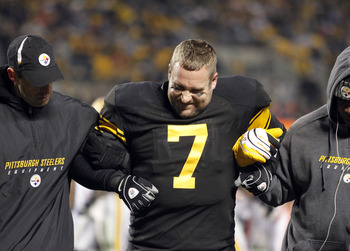 Justin K. Aller/Getty Images
You can't have a list of NFL tough guys without mentioning Pittsburgh Steelers quarterback Ben Roethlisberger.
He's sixth among active National Football League quarterbacks in sacks. He has also been injured several times on and off the field but has never missed more than a couple of games as a result.
On Monday, June 12, 2006, at 11:17 a.m. EDT, Roethlisberger was involved in a motorcycle accident in which he wasn't wearing a helmet. According to an eyewitness, Roethlisberger went over the handlebars of his bike, a 2005 Suzuki Hayabusa, and shattered the windshield of a Chrysler New Yorker with his head.
Police sources confirmed that he lost and chipped teeth, broke his jaw in two places, cut the back of his head and broke his nose. He basically face planted onto a moving car and lived to tell the tale!
Big Ben has also suffered several injuries to his fingers, knees, shoulders and nearly had his nose ripped off his face last season against the Baltimore Ravens. He suffered a high ankle sprain against the Cleveland Browns two weeks ago and played the second half of that game, visibly in severe pain.
There's no question in my mind that Ben Roethlisberger is the toughest player in the NFL.
Philip Rivers: Quarterback, San Diego Chargers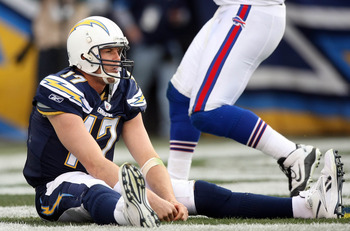 Donald Miralle/Getty Images
San Diego Chargers quarterback Philip Rivers has been an interception machine this season, but I will never question his toughness.
I will never forget watching Rivers suffer a torn ACL and play in the playoffs the following week. Not only did he play, he played well. I've seen people tear an ACL, most fell to the ground in agony and were unable to do anything physical for a few weeks.
Chris Harry of the Orlando Sentinel said, "I don't think anyone will ever accuse Philip Rivers of being soft."
Kevin Acee of the San Diego Union-Tribune said, "To go out there and put his knee, and ultimately his career, on the line. It has to go down as one of the gutsiest performances."
He gets hit several times per game, too, and stands in the pocket anyway. Like Ben Roethlisberger, he doesn't flinch when defenders are bearing down on him. Not only can he take hits, but he can take hits and still get a pass down the field.
Like him or hate him as a player or person, Philip Rivers is a tough dude.
Steven Jackson, St. Louis Rams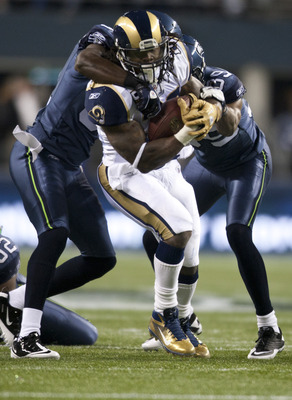 Jay Drowns/Getty Images
St. Louis Rams running back Steven Jackson should be on this list just for putting up with the bad team around him the last few seasons!
He always takes a beating as teams play the run against the Rams every week. They haven't been able to sustain anything offensively passing the ball. He has carried the football 2,098 times in his career and is still one of the best running backs in the NFL.
He played almost a whole season with a herniated disk in his back—an injury that makes it hard to do anything. It would make it hard to walk, let alone take a beating running the ball against NFL defenses.
Jackson keeps the Rams relevant—a true tough guy and a future Hall of Famer.
Michael Vick, Quarterback, Philadelphia Eagles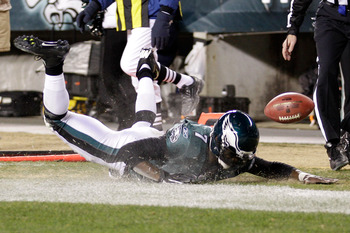 Rob Carr/Getty Images
Philadelphia Eagles quarterback Michael Vick has taken a beating his entire career in the National Football League. He's the best running quarterback to ever play in the NFL, and that has caused him to take more of a beating than a traditional quarterback.
He's suffered broken ribs, shoulder injuries and more. Vick misses some games, but if he can walk, the man will be on the football field. He's one of the most competitive players you will ever see, much like Ben Roethlisberger.
He isn't having nearly as good of a year as he did last season, but that would have been hard to match. The Eagles have had a down year as a team, but Vick and the rest of the team have played better lately.
He did his time in jail and seems to have finally learned his lesson. Whether you want to forgive his off-the-field actions is irrelevant to this list, he's an extremely tough football player.
Adrian Peterson, Running Back, Minnesota Vikings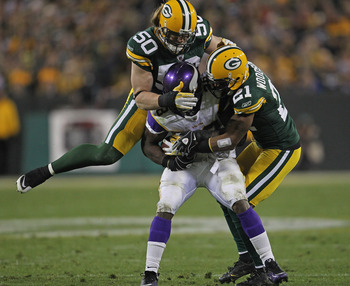 Jonathan Daniel/Getty Images
The Minnesota Vikings should apologize to Adrian Peterson for wasting a few years of his career.
No matter how bad the team is, Peterson continues to give 100 percent every play. He has played banged up several times throughout his career, which is a given when you take as many hits as he does. Much like Steven Jackson, Adrian Peterson is most of the Vikings offense.
Despite a bad ankle, he's expected to play this weekend against the Washington Redskins. I would take a 50 or 60 percent healthy Adrian Peterson over most running backs in the NFL. He's been injured often since his days playing at Oklahoma, but this hasn't slowed his progression.
This guy is tough as nails and one of the best running backs in the NFL.
Keep Reading