Battle Down Under: Will India Win Their First Ever Test Series in Australia?
December 23, 2011
India and Australia will face each other down under in a bid to win the Border Gavaskar Trophy starting with the eagerly anticipated Boxing day test. The teams are facing some injury concerns thus it will be interesting to see how they perform in the high profile series.
This time around, both the team compositions and the circumstances have changed since the last time India met Australia in a test series down under. The Indian cricket team will provide the stiffest competition ever for the Aussies, and the Australian team would be eager to answer their critics with some spectacular performances.
The tour provides a golden opportunity for the Indian side to register their first series win over Australia on their own soil. Though there are a few concerns about the bowling lineup, they have sufficient firepower in their batting to compensate it. This time around with the help of a few more talented young faces they can realize a lifelong dream of Indian cricket fans.
Australia's recent form has been the hot topic of debate, and there is a concern throughout the cricketing community about their Test future. In the last one year their defeats in test matches against England, South Africa and New Zealand came in a very un-Australian fashion. Though they tend to lose a couple of tests here and there, the defeats have never occurred within such short intervals. With the departure of some prominent players in the last few years and poor form of a few current players, Australia suddenly looks like a team that can be defeated.
But it is also a fact that Aussies are most dangerous on the field when they are hurt, criticized or questioned—and they reply ruthlessly. A few examples from past are: their Ashes 5-0 whitewash over England after they lost the previous one in 2005, their World Cup triumph in the Caribbean after a humiliating whitewash against New Zealand in ODIs and the most recent 6-1 drubbing of England in ODIs after the defeat in the Ashes series down under.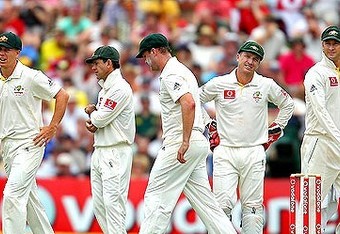 The only instance the Australian test side tasted defeat in a series down under in the last decade was against England in the Ashes Series in 2010-11. The most encouraging factor for an Indian series victory this time is the fact that the current Indian squad is very much similar to that England side.
Analyzing some main players from both squads, the two sides weigh equal in many aspects of the game. Let's have a look at the interesting comparisons between some key players of Ashes-winning England squad and the Indian squad of this tour.
VIRENDER SEHWAG for Andrew Strauss: Fresh from his world record 219 against the West Indies, Sehwag will be the best replacement of Andrew Strauss. He can match, and at times better, Strauss in his audacious, aggressive and free-flowing stroke play. Both are attacking players and frequently provide their teams with the best starts.
GAUTAM GAMBHIR for Alastair Cook: Gambhir and Cook are known for building their innings on the back of excellent shot selection and judicious running between the wickets. This tour is the most important phase in the cricketing career of Gautam Gambhir, as many performing candidates are looking for a place in the playing 11. 
RAHUL DRAVID for Jonathan Trott: Dravid and Trott have been the top No. 3 players in the world for quite some time now. They were among the top scorers in test matches over the last one year. Dravid has proven time and again that he is one of the most technically sound test cricketer of his generation. Playing in his last test series down under, he would like to sign off on a high note.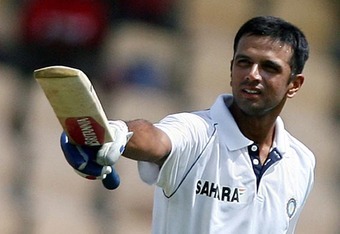 SACHIN TENDULAKR for Kevin Pietersen: The last time the "Little Master" toured Australia, experts wrote about it as his last tour there. But now Sachin is back for yet another speculated final showdown in a country where he is a most respected rival cricketer. Like Pietersen, who contributed some good scores during the Ashes, Tendulkar is the most capable person to achieve any kind of score on a given day. His record in test matches down under guarantees one thing for sure: He will finally achieve one of the most talked about and anticipated records in sporting history.
V.V.S. LAXMAN for Paul Collingwood: Very Very Special Laxman will be playing against his favorite opposition and will surely like to help India win the series just like Collingwood did for England. Paul didn't perform much with bat in the Ashes, but he duly helped England at times with gritty bowling and fielding. Though Laxman is not an all-rounder, he can sufficiently contribute while batting, being one of the finest finishers of test matches.
VIRAT KOHLI for Ian Bell: Virat Kohli is the highest run scorer in ODIs in 2011, similar to Ian Bell who is the second highest scorer in tests. In the absence of Yuvraj, this series provides Kohli with a rare opportunity to cement his position in the playing 11 for a long time. After Ganguly, India is looking for someone who can give solidity to the middle order on a consistent basis. As Ian Bell proved to be the backbone of the English middle order in batting and led the fielding unit on ground in Ashes series, the same is expected from the rising star of India.
M.S. DHONI for Matt Prior: In test cricket, Dhoni and Matt Prior are the most similar wicket keepers at present. Both are equally talented with gloves, and they bat out their teams from difficult situations on consistent basis. Though Dhoni is one of the best captains of the world, he still does not carry ample performances in his resume that reflect his indispensable presence in  the line up because many a times he has to bat with the lower order under difficult situations. This series provides a good opportunity for him to come closer towards his role model Adam Gilchrist in stature.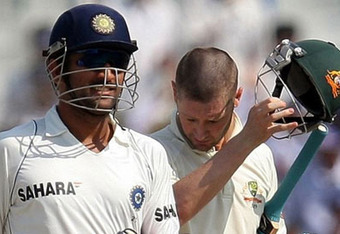 ZAHEER KHAN for James Anderson:  Zaheer  and Anderson have been  among the top pace bowlers in world cricket in the past couple of years. Zaheer's controlled and clever deliveries can aptly replace the wonderful swing bowling of James Anderson. Both are the new-bowl bowlers for their respective teams. Anderson proved more than handful for the Australian Batsmen during Ashes. Returning from an injury, similar performance is expected from Zaheer because a few quick wickets from him early in the innings can boost his confidence as well as the chances of a Indian win.
RAVICHANDRAN ASHWIN for Graeme Swan: A couple of adjectives which appropriately define these two players are 'clever' and 'intelligent'. Swann, the best spinner in test cricket, is not a great turner of the ball, but he provided regular breakthroughs in the Ashes series with his accurate and disciplined bowling. A similar performance is needed from Ashwin. He has been given a  leading role in spin department during this tour.  Being young, enthusiastic and talented is one thing, but it will be keenly observed how Ashwin fills void created by the absence of Harbhajan Singh.
If a couple of more bowlers from the Indian squad succeed in converting their rough talent into sharp performances, the final Indian 11 will prove a very healthy opponent during the tour. Going with the above comparison, Indian fans would be hoping for a similar result along the Ashes' lines.
But similar sort of predictions were made in favor of the Indian team when they  toured England a few months back. Batting, bowling and fielding, collectively, let India down on that tour, losing all the matches and starting a fresh rivalry in test cricket.
The mistakes of the England series should be rectified at the earliest on the cricket field in all the departments of game. There are many ifs in this particular series because both the teams are facing tough questions and they will need to answer them by their performances that match the records and stats of top teams.