Sky Prevent Luis Suarez from Winning Player of the 2011 Accolade
December 23, 2011
Pete Norton/Getty Images
As an addendum to my article yesterday that highlighted the gross incompetence of the FA in handling a massive case, and the behavior of the media in demonising him, I've now seen something quite staggering.
Sky Sports have been running a poll on their website where fans can vote for their Goals on Sunday Premier League Player of 2011, and a cast list of 10 players were up for election for this accolade, including one Luis Suarez.
Liverpool fans, in a show of solidarity behind Suarez, organised a campaign to vote for him and in doing so would force Sky to present Suarez with the award and undermine any other negative publicity about him. The 'rigging' of a public poll by a set of supporters is commonplace, it's not nefarious—it's called democracy, look it up. If you don't vote, then you don't have a say!
So...with the poll set to close at midnight on December 22/23, 2011, fans could open the page and click on whoever they wanted to win, and the winner would be announced at midnight via the website. 
Voting was tense, but Suarez ran away with it for most of the night. His percentage share of the votes ranged from 60 percent early on, but lessened to around 35 percent because Man United fans caught wind of this and started voting for Nani in their droves. Again, fair play, it's there to be 'abused' by fans! 
After a fair fight, midnight came around and the results stood at Suarez 39 percent and Nani 35 percent. Victory!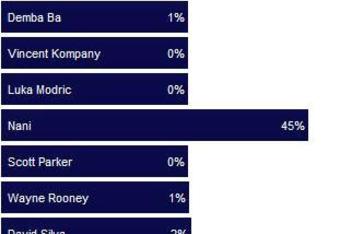 Then the figures started changing again.
Nani's score kept on going up, and so Liverpool supporters reacted by also trying to vote after this supposed midnight deadline. But the voting was closed on Suarez. You could vote for any other player, and people tested it out by registering for Kompany, which then showed on the chart, but any vote for Suarez was met with an error—a blank page.
Horrified, they watched the vote continue into the early hours of the morning. A YouTube video was set up, a Twitter campaign was also started, both to highlight this serious breach of broadcaster impartiality. It was obvious that Sky had no intention of presenting 'racist' Luis Suarez with this award.
This morning, the final voting figures are given as Nani 45 percent to Suarez 33 percent.
Hang your head in shame, Sky Sports. That really was below the belt and shows what the media are capable of doing in this country.
When fans 'abuse' a poll, that's one thing, but when the poll organiser abuses the poll, it's really quite alarming. You hear rumours of the North Koreans pulling the wool over their viewers' eyes, but I thought Britain in 2011 was a quite fair and open place.