Vick has a lot on his shoulders tomorrow.
Rich Schultz/Getty Images
July 14, 2016
This has to be one of the most difficult games to predict in what has been a truly crazy NFL season. The Philadelphia Eagles stride into Dallas on Saturday to take on the first-place Cowboys to keep their season alive.
Keeping their season alive first hinges on the New York Jets beating the Giants, but the season ends regardless if the Eagles can't win in Dallas.
The Eagles thrashed the Cowboys 34-7 in Philadelphia earlier this year, and owner Jerry Jones has expressed fear of the Eagles this week. But should he be afraid?
The Cowboys come into the game having won five of their last seven games, while the Eagles are trying to win three straight for the first time all season. Their quarterback, Tony Romo, has played arguably the best football of his career in that span.
Over those seven games, Romo is completing 68.8 percent of his passes for 1,936 yards. He has thrown 18 touchdown passes to just two interceptions. He was always known for his foolish mistakes, but he has thrown an interception in just one of those seven games.
Some fans in Philadelphia probably breathed a sigh of relief when Cowboys running back DeMarco Murray went down with an injury. In stepped Felix Jones, and all he's done is post back-to-back 100-yard games in Murray's absence.
Even more worrisome is Jones' history against the Eagles. Fans in Philadelphia got their first look at Jones as he ran a kickoff back 98 yards for a touchdown in a 41-37 Dallas victory in September 2008.
The next time he showed up was late in the 2009 season.
In a rare occurrence, the teams met in the final week of the regular season, then again in the first round of the playoffs. In the regular season finale, Jones rushed for 91 yards, including a 49-yard touchdown run in a 24-0 shutout.
The next week was even worse. In a 34-14 beating by the Cowboys, Jones ran for a 73-yard touchdown on his way to 148 yards for the day. Dallas is a dangerous team, and the Eagles have no easy task.
Jones and Romo aside, these two teams may be more evenly matched than any other pair in the NFL.
Offensively, the Eagles are third in the league, gaining 400.8 yards per game. They are ninth in the league in scoring with 24.4 points per game. Where are the Cowboys?
They rank sixth in the league in both yards and points per game at 390.7 yards and 24.9 points.
On defense it's just as close. The Eagles give up 327.4 yards per game, 10th in the league. They allow 22.2 points per game which ranks them 19th.
The Cowboys are 13th in the league in yards allowed and points allowed at 333.4 yards and 21.1 points per contest.
On paper there is almost no way to find an edge for either team.
For the Eagles, they have an offense that can match up with any defense in football. They can move the ball through the air and score from anywhere on the field at anytime. The same can be said for their explosive rushing attack, led by LeSean McCoy.
On defense they can rush the passer relentlessly. They are improving against the run. In the secondary, they have corners who can compete with the Dallas receiving corps.
Both teams can run and pass. Both teams can get after quarterbacks and shut offenses down. They are even equal on special teams. What will decide this game?
There are three key factors that will likely put their stamp the outcome of this game.
The first is which team will put more pressure on the opposing quarterback. Both Romo and Michael Vick can elude the rush and extend plays, but no quarterback can deal with getting battered and beaten.
The Eagles have both Jason Babin and Trent Cole, along with Phillip Hunt, who has a sack in each of the last two games. For Dallas, DeMarcus Ware is a monster, but he is hampered by a neck injury.
The Eagles have really turned up the heat the past two games, and this week should be no exception. Philadelphia should have the advantage there and they better hope they do. The Eagles have never beaten Romo without sacking him at least three times.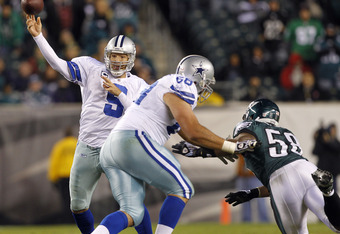 Cole will need to make his mark on this game.
Rich Schultz/Getty Images
The second factor is turnovers by the Eagles offense. They lead the league in turnovers and despite their explosiveness, they have a propensity for stopping themselves.
If the Eagles can just take care of the ball, they will be able to score enough points to leave Dallas with a victory.
The third and probably most important key to this game is Jones.
Jones is a game-breaking player, and his game has broken the Eagles a few times in his career already. If he gashes the Eagles defense for big plays and scores a couple of touchdowns, the Eagles will have a steep hill to climb.
So those three factors are likely to decide the game, but the only thing that you can really expect with this game is that anything can happen.
Romo could throw for 350 yards or 150. Vick can throw two touchdown passes and run for two more or he can throw two interceptions and cough up two fumbles.
The Cowboys have been more consistent over a longer period of time while the Eagles have been an enigma. Dallas is the safer bet, but the Eagles can instill fear in any opponent.
As dangerous as these teams are, no one can predict which team will show up on either side. Expect fireworks and definitely expect the unexpected.
Like the new article format? Send us feedback!