Kevin Durant and the Oklahoma City Thunder: What's Holding Them Back?
December 23, 2011
Ronald Martinez/Getty Images
With the NBA season about to start, many fans and experts consider the Thunder a favorite to represent the West in the NBA Finals, probably against Miami.
At the very least, they are projected to win a solid 55 games like last year, but probably will get a few more. Last year, they got knocked out of the Western Conference Finals in five games by the Dallas Mavericks.
Obviously you can thank Dirk Nowitzki for that—he even scored 48 points in one game. Despite that, the Thunder have arguably the best interior defense in the league. 
So what, if anything, is holding the Thunder back? 
As it stands, the starting five consists of:
PG: Russell Westbrook
SG: Thabo Sefolosha
SF: Kevin Durant
PF: Serge Ibaka
C: Kendrick Perkins
One thing that was evident last year during the playoffs is that Russell Westbrook and Kevin Durant are not a match made in Heaven.
Despite having the best scorer in the world to pass to, Westbrook was an absolute shot-jacker in the playoffs. Westbrook's incredible season really was overshadowed by his ball-hoggery, if you will, in the postseason.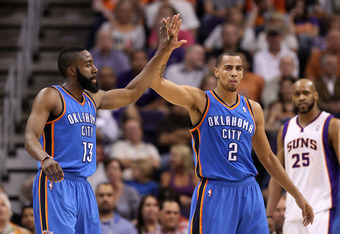 Christian Petersen/Getty Images
Westbrook either needs to remember that he's a point guard, a distributor, or he needs to be traded. If he is traded, it will be pretty interesting, since there aren't many better players at his position.
However, if they can get equal value in a trade, I think that the Thunder would doing the right thing by trading him. But it's early; I wouldn't dwell on it too much. 
Some people say that they need to put James Harden in the starting rotation over Thabo Sefolosha.
Harden already gets more minutes and is simply a much better all-around player. Despite this, I think that the Thunder shouldn't change a thing. 
As was their downfall last year against the Mavericks, Russell Westbrook, despite not being as prolific a scorer as Durant, continually hogged the ball down the stretch, game after game.
At one point before a timeout the two walked off the court yelling at each other after Westbrook threw up what should have been Durant's game-winning opportunity.
With these two talented offensive players dominating the ball, with Serge Ibaka taking an occasional mid-range jumper or post shot, there really isn't room for any other offense.
Kendrick Perkins is a perfect fit for this reason. He doesn't ever want any touches, but he'll work like a beast down low.
Sefolosha is exactly the same.
One of the best defenders in the NBA, Sefolosha has no handles and he's still working on his jumper. Like Perkins, Sefolosha simply does not want to score. With Sefolosha, the Thunder have the best defensive starting line in the NBA.
Once Perkins came last year, the team averaged one of the lowest opponent PPGs in the NBA, and that's pretty impressive for a run-and-gun team like the Thunder.
If you think about it, Westbrook is a very good defender, Durant is solid, Serge Ibaka is arguably the NBA's best shot-blocker and Perkins is arguably the NBA's best overall interior defender (besides Dwight Howard; he's still duking it out with Joakim Noah and Tyson Chandler).
Throw in an absolute lock-down defender like Sefolosha, and you're impeccable.
Harden is a good defensive player, but he isn't at the same level as Sefolosha. On the other hand, he's an exceptional offensive player. He has a great shot, a nice ability to finish and some of the best ball-handling and passing skills that you'll see a shooting guard have.
For those reasons, he makes an excellent and versatile sixth man.
While his minutes need to go up and Sefolosha's need to go down, it would be an absolute waste of talent to have Harden start over Sefolosha.
That said, hopefully Sefolosha worked on his jumper this offseason. He gets a lot of open looks a game, and if he could knock them down to the point where he didn't only shoot when he absolutely had to, the Thunder would be unstoppable. 
The last major issue concerning the Thunder is their lack of post scoring.
Serge Ibaka is improving, and I believe that one day he may score 20 PPG. I know it sounds irrational, but he already scores 10 per game and he's literally not even considered an option.
Since he's been in the league, he's developed a rather consistent jumper that ranges almost out to the three-point line. Very recently, he has been showing some solid development in both the high and low posts.
God knows he has the athleticism to be a force. If he can continue to improve, then one day (when he's not playing with Westbrook, Durant and Harden) he might be a notable scorer.
How far has he come this year though? We'll find out. I think with a little time, he could be the answer to the problem, if you really want to call it that.
But if Ibaka is not the solution, the Thunder do have some trade bait.
Nate Robinson, who not too long ago was the best player on the Knicks, is wasting away on their bench. They still have him locked up for the year.
And guys like Lazar Hayward, Daequan Cook, Royal Ivey and Cole Aldrich have to be somewhat dispensable. If the Thunder hold on to Robinson, it should be noted that Eric Maynor is almost ready to be a starting point guard.
Anyway, the Thunder do have some pieces to work with.
I think that the Thunder easily have what it takes to win the West, and maybe to win it all. But they still have some definite kinks to work out.
Luckily, they seem to have the resources necessary to do so.