Texas Rangers: Should CoCo Crisp Be an "Under-the-Radar" Signing?
December 23, 2011
Nick Laham/Getty Images
After Monday's stunning turn of events, brought forth by the news that the Texas Rangers—not the Blue Jays—had won the bidding war for the rights to negotiate a contract with Yu Darvish, the Rangers' offseason went from kind of boring to quite exciting.
The Texas Rangers can't call Japan's finest their own just yet; they still need to negotiate a contract that Darvish agrees on. However, the Rangers wouldn't have ponied-up the highest bid and wasted years of scouting the Far East, if they didn't have full intentions on getting a contract together.
So now that the void left by C.J. Wilson has been filled and the Rangers' rotation is not only solid, but possibly stronger than last year's, it's time to turn our attention to other issues the Rangers might be able to remedy this winter.
Clearly, if the Rangers have a weakness on their roster, it's either at first base or in centerfield. No, I'm not saying that Josh Hamilton can't hit—remember, during the regular season, he's the Rangers' left fielder, starting only occasionally in center.
With slugging first baseman Prince Fielder still available on the market, he'd be not only a quick fix at first, but a force in the Rangers' lineup that would easily make it the most feared in 2012, if not one of the best offenses in history.
Fielder's agent, Scott Boras, means that Fielder won't come cheap. Rumor has it that he might not be looking for a contract as long as Pujols', but he does seek one that is relatively close in yearly value.
With Darvish's contract likely nearing five years at $75 million (making the total payment close to $125 million) the Rangers might not have the cash to make "Beast Mode" the latest craze in Arlington, TX.
Truth be told, if Moreland was indeed bothered by that wrist ailment last year (that he just underwent surgery to repair) to the extent that it hampered him offensively, a healthy Moreland might be all the Rangers need at first base.
But, with Julio Borbon returning from injury—as well as offensive inconsistency—and hotshot Cuban prospect Leonys Martin perhaps a year away, one area the Rangers might want to address is the centerfield situation.

Why not go after Coco Crisp?
Fresh off a season that saw the 32-year-old Crisp swipe a career-high 49 bases with the Oakland Athletics, Coco—with a name that cool, you have to alternate from last name to first (Ed. note: ugh, fine)—would be a nice defensive upgrade over Borbon, and is a proven big league commodity, unlike Martin.
Crisp is solid defensively, and is versatile enough at the plate to hit in three or four different spots (none of which would be the third or fourth spot). He could leadoff, second or in the bottom-third of the lineup in the eight or nine-hole.
Crisp is just the type of player that Rangers manager Ron Washington covets so much—a dude who can lay down a bunt and is very fast, thus making it easy for him to go from first to third on a single.
Coco wouldn't break the Rangers bank either, as he's coming off of a two-year deal with Oakland that netted him $5.5 million per year.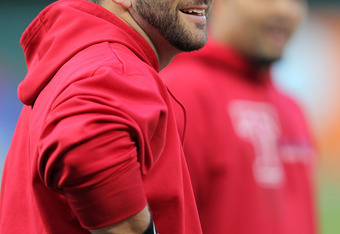 Doug Pensinger/Getty Images
Everyone seems to admire David Murphy's outfield abilities—and rightly so—yet no one seems to consider him an "everyday" player.  So why not hit up Crisp with a club-friendly one-year deal, say around $7 million, and quickly seal up what some consider a glaring weakness?
If your team's biggest flaw is a first baseman who hit 16 home runs and played decent defense while battling a nagging injury, then there's no reason to complain.
Nobody would listen to you anyways.
Coco Crisp would look nice in center field for the Rangers in 2012.  The Texas Rangers should (and could) make that happen.  


Follow Timothy on Twitter @TMurrayHowell—he follows back, but not in a creepy way. Or hit him up on Facebook—you know you have an account.