Denver Broncos Playoff Scenarios: AFC West in Hand, How Does Denver Proceed?
December 23, 2011
Marc Piscotty/Getty Images
A division lead in the AFC West is fleeting at best. Nobody knows this better than the Denver Broncos and their fans.
Not long ago, Denver found itself in the lead of the division by three games with three games to play, and later found themselves out of the playoffs.
So, how does Denver proceed in what is very clearly a delicate situation in the wild, wild AFC West?
With determination, with resilience, and with Tim Tebow.
Their loss to the Patriots in Week 15 is actually a good thing for this team. Not only does it teach every player on the team a lesson, but it prepares them for even more adversity heading forward.
Against the Patriots, the Broncos didn't have to win. The Raiders dropped their game the same day and stayed a game out of the lead of the division. Now, in absolute crunch time for a playoff push, the Broncos and front-man Tebow are in prime position to do just what Tebow is great at.
Win when it matters the most.
After finally ending their win-streak, the Broncos need only focus on pushing to the postseason.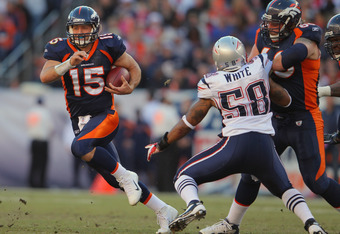 Doug Pensinger/Getty Images
There's no monkey on their back. There's no media frenzy focused on when Tebow would finally lose. There's only open field.
Tebow's stats and play are best in the final 11 percent of game-time in his starts in 2011. The final two games of the season represent the last 12.5 percent of the year. Week 16 and 17 represent the final half of the fourth quarter of the season.
It's Tebow Time. And it will remain Tebow Time for two weeks.
It's win-and-in for Denver. And they've got just the guy to get the job done in the clutch.