NBA Predictions 2011-12: Stat Predictions for All Philadelphia 76ers Starters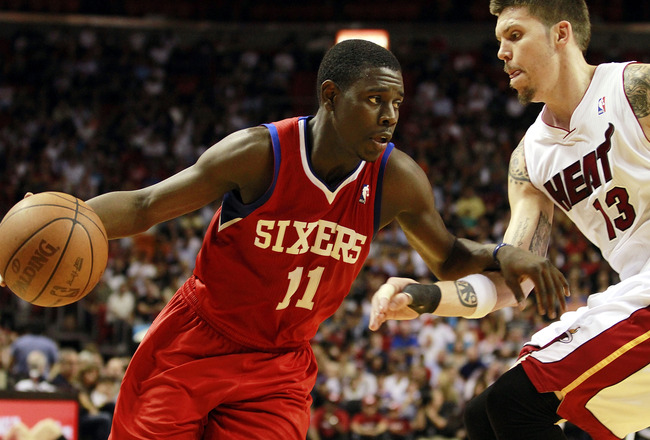 Marc Serota/Getty Images
The Philadelphia 76ers are less than a few days away from starting their 2011-2012 NBA season.
In what looked to be a lost season, the Sixers will end up playing a 66-game schedule in a much shorter span of time. Some say this can favor the young Sixers bunch. Some say that with the short offseason, it is teams like the Sixers, whose core group of players remain in tact, that will jump out to a fast start.
Now let's not start thinking that the Sixers can win the East, but it should be their goal to contend and battle with the best of them.
I really like how the Sixers ended last year and they showed they can play with the Miami Heat, who are sure to be up in the tops of the NBA again this year.
Enough chatter, let's get on to my stat predictions for the starters.
PG: Jrue Holiday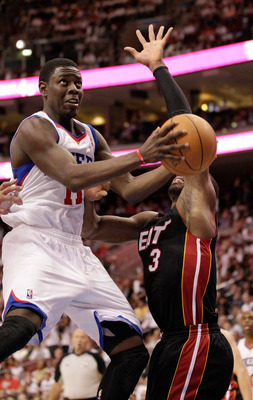 Rob Carr/Getty Images
Points per game: 16.5
Assists per game: 6.2
Steals per game: 1.56
Rebounds per game: 4.3
FG %: .47
Fans around the NBA caught a glimpse of Jrue Holiday every now and then on Sportscenter and TV. In 2012, people are going to catch more than a glimpse.
Holiday is primed to have another big season which should put him on the list of the NBA's top 10 point guards.
This team revolves around Jrue and it will continue to do so since he is still only 21-years old.
After almost doubling his points, rebounds, and assist totals from his rookie year, Holiday looks to make another big leap to NBA stardom.
SG: Evan Turner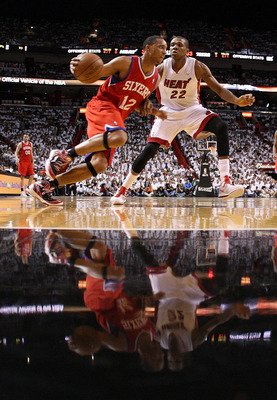 Mike Ehrmann/Getty Images
Points per game: 11.5
Assists per game: 3
Steals per game: 1.01
Rebounds per game: 4.9
FG %: .43
I know Jodie Meeks is the starter right now, but if I'm making a season long prediction, I have to go with the prediction that Evan Turner takes over Meeks' role within the first month.
Turner has had a good preseason. His shot is improved but not where it can potentially be. Still, I think he is playing with more confidence this year and that is really what he was lacking in his rookie year.
The former No. 2 overall is going to prove why he was drafted so high. He will turn into a very serviceable second option for this team.
SF: Andre Iguodala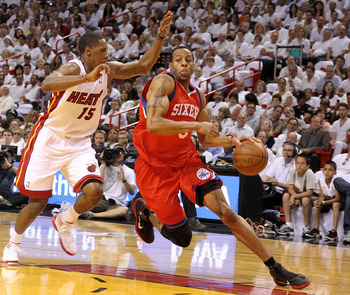 Mike Ehrmann/Getty Images
Points per game: 14
Assists per game: 5.6
Steals per game: 1.75
Rebounds per game: 6.5
FG %: .43
Andre Iguodala did not have an All-Star year last year statistically. Amidst the trade rumors all season long though, Iggy provided leadership both on and off the court.
He did his fair share of scoring at times as well, but he mainly left the ball in the hands Jrue Holiday and Elton Brand.
We saw a different Iguodala last season. It was one that wasn't concentrating so much on scoring from the perimeter but someone who was trying to create for his teammates.
And I liked it. Iggy may not be the star that we all though he'd be but he is a very good player that makes all his teammates better.
PF: Elton Brand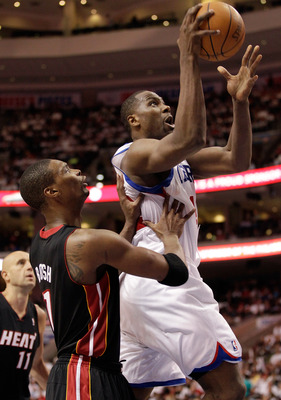 Rob Carr/Getty Images
Points per game: 14.7
Assists per game: 1.7
Steals per game: 1.23
Rebounds per game: 8.7
FG %: .49
Finally, we saw what a healthy Elton Brand can do for the Sixers last year.
Brand missed only one game and led the team in scoring and rebounding. Now maybe he's not totally living up to his $80 million contract, but 2010 was a sigh of relief for Sixers fans because most thought he'd lost all his abilities and more importantly his ability to stay healthy.
Brand will have another solid year handing over the scoring reigns to Jrue.
C: Spencer Hawes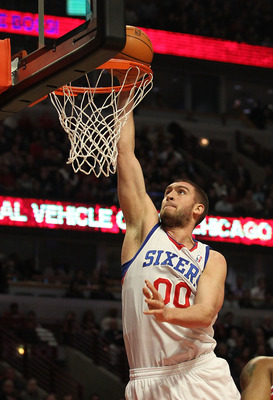 Jonathan Daniel/Getty Images
Points per game: 8.4
Assists per game: 1.2
Steals per game: .25
Rebounds per game: 6
FG %: .51
All summer long, the big offseason question was can the Sixers re-sign Thaddeus Young. I think people forgot about Spencer Hawes.
Now Hawes didn't play big minutes last year but he started every game he played. His offensive ability is second to none for a big man and I think his defense will improve after spending a full year under Doug Collins.
Hawes showed signs of breaking out in games last season and I expect more from him in extended minutes in 2012.
Keep Reading

Philadelphia 76ers: Like this team?