Arsenal Transfer Rumours: Breaking Down the Gunners' Biggest Transfer Needs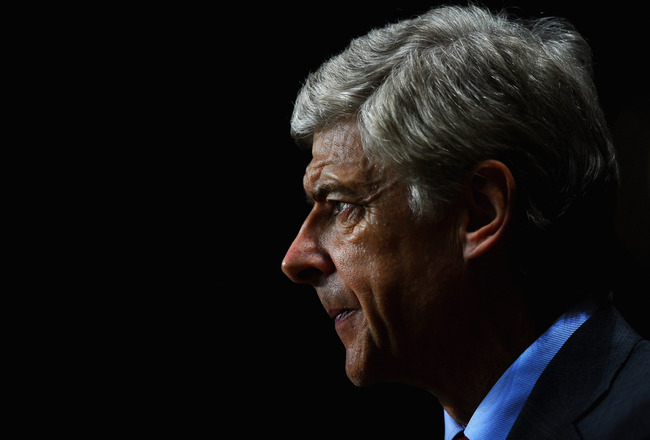 Laurence Griffiths/Getty Images
What would the transfer window be without Arsenal active on the international market?
Arsene Wenger has long been reputed for what some would call his shrewd dispensation of funds to underrated stars and what others might slam as stinginess.
Either way, the long-time Gunners boss is bound to busy himself with wheeling and dealing as soon as the clock strikes midnight on January 1st.
And for good reason. His first-team squad, though largely recovered from the departures of Cesc Fabregas, Samir Nasri and Gael Clichy, has been ravaged by injuries this season. As such, Wenger has had to adapt on the fly, papering over an emergent lack of depth by starting some of his players out of position.
With plenty of money left in his purse and even more reason to spend it, expect Wenger to come away with a few more feathers in his transfer cap, just as he did in nabbing Andre Santos, Mikel Arteta, Per Mertesacker and Yossi Benayoun at summer's end.
So which holes, specifically, will Arsene look to fill?
Defenders—and Plenty of Them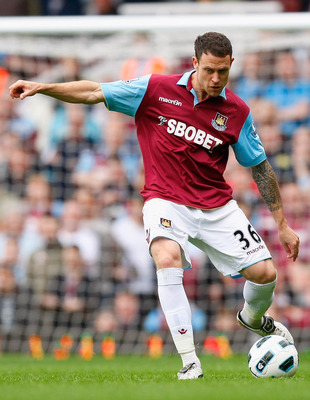 Tom Dulat/Getty Images
The Gunners could fill an entire infirmary with all the defenders they've lost to injury this season. In fact, all four of Wenger's dedicated full-backs—Bacary Sagna, Carl Jenkinson, Andre Santos and Kieran Gibbs—are currently sidelined with knocks and have a ways to go before they're fit.
And that's to make no mention of Johan Djorou, who's provided some cover for Arsenal at both full-back positions but will be out 2-3 weeks with a groin injury.
Surely, Laurent Koscielny and Thomas Vermaelen are competent playing out of position, though the fact that they have to fill in doesn't bode well for the few warm bodies who can still play.
As such, Wenger, normally tight-lipped when it comes to transfer rumors, has been a bit more candid about his desire to shore up his depleted defence:
"It is not a shop, you just take a good opportunity that is on the market when you can. Overall that's what we are doing at the moment. We are starting to look at players if Gibbs is not back."
At this point, the most likely target appears to be Wayne Bridge. According to the Daily Mail, the 31-year-old left-back has been given permission by Manchester City, for whom he's appeared less than sparingly, to seek out a new home.
Given Arsenal's glut of able-bodied full-backs, a return to London, if even just on loan, could be in the cards for Bridge, who already has the blessing of former Gunner Ray Parlour.
Backup Striker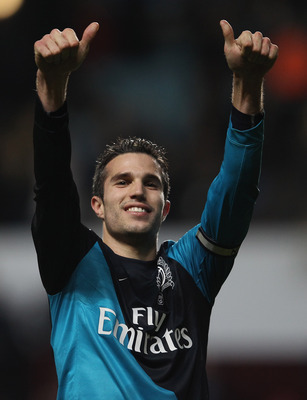 Clive Mason/Getty Images
Things would seem to be fine for the Gunners on the other end, except when you consider that their entire attack rests on the golden boot of Robin van Persie.
As spectacularly as RVP has performed, Arsenal can't hope to secure another spot in the top-four of the English Premier League on his attacking efforts alone. Van Persie is likely to slow down at some point, whether it be by the pull of gravity or his long history of injury.
What's more, reserve striker Marouane Chamakh appears to be on his way out of the Emirates Stadium after a rather uneventful stint under Arsene Wenger. Either way, Chamakh will be off with the Moroccan national team competing in the Africa Cup of Nations in the new year.
Surely, then, Wenger will be in hot pursuit of another centre-forward come New Year's Day. The Gunners have already been linked with Wigan's Hugo Rodallega and German striker Lukas Podolski.
A brief return by Thierry Henry on loan from New York Red Bulls isn't out of the question either and would certainly bring a distinct buzz back to the Emirates, if not a bit more goalscoring.
And if you're really into pipe dreams, there's always Napoli talisman Edinson Cavani.
Help on the Wing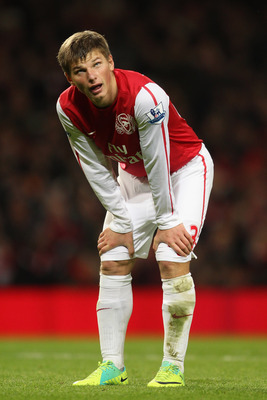 Scott Heavey/Getty Images
A flanker here and there would be of great assistance to Arsenal's attack as well. Andrei Arshavin has been well out of step with his colleagues, to say the least, and figures to be on his way back to Russia before long, perhaps with Zenit St. Petersburg.
Meanwhile, Gervinho, while dangerous and creative, has proven impotent thus far when it comes to putting the ball through the net. Like Chamakh, he'll be off competing with his home country (Cote D'Ivoire) at the Africa Cup of Nations.
All of which means the Gunners will be short out wide sooner rather than later.
Whether Wenger can find any help to his fiscal liking while also filling holes up front and in the back remains to be seen.
Keep Reading

Arsenal: Like this team?