Carolina Hurricanes: Eric Staal & Co. Have Lost Their Will to Win
December 23, 2011
Grant Halverson/Getty Images
The Carolina Hurricanes used to have heart.
The Carolina Hurricanes used to have chemistry.
The Carolina Hurricanes used to have the will to win.
And, now, the Carolina Hurricanes have lost all of that.
In the midst of a potential career-killing slump by captain Eric Staal, the "Cardiac 'Canes" have forgotten all of the key off-the-box score elements that drove the team in their incredible runs of 2006 and 2009.
For a small-town franchise, the hometown feel of the Hurricanes—the only major professional sports team in Raleigh—had always placed them at the center of the community's heart and soul.
Fans around the NHL loved to visit the RBC Center, the center of the universe when it came to amiable, welcoming, Southern-style hockey diehards.
NHL experts and analysts have always regarded Carolina as a place of renewed spirits and transformed castoffs, especially for the players themselves—Sergei Samsonov, Tuomo Ruutu, Joni Pitkanen and Jussi Jokinen all experienced career revitalizations upon arrival in North Carolina.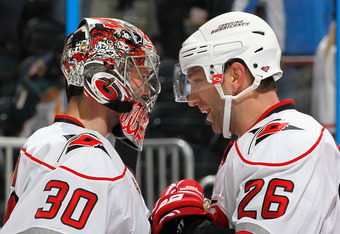 Kevin C. Cox/Getty Images
Even on the stat sheet, the Hurricanes' unstoppable lust for victory was clear. Wins in close games were the deciding factors of the team's successes since the lockout, as the club won 28 games by one goal (the most in the league) in '05-'06, their Stanley Cup-winning year, and racked up 24 one-goal victories (fifth in the league) in '08-'09, a season capped by a miraculous run to the Eastern Conference Finals.
And, although last season failed to result in a much-deserved playoff berth, the Hurricanes' magical last-second skills were put into action by club veteran and emotional centerpiece Erik Cole, who tallied a phenomenal nine game-winners as well as 17 goals in the last five minutes of play.
But where is Erik Cole now, when Carolina has hit rock bottom?
In Montreal.
Unfortunately, the migration that Cole made has been replayed far too many times over the past several years and might be a critical factor in why the 'Canes have been unable to play as a team this autumn.
Hurricane veterans and leaders like Ray Whitney, Joe Corvo, Rod Brind'Amour (despite his late-career struggles) and Cole have all departed in recent years, perhaps contributing to the squad's soon-to-be-three year playoff drought.
Jim McIsaac/Getty Images
39-year-old Whitney, now one of the top forwards in Phoenix, had 334 points over five seasons in Carolina, including nine goals and 15 points in the '06 Cup title. Joe Corvo, now 34, was an excellent power play quarterback and defensive mentor over parts of four years in Raleigh. And Brind'Amour, now retired and part of the coaching staff, spent close to a decade as the team captain and was easily the face of the franchise for a large part of their time in N.C.
Currently, Carolina has just four experienced, over-30 players on the roster: Alexei Ponikarovsky, Bryan Allen, Jaroslav Spacek and Brian Boucher. Not one of them has been part of the team for more than eight months.
While those battle-hardened warriors adapt (or don't adapt—see Kaberle, Tomas) to their leadership roles, the more prime-aged "stars" of the 'Canes aren't helping to provide the glue needed to keep this team functional, either.
Eric Staal might be wearing the 'C', but he ain't no captain; Staal's continual lack of motivation, enthusiasm and work ethic have spiraled his '11-'12 campaign into a league-worst minus-21 disaster. Jussi "The Juice" Jokinen has been hindered or kept out of play altogether by injuries, leaving him unable to provide any sort of inspirational support. Even responsible young center Brandon Sutter has found himself unable to gather much confidence this season.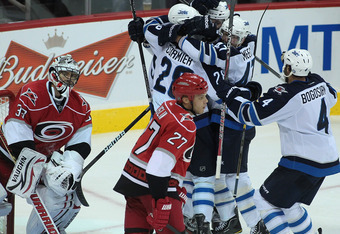 Marianne Helm/Getty Images
Meanwhile, cornerstone netminder Cam Ward has seen his stat line plummet due to a joint cause of porous defense and untimely mistakes. For goalies, Ward's .896 save percentage is 39th among 44 starters or joint starters and his 3.31 GAA (goals-against average) ranks 41st.
So who's going to step up and make a difference? It's hard to truly anticipate anyone on this team having the right combination of talent and mentality to do so, considering the absolute mess into which the Hurricanes have crashed themselves.
Carolina sits dead last in the Eastern Conference at the moment. Their 10-19-6 record equates to a 28.6 winning percentage, more than 10 percentage points worse than last season's worst Eastern team, Florida. They place 22nd in the NHL in offense, 26th in penalty kill and 28th in defense and powerplay efficiency.
The statistics that always tilted in the Hurricanes' favor are just as bad. Carolina is precisely 30th in the NHL in winning percentage in games decided by one goal: 25 percent, at 4-12 (including 0-6 in overtime and shootout). Furthermore, when trailing after two periods, the 'Canes chances have been utterly trivial—they have an 0-12-2 record in such games.
But you can read numbers all day long. In the long run, the difference between winning and losing in a sport as competitive as hockey are the things that make a team, a team.
Things like heart, chemistry, and a will to win. Things like a well-balanced roster, steadfast leadership and passionate youngsters.
Things the Carolina Hurricanes used to win by.
But not anymore.
Mark Jones is currently Bleacher Report's featured columnist and community leader for the NHL's Carolina Hurricanes. In his 38 months so far with the site, he has written over 325 articles and received more than 385,000 total reads.
Visit his profile to read more, or follow him on Twitter.