10 Biggest Heavyweight Bust KOs of All Time (with Video)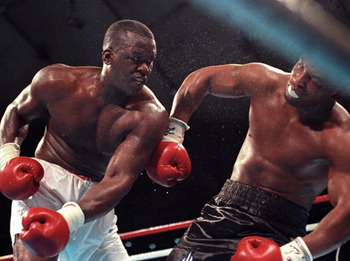 I was interested in compiling a list of fighters who first gathered some real steam behind them doing great things in the sport before suddenly being derailed by a vicious knockout that most people didn't see coming.
Occasionally these fighters on their way up were undefeated going into their first upset loss, while other times they'd had a reemergence of some kind that was promptly squashed.
All of this is to say I was interested in inventorying the "bust" in the context in which it happened, rather than taking in a fighter's entire career and designating one moment.
Perhaps, more than anything, I just gravitated to heavyweight losses that most amused me in the context of these same fighters being built up to be something that never came close to happening. If some of you remember the initial hype with Shannon Briggs before he was pummeled early on in his career, HBO tried to convince us on several levels to keep our eyes open as Mike Tyson part two was on the way.
Didn't turn out that way.
It didn't turn out that way for most, if any on this list. But many did have solid careers and in a handful of cases solid recoveries that speaks to their perseverance and all that warm, fuzzy redemptive malarkey that's appropriate for this time of year.
There's some good clips on this list to check out in between sips of eggnog or whatever is your drink of choice. Enjoy.
10. Buster Douglas
Imagine if you had placed money on Buster Douglas going into his fight against Tyson. The odds were 42-1. You would have capitalized on the biggest upset in boxing history.
And now that Buster Douglas had finally lived up to all that potential, you could take all your winnings off his Tyson victory and back your boy again against that puffed cruiserweight Evander Holyfield. Holyfield would be small potatoes by comparison, right? Sure he would.
Hopefully, in some corner of the world, this hypothetical sucker got revenge inflicted against him for betting against Tyson and watched his fortune evaporate in three delightfully overmatched rounds.
After Douglas won the title against Tyson, he proceeded to duck Tyson in the rematch and sign instead against Holyfield. Holyfield had been ringside when Douglas had knocked the crown off Tyson in Tokyo. Douglas stood to make $24.6 million for the fight!
On Ocober 25, 1990, Douglas entered the ring against Holyfield at 246 pounds, 15 heavier than against Tyson.
Holyfield promptly thumped him in the third round with a straight right that Douglas failed to get up from (perhaps he was used to the 13-second count he'd enjoyed when Tyson dropped him in their fight).
The title reign of Douglas was over. Boohoo.
9. Shannon Briggs
Shannon Briggs came from the same town as Mike Tyson, had the same former trainer in Teddy Atlas and was compiling much the same kind of record of KO wins (25-0).
In his fight against Darrol Wilson in Atlantic City, HBO ran a promo piece about Briggs that was hilariously ridiculous––HBO narrator: "He even speaks French!" Shannon Briggs: "Je m'appelle, Shannon Briggs."––what a specimen they had!
From the same mean streets that produced Mike Tyson and Riddick Bowe! Naturally, here was the next heavyweight champion savior.
Nope.
In 1996, at 25-0, Briggs fought Darrol Wilson on a card meant to showcase young heavyweights. Briggs was certainly the focus of the card.
It didn't take Darrol Wilson too long to zero in on a fatigued Briggs and put out the lights.
For added fun, get a load of Teddy Atlas offering his usual barking instructions in the corner that seem to wear down Shannon more than Wilson's punches.
8. John Ruiz
Now why couldn't more fighters go on to do against John Ruiz what David Tua was capable of in this fight?
John "The Quiet Man" Ruiz gets pummeled in one of the most fantastic first-round attacks seen since a young Mike Tyson.
Of course, Ruiz would go on to do what David Tua would not and win a slice of the heavyweight championship, but what a shocking entrance he made to his first major highlight reel.
7. Gerry Cooney
Last week, I showcased George Foreman's remarkably amusing KO over Gerry Cooney. So I wanted to find something new and fresh illustrating the unfortunateness of another in boxing's long line of "great white hopes."
Cooney had his own stellar knockouts over the course of his career (none more astounding than against Ken Norton), but it's extra fun to watch Cooney get worked over by Michael Spinks as we all know what was in store for Spinks not so far down the road.
Spinks looks like David to Cooney's Goliath in this match, so it's the fierce series of blows in which the accumulation of punishment finally tips over the man-mountain that is Gerry Cooney.
6. Wladimir Klitschko
According to training legend Freddie Roach, Wladimir Klitschko is the hardest puncher he ever worked the pads with (Roach of course worked with Tyson also).
Roach went on to say that while Wladimir was by far the better athlete between the Klitschko brothers, Vitali was the better boxer.
Over the course of Vitali's career, despite losing twice, he's arguably been superior in every match he ever fought (an injury stopped him against Chris Byrd and a cut against Lennox Lewis––both fights he was winning when they were stopped).
Wladimir Klitschko had a different journey to the title. Along the way, he was dropped many times.
The most notable occasion Wladimir took a beating was against South African Ernest Hemingway look-alike (when he sports that awful mustache, at least), Corrie Sanders.
Added fun of this clip is the horrifying celebratory gesture Corrie Sanders enacts when Klitschko can't continue. He looks like the South African version of Paul Bunyan celebrating a fallen tree or something.
5. Tommy Morrison
Possibly the most gruesome knockout of the series also came about when Tommy Morrison happened to be a major undefeated prospect.
Enter Ray Mercer to that equation.
Tommy Morrison had his sights set on a Mike Tyson superfight before a series of hellacious Mercer blows left him brutally unconscious and reeling from the savagery.
4. Jorge Luis Gonzalez
Jorge Luis Gonzalez, stunning haircut and all, had been billed as a major opponent for Mike Tyson after an amateur pedigree that included wins over Lennox Lewis and Riddick Bowe.
Unfortunately, it didn't play out that way and Gonzalez ended up being one of the great heavyweight busts of his era.
While Riddick Bowe's vicious knockout victory over Gonzalez underlined that point, you could say Michael Grant put on the finishing touches in this clip.
3. Michael Grant
After knocking out Andrew Golata and amassing a record of 31-0, Michael Grant was granted a title shot against Lennox Lewis.
Lennox Lewis was coming off his second victory over Evander Holyfield (if you think their first fight was a draw, I have a bridge to sell you in Brooklyn you'd love) and was looking to let the heavyweight division know he'd arrived to the throne.
Lewis absolutely destroyed the highly regarded Michael Grant in one of his most dominant performances.
2. Riddick Bowe
One of boxing's most legendary trainers, the beloved Eddie Futch once said that Riddick Bowe was the fighter he worked with with the most potential and natural talent.
Undoubtedly, Riddick Bowe possessed all the tools to have made a serious run as a dominant heavyweight champion of his era.
It wasn't in the cards.
Riddick Bowe's career is defined more by what could have been than what he achieved. Bowe never fought Tyson. Bowe routinely ducked Lennox Lewis (after losing to him in the Olympics). And the basics of maintaining his conditioning and interest in the sport remained a constant battle.
Essentially, the end of Bowe's career as a force in heavyweight boxing occurred against Andrew Golata. Golata, fouls and bizarre antics aside, seemed to take the best of what Bowe had been from him in their two fights.
But what epically strange fights they were.
1. Michael Spinks
Mike Tyson made $21 million for 91 seconds of work in his fight against Michael Spinks (Michael Jordan made $2.5 million for a season's worth of work that same year).
The stage was set for a fight trying to represent as much significance in the sporting world as Muhammad Ali and Joe Frasier.
You had two legendary undefeated heavyweight champions vying for supremacy.
You had the people and critics saying Tyson hadn't fought anyone close to the level of competition Michael Spinks had.
The lead-up to this fight endured as much scrutiny as most Super Bowls.
Mike Tyson was at his peak and the height of his importance as a world icon.
Somehow, boxing had convinced the sporting world that Tyson's greatest challenge laid in Michael Spinks. Mike Tyson didn't take too long to argue Michael Spinks and the rest of us out of that opinion.
Spinks would never fight again after the pummeling.
Keep Reading