NBA 2011-2012 Season: Chris Paul and the Top Five Story Lines
December 22, 2011
Harry How/Getty Images
After a labor dispute over BRI (basketball-related income), a lockout (owners locking out players), and a new labor deal finally getting done in the 11th hour to salvage something, an NBA season will in fact happen. After a lot of talk about BRI, collective bargaining rights and secret discussions, we can finally turn our attention to the other kind of drama we are so enamored with.
The actual drama of the NBA season is upon us. Sure, it will only be a 66-game season, but we'll certainly still have our share of things to watch crammed in there.
After too much missed time for NBA fans to bear, the season will be starting on Sunday, December 25. After all the fighting and battling over who deserves what, isn't it just perfect as we come together on one of the happiest days of the year? We get to wake up Christmas morning to seven contenders (BOS, NY, MIA, DAL, CHI, LAL, OKC) starting off the season with a bang.
As we get ready for this unique season, different story lines have already emerged for us to dive right into and keep watch on.
Chris Paul in L.A.
After almost landing in L.A., Chris Paul landed in L.A. The highly-sought guard came quite close to becoming a Laker in a three-team deal that got nixed by the league "for basketball reasons." It was an extremely controversial move, but it doesn't matter because less than a week later Paul became an L.A. Clipper.
The Clippers sent guard Eric Gordon, center Chris Kaman, forward Al-Farouq Aminu and Minnesota's unprotected 2012 first-round pick to the Hornets for Paul.
When referring to this Clippers team, "Lob City" is the first of many thoughts because we will see Paul throwing so many lobs to Blake Griffin on the fast break. This team will be all about fireworks and will garner quite a lot of attention.
The Clippers also made other moves to help out Paul. Chauncey Billups will be playing next to him at the shooting guard position. Aminu leaving also left some concerns at forward but Caron Butler was picked up and that will ease the stress. Kaman landed in New Orleans in the Paul trade so the Clippers matching the Warriors' offer to budding center DeAndre Jordan was to be expected.
So this Clippers team looks primed and ready to go, right?
This team should be able to score quite a bit, but where is the defense going to come from? What changes were made that will benefit that part of the game?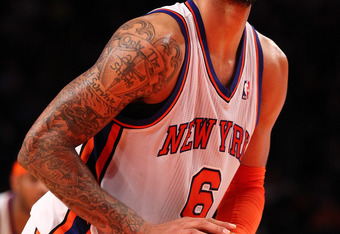 Al Bello/Getty Images
Many have already pegged this new Clippers team as 'contenders' but if this is true, defense is what we will have to watch with the Clippers heading into this shortened NBA season.
The NY Experiment
After LeBron James made his "Decision" over the Summer of 2010 to take his talents to South Beach, what we saw in Miami was an experiment. Multiple superstars teaming up on one team was not something we typically saw in the NBA.
Why stop with just one experiment, though?
This year the New York Knicks acquired Dallas center Tyson Chandler to beef up an already-talented front court with Amare Stoudemire and Carmelo Anthony. There is no more Chauncey Billups leading the backcourt but his absence will be filled by Mike Bibby (many will dispute Bibby counts as "super" but his name alone put in with these guys brings a lot of attention with it).
This new experiment might not be as much of an experiment as the one we saw last year in Miami or even the one that saw Anthony come to New York to be with Stoudemire. But it will be something new nonetheless. Also different is that this experiment won't necessarily be about who is getting the ball (and consequently all the attention) with big names like James and Wade both on the court. It will be about how well this group of guys, who are all very talented, work together.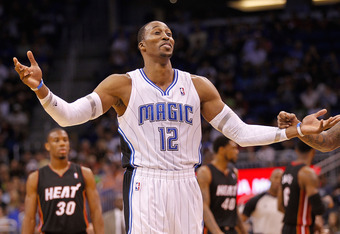 Mike Ehrmann/Getty Images
Like the Clippers, the Knicks should be able to score. They were second in the Association in scoring last season and with the talent added to this team, things could run even smoother.
The Knicks last year had one of the worst points against averages in the NBA, though. Adding Chandler should help out on defense as we saw what he did in Dallas last year. One player a defense does not make, though. Defense will be less of a problem for the Knickerbockers but still will need some work as New York will look to contend again in the Eastern Conference.
Miami 2.0
As previously mentioned, Miami endured an experiment last year with LeBron James and Chris Bosh coming to the Heat to play with Dwyane Wade. It started off sluggishly but ended with a trip to the NBA Finals.
So, why stop with just one trial?
In this day and age, it is all about the new, now and what is happening currently. To many, the Heat already have a place in their minds as bad guys or pioneers and have been pushed to the back. But we may all be forgetting about a team who did something no one has really done before and eventually made it work. It took them an entire season, but now that they have it figured out, this team could be scary and not many people are paying that much attention to it.
There is good reason why the spotlight may not be on the Big Three right now. There are other big names swirling around in rumors creating very interesting hypothetical situations in our minds but the second edition of The Experiment should be quite an interesting watch.
After losing the first game in the Eastern Conference Finals, this team took the top-seeded Bulls to town by winning four in a row.
This might not be a volatile experiment anymore and the logistics may no longer be an unknown. But, after one trial, this team "failed" to meet expectations by "only" making it to the finals.
This year we won't be watching if things in Miami work, but how well they work, which, by the way, could be pretty damn well.
Dwight Howard
Superman was the second-most coveted obtainable player in the NBA, depending on who you talked to.
Now, though, with Paul being traded, he is priority No. 1 for those who could have a shot at him.
There were multiple teams who either voiced their desire for the big man or would have been pretty good fits.
Howard thought his going to New Jersey was a "done deal" but it looked as though Orlando wasn't sufficiently satisfied with center Brook Lopez as well as multiple other pieces in that deal. Coming to Chicago to team up with MVP Derrick Rose would have been smart for Howard if he was really in it for the competition. Howard made no statement about wanting to be in Chi-town and no real effort was made. Going to the Lakers would have meant Pau Gasol and Andrew Bynum could be coming to Orlando. That didn't spark enough interest either.
Howard was taken off the trade block by the Orlando Magic earlier this month as they announced they planned to start the year with him on their roster. The Magic are obviously not willing to give up their future with Howard but could reopen talks at any time, so nothing is set in stone.
A league source told Yahoo Sports that "Dwight's not a happy camper," and that is where the cues of how mentally focused Howard will be come from. He had made a trade request to be sent to the New Jersey Nets and his representatives were given permission to enter talks. After severing discussions with other teams, though, the Magic basically said they believed in a future with Howard in Orlando.
He is a free agent at the end of this year, though, so keep an eye on Howard rumors as the Magic will probably want to get something out of him before we see Howard-a-thon next summer. Also look for how Howard plays with possible distractions of getting moved.
Rookies
In the situation of the NFL lockout, many rookies lost a chance to take part in OTAs but enough time was salvaged that only one pre-season game was cancelled.
In this NBA lockout, just about the entire preseason was canceled and as mentioned above, this will be a shortened, 66-game season. So, how do these rookies perform, adjust and adapt?
The amount of time they have been given is quite difficult to manage as they make the move from a game prided on talent and emotion to the Association where it takes a team to come together and win.
Take for example the first overall pick out of Duke, Kyrie Irving. He is in Cleveland, the second worst team in the entire NBA last year. Tristan Thompson (selected fourth overall out of Texas) is also on that team that averaged 95 points a game last year. Cleveland will just be trying to improve and is looking towards these kids as the future since their franchise has been decimated ever since LeBron James' departure. How is their "future" going to fare with such limited time to get acclimated?
The Rookie of the Year last year, Blake Griffin, certainly had an impact on the joke of a franchise we call the Los Angeles Clippers. They went from horrendous to pretty bad. Improvement is what counts and what kind of improvement can rookies bring with less time to adjust?
Not every team needs a savior. Can the Bulls, who, if he fits in, get some solid help from forward Jimmy Butler? Butler won't be the messiah for the Bulls (mainly because they already have one by the name of Rose) but if he can pitch in to a team that went to the Eastern Conference Finals, who knows? Maybe that could be just enough.
A lockout didn't help these rookies so can they make up for lost time?
Keep an eye on all of these as we get set to start an NBA season that was once in jeopardy and will have its share of ups and downs, but in the end will begin on one of the most joyous days of the year.
Merry Christmas everyone.