Why Philadelphia Eagles Coaching Staff Will Escape the Chopping Block
December 22, 2011
Patrick McDermott/Getty Images
After a humiliating loss to the Seattle Seahawks on national television in Week 13 left the Philadelphia Eagles at 4-8 very few people thought their coaching staff had a chance to stay intact. Rumor starting circulating that Andy Reid had lost the team and the locker room. Juan Castillo was a failure as a defensive coordinator, and Marty Mornhinweg wasn't putting the offense in a position to succeed.
Then Weeks 14 and 15 happened. The entire coaching staff showed us why Andy Reid has given them a vote of confidence all season and not wavered in any way, shape or form. When fans and writers alike were calling for Castillo's job, Reid stuck by him. When fans and writers were upset with the way Marty Mornhinweg has been calling games, Reid stuck by him too.
The last two weeks have paid off in a big way. Andy Reid has had a great deal of success as a head coach in Philadelphia for many reasons, but maybe his greatest strength is his ability to push on through the bad times. He never throws and player or coach under the bus, and he sticks to his guns no matter how far the ship is sinking. This is why Andy Reid has an outstanding record in December. He understands that the team and coaching staff will continue to get better as the season goes along. He knows there was a reason why he drafted or signed the players that he has and hired the coaches that he has.
The Eagles defense had one of its best performances of the season against the Miami Dolphins in Week 14. The Eagles beat up on a red hot Dolphins team 26-10 on the road while overcoming an early blocked punt that would lead to an early 7-0 deficit.
The Eagles defense would be the story despite two Eagles turnovers as they racked up nine sacks and forcing three turnovers of their own. The Dolphins wide receivers were held to just 47 receiving yards after the first drive. Juan Castillo mixed up his coverages and blitz packages that would lead to two rookie linebackers, Brian Rolle and Casey Matthews, picking up their first career sacks.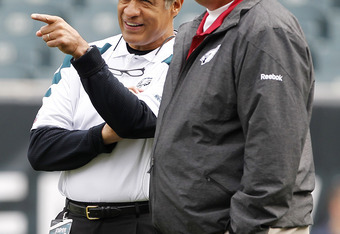 Rich Schultz/Getty Images
Week 15 was more about the offense even though Castillo's unit played another outstanding game. The Eagles absolutely dominated a New York Jets team that was given four turnovers from both the Eagles offense and special teams.
Castillo proved that last week was no fluke as his defense surrendered just 19 points despite the Jets forcing four turnovers. The defense held the Jets ground and pound attack to just 94 rushing yards and 177 passing yards. The defense picked up four more sacks to make it 13 in the last two games.
But the offense was the real story of the day. The offense was as balanced as it has ever been. Mornhinweg called 27 passes and 28 running plays. LeSean McCoy ran the ball 18 times for 102 yards and three touchdowns while Michael Vick completed 15 of his 22 passes for 274 yards and a touchdown to go along with an additional rushing touchdown for Vick.
Vick managed the game beautifully, and Mornhinweg called a completely balanced game. The end result was five offensive touchdowns and complete domination against one of the better defenses in the NFL.
The Eagles have outscored their last two opponents 71-29 while both sides of the ball have looked great. The offense is balanced and explosive once again and the defense is really starting to after the quarterback while being able to contain the running game.
You can tell the players are really starting to buy into the coaching staffs. Everybody is on the same page and everyone is really starting to execute well.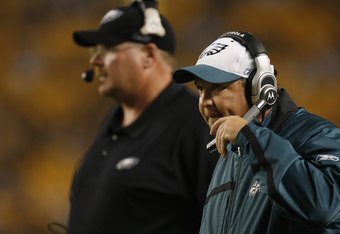 Gregory Shamus/Getty Images
It's hard to find a great coaching staff and keep them all around for very long in this very competitive league. Andy Reid wants his guys to be successful coaches that he can rely in in order to give him more time to spend coaching and working with everyone on the team and less time to game-plan and call players on game day.
A very short offseason and an inexperienced defensive coordinator in Juan Castillo really set the Eagles back this season. Add a bunch of new players to the mix and you have very little chemistry heading into a very tough schedule.
Everything is finally coming together for this Eagles team. Now the really test comes as they will attempt to achieve their longest winning streak of the season at three games if they can beat the Dallas Cowboys on the road Saturday night.
The Eagles still have a realistic shot of winning the division but they have to win out, and it starts with a pivotal NFC East division rivalry game against the Cowboys. If the Eagles can keep up their hot play as of late going into the final two games of the season then I see no reason as to why Andy Reid or Jeffrey Lurie would feel the need to fire any coach on the staff.
If the Eagles can finish with a four game winning streak to end the season imagine what they can do with a full offseason to get better heading into 2012. The future is still very bright in Philly and it will involve both Juan Castillo and Marty Mornhinweg for many years to come.