NBA Basketball: Predicting Christmas Day's Nationally-Televised Games
December 22, 2011
Al Bello/Getty Images
Merry Christmas to all and to all a happy new season!
The lockout-inflated offseason is officially over and the regular season tips off December 25, a first in NBA history.
The 2011 NBA Christmas schedule includes five national TV games featuring some of the biggest stars in the game. 
NBA fans will have all day to visually unwrap their presents from noon ET until well after midnight. 
Here is a closer look at the games to be nationally televised.
Boston Celtics at New York Knicks, 12 p.m. ET, TNT
These two teams met in the first round of last year's playoffs, with the Celtics taking out their brooms and dust-cloths. It was a rough ending to a promising season for the Knicks who were making their first postseason appearance in roughly six years (or in six rough years, depending on how you want to look at it).
Chemistry will be the difference in this season-opener. The Celtics' success still revolves around their Big 3, err Big 4 now with the development of star point-guard Rajon Rondo. The core lineup has played together for years and will have little cobwebs from the lengthy offseason. Remember, it's like riding a bike.
The Knicks, however, are still learning to play together and have yet to settle on a lineup. The additions of Baron Davis and Tyson Chandler will greatly improve the team, but the results, like Amazon ground-shipping, may take a few business days to arrive. The Knicks will have the better season, but Christmas will be better for the Celtics.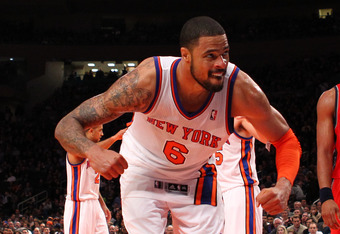 Al Bello/Getty Images
Prediction: Celtics 99, Knicks 93
Miami Heat at Dallas Mavericks, 2:30 p.m. ET, ABC
Looky looky, a rematch of last year's NBA finals. We were all witnesses as Dirk and company played lights out in beating the Heat in just six games, postponing the Dream Team's self-prophesied dynasty.
If the Heat don't still have the bitter taste of defeat in their mouths, it is sure to return while they watch the Mavericks lift their 2011 NBA Championship banner. The better team won last year and the better team will win this game as well. The only difference is that Miami is now the better team. Like a fine wine, this team will only get better over the years.
The Mavs will miss Tyson Chandler, but Lamar Odom should fit in nicely with the team after a brief adjustment period. The Heat lost their season-opener last year and went on to lose in the Finals, so this year they will be looking to make a bold opening statement in the form of a victory at Dallas.
Prediction: Heat 108, Mavs 96
Chicago Bulls at L.A. Lakers, 5 p.m. ET, ABC. 
It's been quite the journey of an offseason for the Lakers, who finished their 2011 campaign with an early exit from the playoffs. The team lost Phil Jackson (retirement), traded for Chris Paul only to have the deal nixed by commissioner Stern, then traded Lamar Odom for a couple Charleston Chews and a Yoo-hoo, and now Kobe's out with a wrist injury (status is day-to-day). Basically, Kobe Bryant is hobbled and unhappy and that could be bad news for the NBA once he gets on the hardwood. That may take time, though, as the Lakers' early season hopes will ride on the shoulders of Pau Gasol and Andrew Bynum despite both being nothing more than lure on a hook during trade negotiations.
Gasol and Bynum are still two of the best big men in the league, so the Bulls will have their hands full. And so will the Lakers, as reigning MVP Derrick Rose is out to prove last year was no fluke. The Lakers will assign guards Fisher and Blake the task of covering DRose, but may be better off using a cardboard cut-out of Kobe. Or maybe the bottle of Yoo-hoo can distract the fourth-year guard out of Memphis.
If Kobe plays, the Lakers win. If Kobe sits, the Lakers lose. Kobe, as recently as yesterday, as said the wrist "should be fine" so expect him to be ready to play.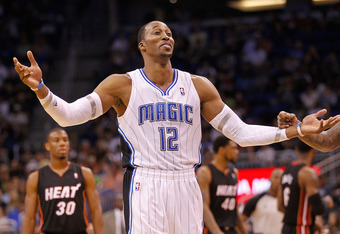 Mike Ehrmann/Getty Images
Prediction: Lakers 97, Bulls 91
Orlando Magic at Oklahoma City Thunder, 8 p.m. ET, ESPN. 
Durant Durant is hungry like the wolf. And so are the rest of the Thunder who have improved each year, going deeper into the playoffs. Expect the same this year.
Durant and Westbrook make up the highest-scoring tandem in the league, but the team is so much more than just their two stars. This is a deep and talented Thunder squad full of quality players that know their roles, similar to last year's Mavericks team. Look how far they went.
Orlando, on the other hand, is a team with a cloud named Dwight Howard looming above it. It's no secret that the star wants out and the sooner he's dealt the better for all parties involved. Their situation will be much like Carmelo's in Denver last year. Look for Oklahoma City to win this game handily. 
Prediction: Thunder 110, Magic 96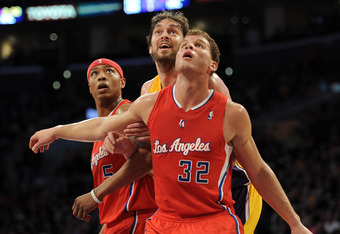 Harry How/Getty Images
L.A. Clippers at Golden State Warriors, 10:30 p.m. ET, ESPN. 
This should be an exciting game featuring two up-and-coming teams that score in bunches.
The Clippers, with the addition of Chris Paul, are the toast of the town and looking to make more noise than that other team from LA. This will be a game with a lot of points and a lot of dunks. SportsCenter may just get their entire top 10 from this game, with five of those being Paul-Griffin alley-oops.
Don't overlook this Warriors team, though, that can light up the scoreboard with the best of 'em. Coach Mark Jackson is making the switch from TV analyst to head coach and may look across the bay at Jim Harbaugh for tips on instant success. Guard Stephen Curry is key to their success, but may sit this one out after an ankle injury sustained in a recent loss to the Kings.
Double-doubles from Paul and Griffin will be the difference as the visiting Clippers clip host Golden State.  
Prediction: Clippers 114, Warriors 108