Gio Gonzalez Traded to Nationals: Boston Red Sox Better Off Without Him
December 22, 2011
Jeff Gross/Getty Images
At roughly 3:30 pm ET this afternoon, it was being reported that coveted Oakland Athletics pitcher Gio Gonzalez was on the verge of being traded to either the Boston Red Sox or the Washington Nationals.
It was being reported that the Red Sox likely would have had to part with their No. 1 prospect, third baseman Will Middlebrooks, as part of the package to bring Gonzalez to Boston. Just reading that idea made me cringe.
Now it is being reported that Gonzalez is in fact headed to Washington.
While I think that Gonzalez is a solid starting pitcher, his value in the American League East is questionable at best, even for a Red Sox team that is in need of pitching.
First, let's take a look at Gonzalez's numbers.  
In his four seasons pitching in Oakland, Gonzalez appeared in 95 games, starting 89 and posting a record of 38-32—a .543 winning percentage. His ERA was not half bad at 3.93, but his WHIP left something to be desired at 1.41. These numbers coming, of course, in a very pitcher-friendly ballpark.
Digging a little deeper, his splits offer figures that you would expect, slightly better at home than on the road: 21-14 home record versus a 17-18 record on the road. His ERA is 3.56 at home while 4.32 away. Lastly, his WHIP at home was 1.35 versus 1.46 away.
That's not all, though.
His numbers against the AL East are terrible. If he were a member of the Red Sox pitching staff we would get to see him put up numbers like the following:
Against the Baltimore Orioles
He's appeared in five games and his overall record is 1-2 with a 3.26 ERA and a 1.45 WHIP. Pitching in Camden Yards, he posted a 1-1 record with a 2.79 ERA and a WHIP of 1.39.

Against the New York Yankees
Once again appearing in five games, Gonzalez posted a 1-4 record with a 7.27 ERA and a 1.73 WHIP. Pitching in Yankee Stadium his ERA is 5.56 with a 1.32 WHIP and a 1-1 record.

Against the Tampa Bay Rays
Gonzalez has started four games against the Rays, posting an overall 1-1 record with a 4.86 ERA and 1.74 WHIP. Pitching at Tropicana Field has been a nightmare for him, with a 0-0 record on the heels of a svelte 9.64 ERA and 2.57 WHIP.

Against the Toronto Blue Jays
In five games, Gonzalez managed a record of 2-2 with a 3.31 ERA and a .949 WHIP—easily his best numbers in the AL East. Appearing at the Rogers Center, his record is a bit worse, however, with a 1-2 record, 5.09 ERA and a 1.13 WHIP.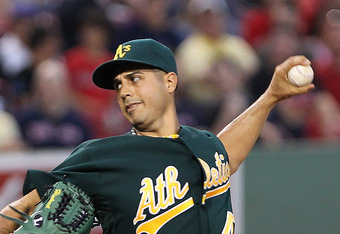 Jim Rogash/Getty Images
For those keeping score at home, his record against the Red Sox AL East rivals amounts to 19 appearances with a 5-9 record. He has sported an ugly 4.68 ERA and 1.46 WHIP in total.  
In that vein, his away numbers were worse. In 10 games his record is 3-4 with a 5.77 ERA and 1.60 WHIP. In short, numbers like this would be of no assistance to the Red Sox.  One could argue that seeing each of these clubs 18 times a year could make his numbers better, but would you want to take that risk at the sake of your future third baseman?
Truth be told, Kevin Youkilis, as much as I like him, is not long for the third base position in Fenway. He's injury plagued and has less mobility there than he once had as a prospect coming up. Middlebrooks, in my humble opinion, is your third baseman of the future.  
Possibly as soon as 2013.
The fact that the Red Sox "fell short" in acquiring Gonzalez should be looked upon as a blessing from the baseball Gods. The Nationals can have him, a fifth starter at best on our roster. 
I'll keep our No. 1 prospect in the system, and sleep soundly because of it.